Red Sox lose 10-inning heart breaker to Blue Rocks
Gonzalez strikes out nine in 2-1 loss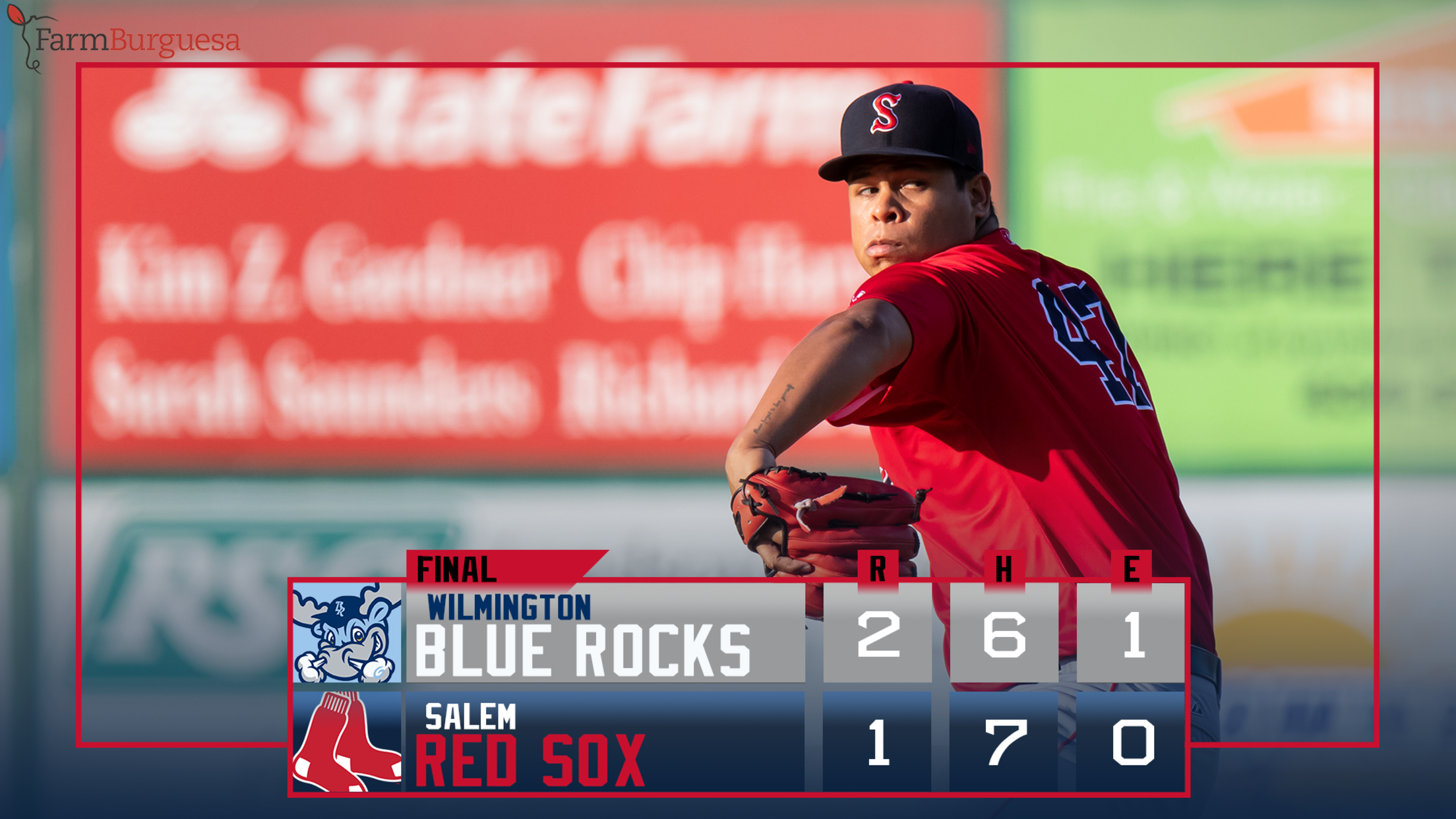 Daniel Gonzalez delivered his best professional start, striking out nine in eight innings Tuesday night. (John Wacher)
SALEM, Virginia (May 21, 2019) - Daniel Gonzalez pitched a brilliant eight innings of work, striking out nine on the way, but a ninth-inning rally was not enough as Wilmington edged Salem 2-1 in ten innings Tuesday night at Haley Toyota Field.How it Happened* Back-to-back singles in the fourth inning
SALEM, Virginia (May 21, 2019) - Daniel Gonzalez pitched a brilliant eight innings of work, striking out nine on the way, but a ninth-inning rally was not enough as Wilmington edged Salem 2-1 in ten innings Tuesday night at Haley Toyota Field.

How it Happened
* Back-to-back singles in the fourth inning gave the Blue Rocks their first runner within scoring position and MJ Melendez capitalized, scratching one run on an RBI groundout to take a 1-0 lead.
* Daniel Gonzalez was brilliant, hurling eight innings of one-run ball, striking out a season-high nine.
* The Red Sox finally broke the scoreless drought with two outs in the bottom of the ninth inning. Nick Lovullo drew a lead-off walk and was replaced by Deiner Lopez. Back-to-back strikeouts left one chance for Pedro Castellanos; the RBI leader reasserted himself with a single, pedaling to second base on an error and allowing Lopez to score to knot the game 1-1.
* Wilmington pushed back in extras, after an out was cancelled due to a balk, the Blue Rocks roped a single to advance the placed runner and gain a 2-1 advantage.
* Salem fought in the bottom of the frame but left runners stranded on the corners after a line-out to second base.
Standout Sox
* Daniel Gonzalez: 8.0 IP, 5 H, 1 R, 1 ER, 0 BB, 9K
* Pedro Castellanos: 1-for-4, RBI
* Garrett Benge: 2-for-4, 2B

Noteworthy
* Pedro Castellanos' 9th-inning RBI advances him to 33 on the year and the continued top spot in leader boards.
* Jarren Duran knocked a single in the sixth inning to extend his hit streak to 13 games.

What's Next
Salem Red Sox vs. Wilmington Blue Rocks Wednesday, May 22, 2019. First pitch is scheduled for 7:05 PM EST.
LHP Enmanuel DeJesus vs. RHP Jackson Kowar
Listen: SalemSox.com, TuneIn Radio, ESPN Blacksburg WKEX 1430 AM/94.1 FM, ESPN Roanoke WGMN 1240 AM/93.3 FM
Watch: MiLB TV
The Salem Red Sox are the Advanced-A affiliate of the Boston Red Sox and call Haley Toyota Field in Salem, Virginia home. The team was founded in 1968 and purchased by Fenway Sports Management in December of 2007. For more information on the Salem Red Sox, please visit SalemRedSox.com or contact Melanie Newman at [email protected].