Red Sox rock Woodpeckers 9-3
Salem smacks three home runs, Diaz twirls gem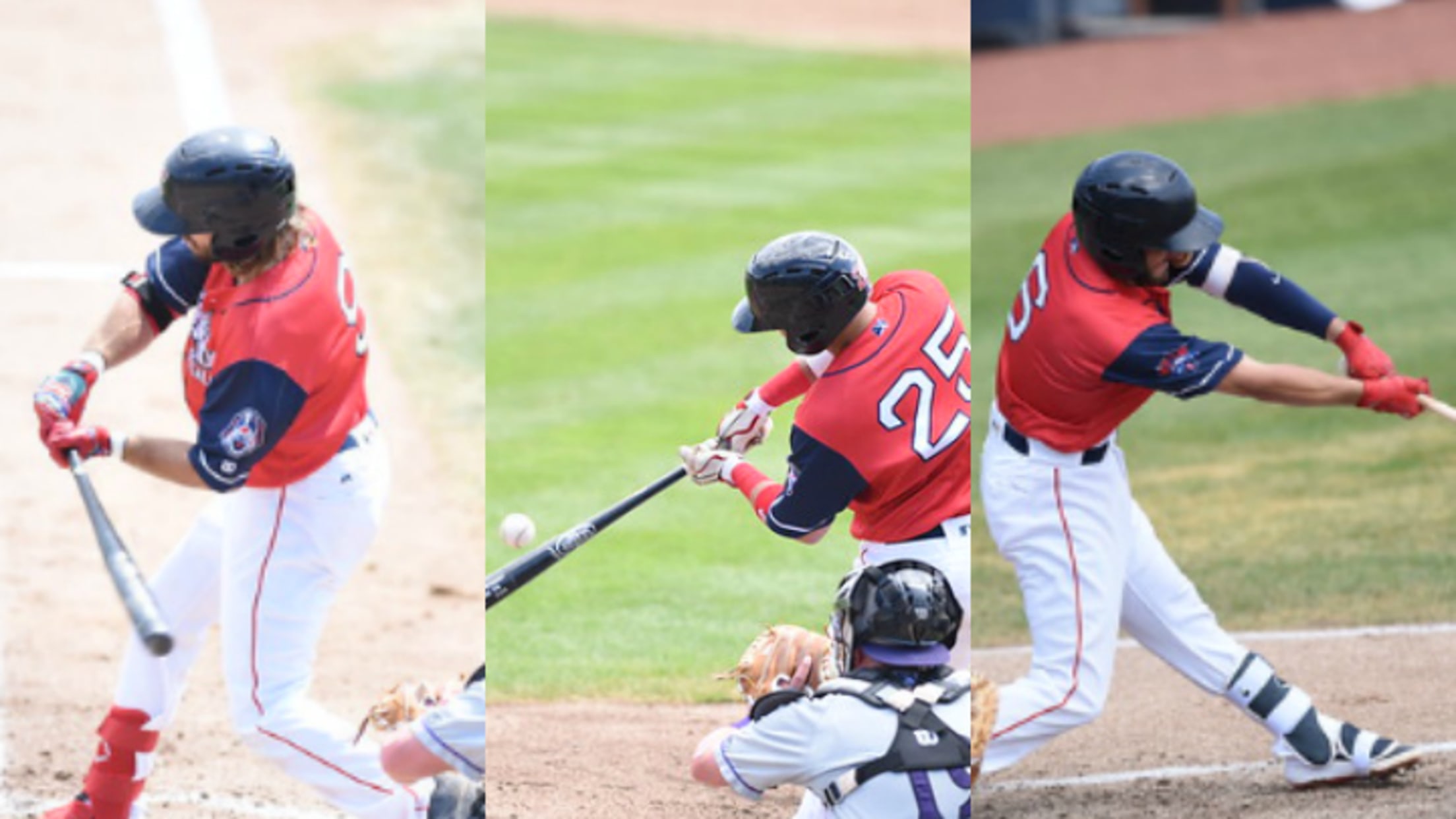 Nick Lovullo, Sammy Miranda and Jagger Rusconi blasted home runs Monday in Fayetteville (Gary Streiffer)
FAYETTEVILLE, North Carolina (July 1, 2019) - The Red Sox blasted three home runs to back up a scoreless performance from Jhonathan Diaz to steam roll Fayetteville 9-3 Monday night at Segra Stadium.How it Happened * Samuel Miranda cracked Salem onto the board in the third inning with a lead-off
FAYETTEVILLE, North Carolina (July 1, 2019) - The Red Sox blasted three home runs to back up a scoreless performance from Jhonathan Diaz to steam roll Fayetteville 9-3 Monday night at Segra Stadium.

How it Happened
* Samuel Miranda cracked Salem onto the board in the third inning with a lead-off home run. Nick Lovullo singled and scored on a Pedro Castellanos single. Ryan Fitzgerald brought home the third run on another single and moved into scoring position with a hit from Keith Curcio. Marcus Wilson knocked Salem's sixth hit of the frame to drive a 4-0 lead over Fayetteville.
* Nick Lovullo extended the damage with the team's second home run in the fourth inning to climb ahead, 5-0.
* Red Sox bats broke out again in the sixth inning. Edgar Corcino doubled and Tanner Nishioka drew a walk before Miranda drilled a triple to score them both. Jagger Rusconi blasted a home run to right field and gave Salem a commanding 9-0 lead.
* Jhonathan Diaz stretched for his longest start of the season. The lefty only allowed one hit through seven innings with seven strikeouts.
* Fayetteville cobbled one response in the eighth inning on a three-run home run to cut the lead 9-3 but the efforts would not be enough.
Standout Sox
Jhonathan Diaz: 7.0 IP, 1 H, 0 R, 0 ER, 2 BB, 7 K - W (4-6)
Samuel Miranda: 2-for-4, 3 RBI, 2 R, HR, 3B
* Jagger Rusconi: 1-for-5, 2 RBI, R, HR
* Nick Lovullo: 2-for-4, RBI, 2 R, HR

What's Next
Salem Red Sox at Fayetteville Woodpeckers Tuesday, July 2, 2019. First pitch is scheduled for 7:00 PM EST.
TBA vs. RHP Luis Garcia
Listen: SalemSox.com, TuneIn Radio, ESPN Blacksburg WKEX 1430 AM/94.1 FM, WGMN 1240 AM/93.3 FM
Watch: MiLB.TV
The Salem Red Sox are the Advanced-A affiliate of the Boston Red Sox and call Haley Toyota Field in Salem, Virginia home. The team was founded in 1968 and purchased by Fenway Sports Management in December of 2007. For more information on the Salem Red Sox, please visit SalemRedSox.com or contact Melanie Newman at [email protected].