Red Sox sweep Blue Rocks
Home runs highlight 9-7, 3-0 wins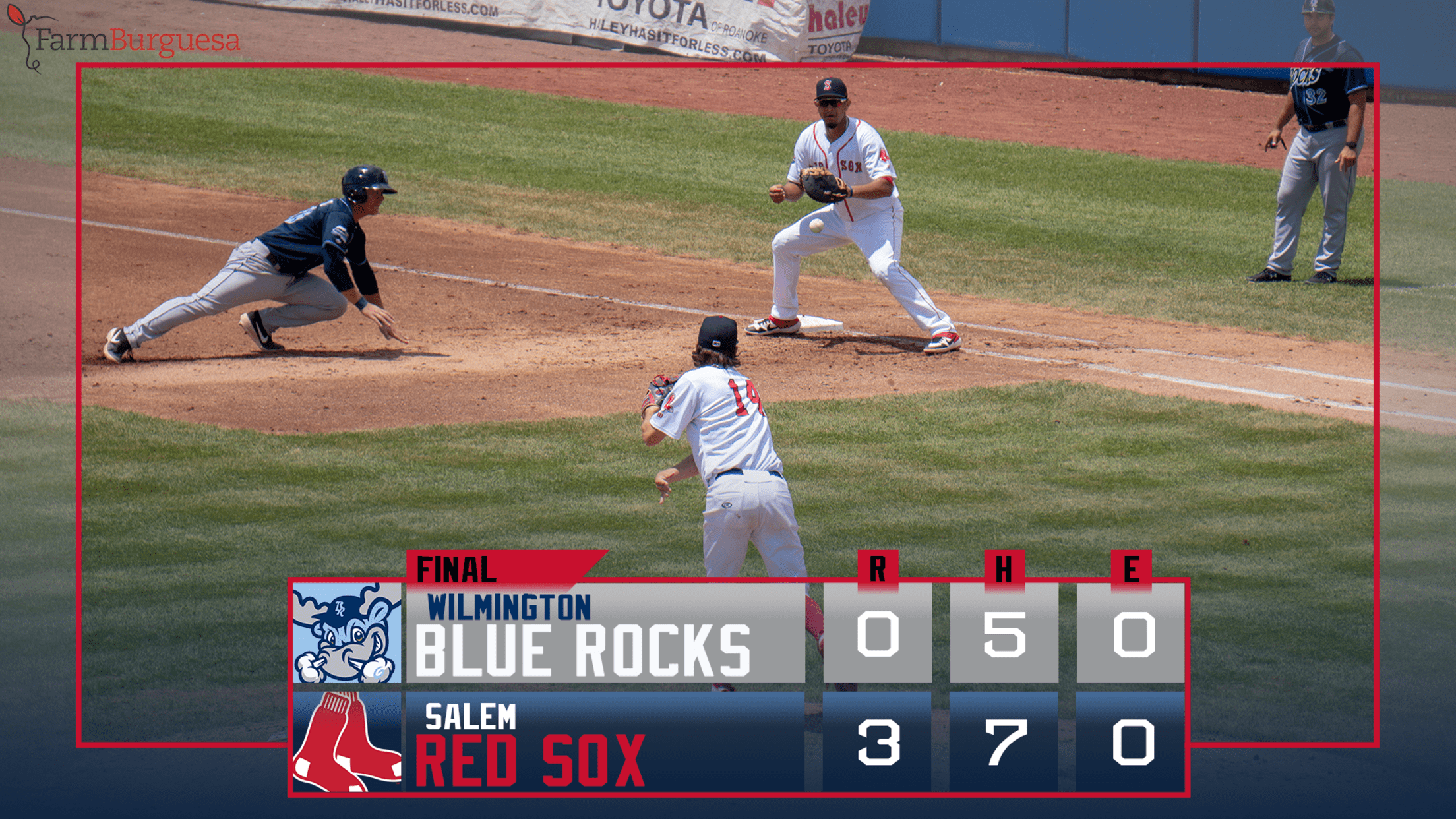 SALEM, Virginia (July 8, 2019) - Home runs and stellar pitching capped a two-game sweep for the Red Sox over the Blue Rocks Monday at Haley Toyota Field.GAME ONEHow it Happened * The tilt began Sunday afternoon. Wilmington batted around in the first inning, connecting five runs on four hits
SALEM, Virginia (July 8, 2019) - Home runs and stellar pitching capped a two-game sweep for the Red Sox over the Blue Rocks Monday at Haley Toyota Field.

GAME ONE
How it Happened
* The tilt began Sunday afternoon. Wilmington batted around in the first inning, connecting five runs on four hits for a big 5-0 lead.
* Salem began to etch back in the third inning. Keith Curcio doubled with two outs, Pedro Castellanos singled to crack the first run and Marcus Wilson singled to cut the lead 5-2.
* Starter Dylan Thompson settled in, permitting no more runs past the first inning, stretching through five frames.
* Wilson led-off the sixth inning with a double and scored after a wild pitch and error. The tilt tied on a monster blast to left field from Nick Sciortino to retire Marcelo Martinez.
* MJ Melendez regained the advantage in the seventh inning with an RBI double and Wilmington advanced 7-5 on a balk.
* Salem returned the favor, scoring on a wild pitch and balk to draw the field even 7-7 again before rain suspended the contest.
* The game picked up Monday at 11:05 AM, Andrew Schwaab started the resumption and set down the Blue Rocks in the final 1 2/3 innings to pick up the win.
* Tanner Nishioka broke the tie with a two-run blast to left-center field and Salem won the marathon, 9-7.
Standout Sox
* Nick Sciortino: 1-for-3, 2 RBI, 2 R, HR
* Tanner Nishioka: 1-for-3, 2 RBI, R, HR
* Pedro Castellanos: 2-for-4, RBI, 2 R

Noteworthy
* Keith Curcio, Pedro Castellanos and Marcus Wilson all recorded multi-hit performances.

GAME TWO
How it Happened
* Keith Curcio and Edgar Corcino traded places with back-to-back doubles to start the second inning. Nick Sciortino singled to give Salem a 2-0 lead as Corcino crossed home.
* Thaddeus Ward finished another stellar outing, striking out six in five innings of shutout ball.
* Corcino capped the day with a blast straight to centerfield and boost Salem to a 3-0 lead.
* Andrew Politi and Rio Gomez combined for two innings of relief, permitting just one hit en route to a respective hold and save.
Standout Sox
* Thaddeus Ward: 5.0 IP, 4 H, 0 R, 0 ER, 0 BB, 6 K - W (1-0)
* Edgar Corcino: 2-for-3, 2 RBI, 2 R, HR, 2B
* Keith Curcio: 2-for-2, R, 2B
* Andrew Politi: 1.0 IP, 0 H, 0 R, 0 ER, 0 BB, 0 K - H (2)
* Rio Gomez: 1.0 IP, 1 H, 0 R, 0 ER, 1 BB, 0 K - S (1)

Noteworthy
* Wilmington has only been shut out twice this season, both have come at the hands of the Red Sox including a 7-0 victory May 22nd.

What's Next
Salem Red Sox at Wilmington Blue Rocks Wednesday, July 10, 2019. First pitch is scheduled for 7:00 PM EST.
LHP Enmanuel DeJesus vs. TBA
Listen: SalemSox.com, TuneIn Radio, ESPN Blacksburg WKEX 1430 AM/94.1 FM, WGMN 1240 AM/93.3 FM
Watch: MiLB.TV
The Salem Red Sox are the Advanced-A affiliate of the Boston Red Sox and call Haley Toyota Field in Salem, Virginia home. The team was founded in 1968 and purchased by Fenway Sports Management in December of 2007. For more information on the Salem Red Sox, please visit SalemRedSox.com or contact Melanie Newman at [email protected].