Red Sox sweep Mudcats with 3-1 win
Casas homers in second Carolina League game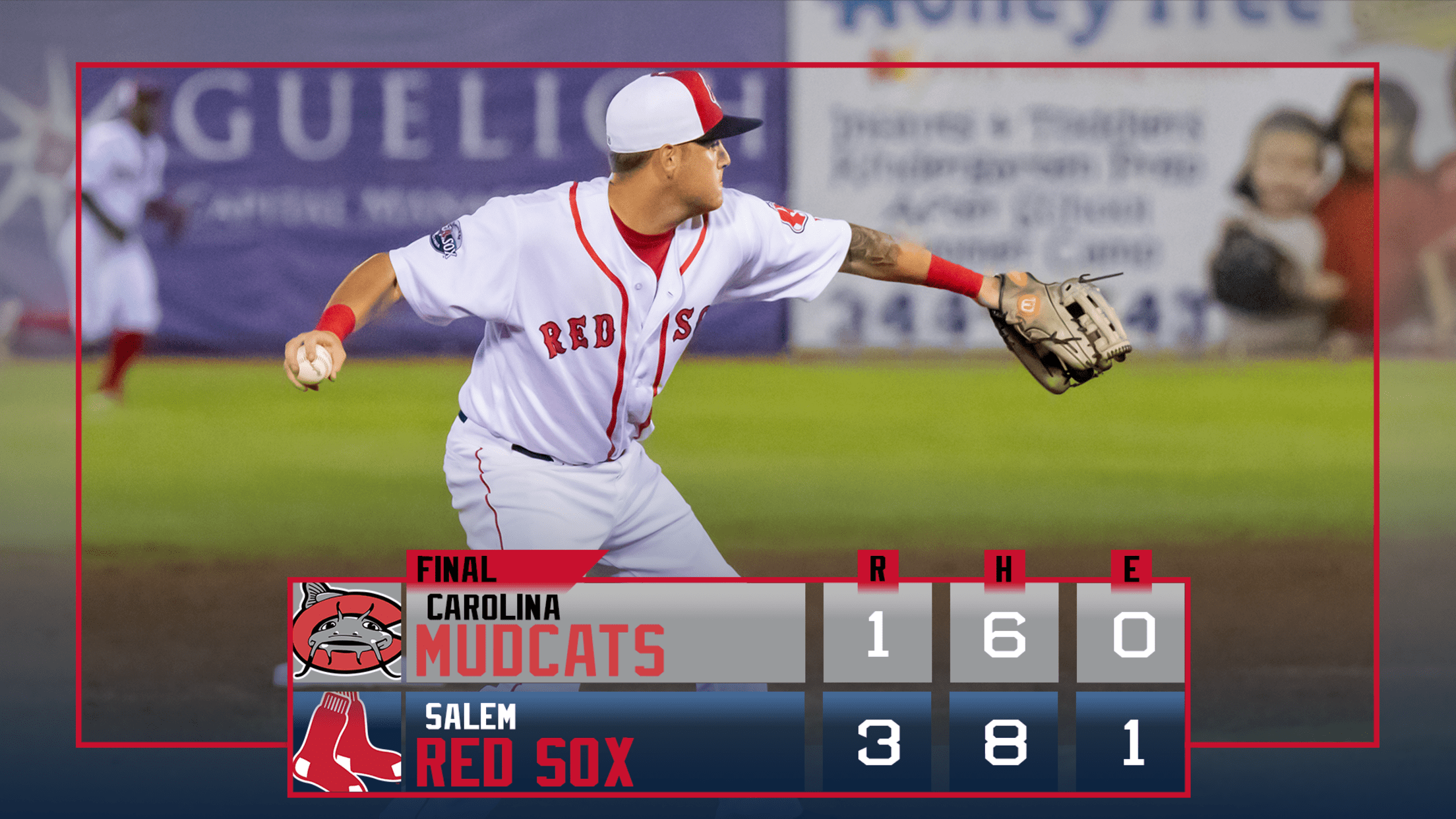 SALEM, Virginia (September 2, 2019) - Triston Casas broke open the stalemate between the Salem Red Sox and Carolina Mudcats with a 437-foot home run to launch Salem to a 3-1 win and series sweep Monday afternoon at Haley Toyota Field.How it Happened * Victor Acosta and Devlin Granberg knocked
SALEM, Virginia (September 2, 2019) - Triston Casas broke open the stalemate between the Salem Red Sox and Carolina Mudcats with a 437-foot home run to launch Salem to a 3-1 win and series sweep Monday afternoon at Haley Toyota Field.

How it Happened
Victor Acosta and Devlin Granberg knocked back-to-back singles in the sixth inning before Triston Casas cleared the bases with a monster blast to right field for a 3-0 lead.
LG Castillo put the Mudcats on the board with an RBI double in the seventh to cut the lead 3-1.
* Alex Scherff dazzled in his debut, tossing 6.1 innings, surrendering just the one run with three strikeouts.
* Joan Martinez bridged the next 1.2 innings without a hit and a pair of strikeouts.
* Rio Gomez sealed the series sweep through a one-hit final frame and strikeout.
Standout Sox
* Triston Casas: 1-for-3, 3 RBI, R, HR
* Alex Scherff: 6.1 IP, 5 H, 1 R, 1 ER, 2 BB, 3 K - W (1-0)
* Joan Martinez: 1.2 IP, 0 H, 0 R, 0 ER, 0 BB, 2 K - H (3)
* Rio Gomez: 1.0 IP, 1 H, 0 R, 0 ER, 1 BB, 1 K - S (2)

Noteworthy
* The series sweep is Salem's sixth issued this season.
* In his two games with Salem, Triston Casas is: 3-for-7, 3 RBI, 2 R, HR 2B
* Alex Scherff's debut was not only his first Carolina win but a quality start.
What's Next
Salem Red Sox vs Wilmington Blue Rocks, September 4, 2019. First pitch is scheduled for 6:35 PM EST.
LHP Enmanuel DeJesus vs LHP Daniel Lynch
Listen: SalemSox.com, TuneIn Radio, ESPN Blacksburg WKEX 1430 AM/94.1 FM, WGMN 1240 AM/93.3 FM
Watch: MiLB.TV
The Salem Red Sox are the Advanced-A affiliate of the Boston Red Sox and call Haley Toyota Field in Salem, Virginia home. The team was founded in 1968 and purchased by Fenway Sports Management in December of 2007. For more information on the Salem Red Sox, please visit SalemRedSox.com or contact Melanie Newman at [email protected].