Reds and Mets split damp doubleheader
G'Ville takes game one, 6-1; Kingsport snatches nightcap, 4-3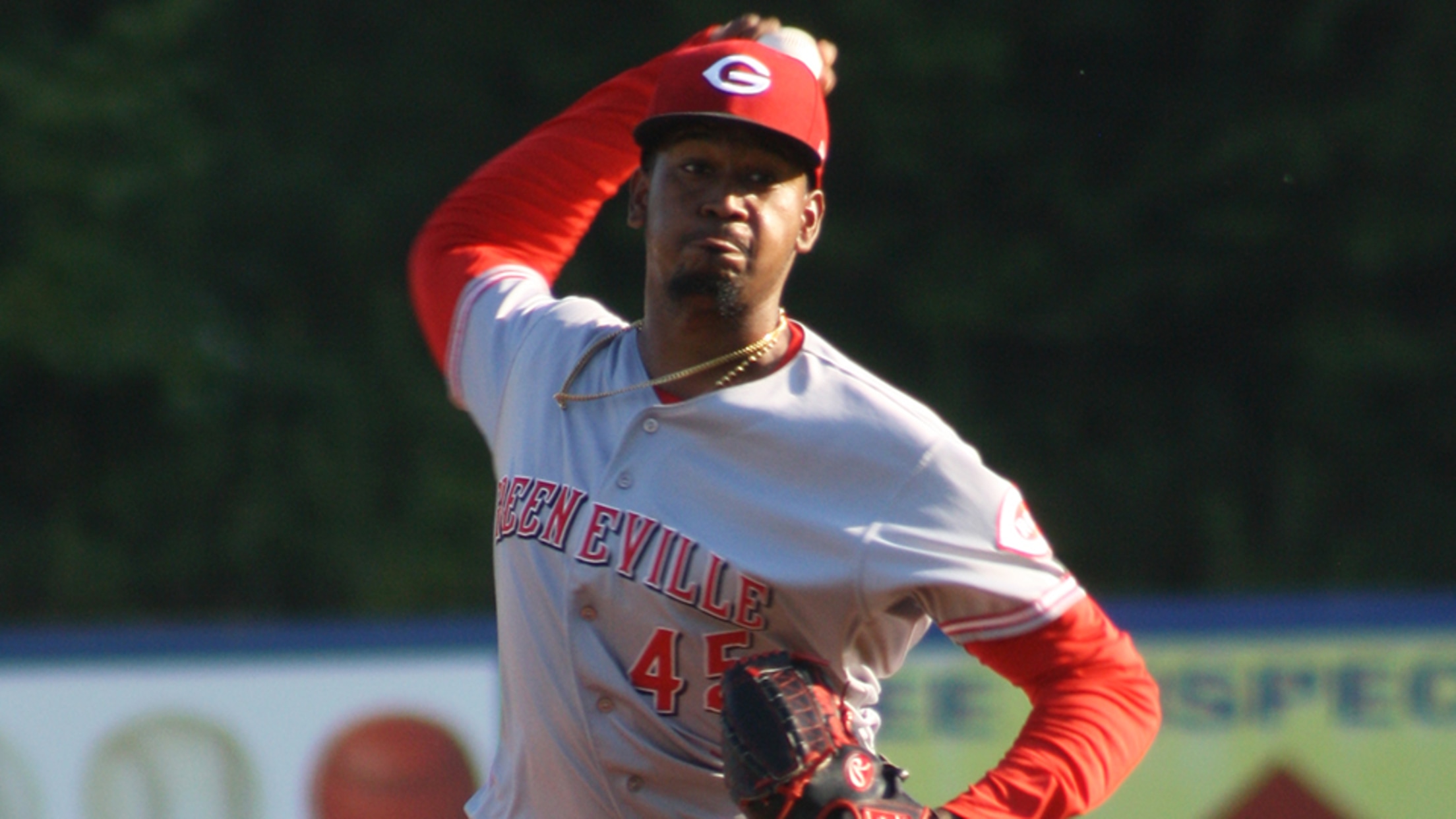 RHP Alexis Diaz surrendered just one unearned run over 6.2 innings - striking out five - en route to Greeneville's 6-1 win in game one of a doubleheader at Hunter Wright Stadium on Thursday evening. Kingsport would take game two, 4-3. (Johnny Painter)
KINGSPORT, Tenn. -- Despite rain constantly falling throughout both contests, both the Reds and the Mets were able to get through two games without a delay. Greeneville captured game one behind a great performance by RHP Alexis Diaz , 6-1, while Kingsport snagged the finale, 4-3, on Thursday evening at Hunter Wright
KINGSPORT, Tenn. -- Despite rain constantly falling throughout both contests, both the Reds and the Mets were able to get through two games without a delay. Greeneville captured game one behind a great performance by RHP Alexis Diaz , 6-1, while Kingsport snagged the finale, 4-3, on Thursday evening at Hunter Wright Stadium.
With the doubleheader split, Greeneville's record now sits at 17-23 on the season, while Kingsport remains four games ahead for the final playoff spot in the Western Division at 21-19.
The Redlegs wasted no time getting on the board in game one. LF Nate Scantlin (1-4, R, SO) led off the game with a single and moved to second on a wild pitch. On the third offering of the game, 3B Claudio Finol (2-4, R, RBI) ripped an RBI single into left-center to give Greeneville a 1-0 lead. Following a single from 1B Rylan Thomas (3-4, R, 2B, SO) and a double-play grounder, 2B Jonathan Willems (1-4, RBI, SO) poked a single through the left side of the infield - scoring Finol - to make it a 2-0 affair.
Kingsport answered back with an unearned run in the bottom of the inning. LF Guillermo Granadillo (0-3, R) reached on a fielding error to start the frame and scooted into scoring position on a groundout. With two outs, 2B Luis Santana (2-3, 2B, RBI) smacked a run-scoring double into left, pulling the Mets within a run, 2-1.
That's as close as they would get, as Diaz (6.2 IP, 4 H, R, 5 SO) sparkled the rest of the way. The 21-year-old fell one out shy of the first complete game in Greeneville Reds' history - being removed due to high pitch count - yielding that one unearned run en route to his third win of the season.
Greeneville's offense made sure he cruised into the win column, too. A walk to DH Edwin Yon (0-3, R, BB, SO) and an infield single from RF Brandt Stallings (1-2, 2 R, SO) ignited the rally in the top of the fourth. C Jose Tello (1-2, 2 RBI) banged an RBI single to right, while Stallings scampered home one batter later on a passed ball, extending the G-Reds advantage to three, 4-1.
Single tallies would cross the dish for the Reds in the sixth and seventh innings. In the sixth, Stallings got aboard via catcher's interference, stole second, moved to third on a wild pitch, and came home on a sacrifice fly to center by Tello. During the seventh, Thomas singled and CF Reniel Ozuna (0-2, 2 BB, SO) walked with one away. A fielding error on a ball put in play by Willems allowed the 21-year-old to score from second, putting Greeneville up by five, 6-1.
RHP Nate Peden (4.0 IP, 7 H, 4 R, 4 ER, 2 BB, 3 SO) struggled for Kingsport in game one. The 19-year-old issued four runs on seven hits in four innings, suffering his third defeat of the year.
Much like Greeneville in game one, Kingsport snagged an early first-inning lead in the nightcap. LF Guillermo Granadillo (2-3, 2 R, 2B, BB, SO) double down the right-field line to start the bottom of the opening frame. Going on the pitcher's first movement, a pickoff throw to second sailed into center. The Venezuelan native scored easily on the stolen bag and throwing error, putting the Mets up early, 1-0.
A lengthy two-run third inning stretched the K-Mets advantage to three. With one out, Granadillo singled off the first baseman's mitt. The 21-year-old proceeded to steal second and moved to third on a grounder to second. Despite two men out, 2B Yoel Romero (1-2, 2 R, RBI, BB) laid a perfect bunt down the first-base line. The throw to first was wild, scoring Granadillo and allowing Romero to take second. Following a steal of third, 3B Mark Vientos (1-2, RBI, BB) hit a chopper up the middle. A nice play by 2B Claudio Finol was made, but the throw to first was late, as the RBI infield single made it a 3-0 Mets lead.
It took until the fifth, but the Redlegs finally broke up the shutout. Back-to-back two-out singles from SS Miguel Hernandez (1-3, R) and Finol (1-2, R) started the attack. After both advanced to second and third on a wild pitch, 3B Raul Juarez (0-2) hit a roller to first. The underhand throw to the bag was wide - permitting both runners to score - pulling Greeneville within one, 3-2.
Kingsport mustered a big insurance run in the fifth. Consecutive walks to Romero and Vientos started the inning, while a double steal moved them both into scoring position. With one away, CF Ranfy Adon (0-2, RBI, BB) hit a scorcher through the box. Finol made a tremendous diving stop to get the out at first, but Romero scored to make it 4-2 Kingsport.
In the sixth, LF Nate Scantlin (1-3, R, SO) reached on an infield single to first and advanced to second on a throwing error. The 19-year-old moved to third on a wild pitch before scoring on a sacrifice fly to center by 1B Rylan Thomas (0-2, RBI, SO), making it a one-run affair again, 4-3.
That was as close as the Redlegs would get, as RHP Christian Tripp (1.0 IP) entered in the top of the seventh and retired the side in order on eight pitches to earn his first professional save.
RHP Willy Taveras (5.0 IP, 3 H, 2 R, 6 SO) was strong for Kingsport, issuing two unearned runs over five frames for his third Appalachian League triumph.
Only one of the four hits allowed by RHP Ricky Karcher (2.2 IP, 4 H, 3 R, 2 ER, 3 BB, SO) left the infield, but the 20-year-old was saddled with his second defeat for the Reds.
Greeneville returns home to Pioneer Park on Friday night to open up a three-game series against the Johnson City Cardinals. RHP Josiah Gray (1-1, 2.90 ERA) - Cincinnati's No. 21 prospect according to MLB.com - is expected to take the hill for the G-Reds in the series opener. The Redbirds are projected to counter with RHP Kyle Leahy (1-1, 3.66 ERA).
The G-Reds Pre-Game Show will kick off the broadcast at 6:45 p.m. ET, leading up to the 7:00 p.m. ET start at Pioneer Park. Friday night's contest can be heard on GreenevilleReds.com or via the TuneIn Radio and MiLB First Pitch apps.
It will be a Firework Friday at the ballpark as all fans are encouraged to stay after the game, as they will be treated to a spectacular postgame fireworks display following the final out.

Season and single-game tickets are still available and can be purchased online at GreenevilleReds.com or by calling the Reds' Ticket Office at (423) 609-7400.