Reds erase five-run deficit, stun Pulaski, 6-5
Greeneville tallies six unanswered runs to win third in-a-row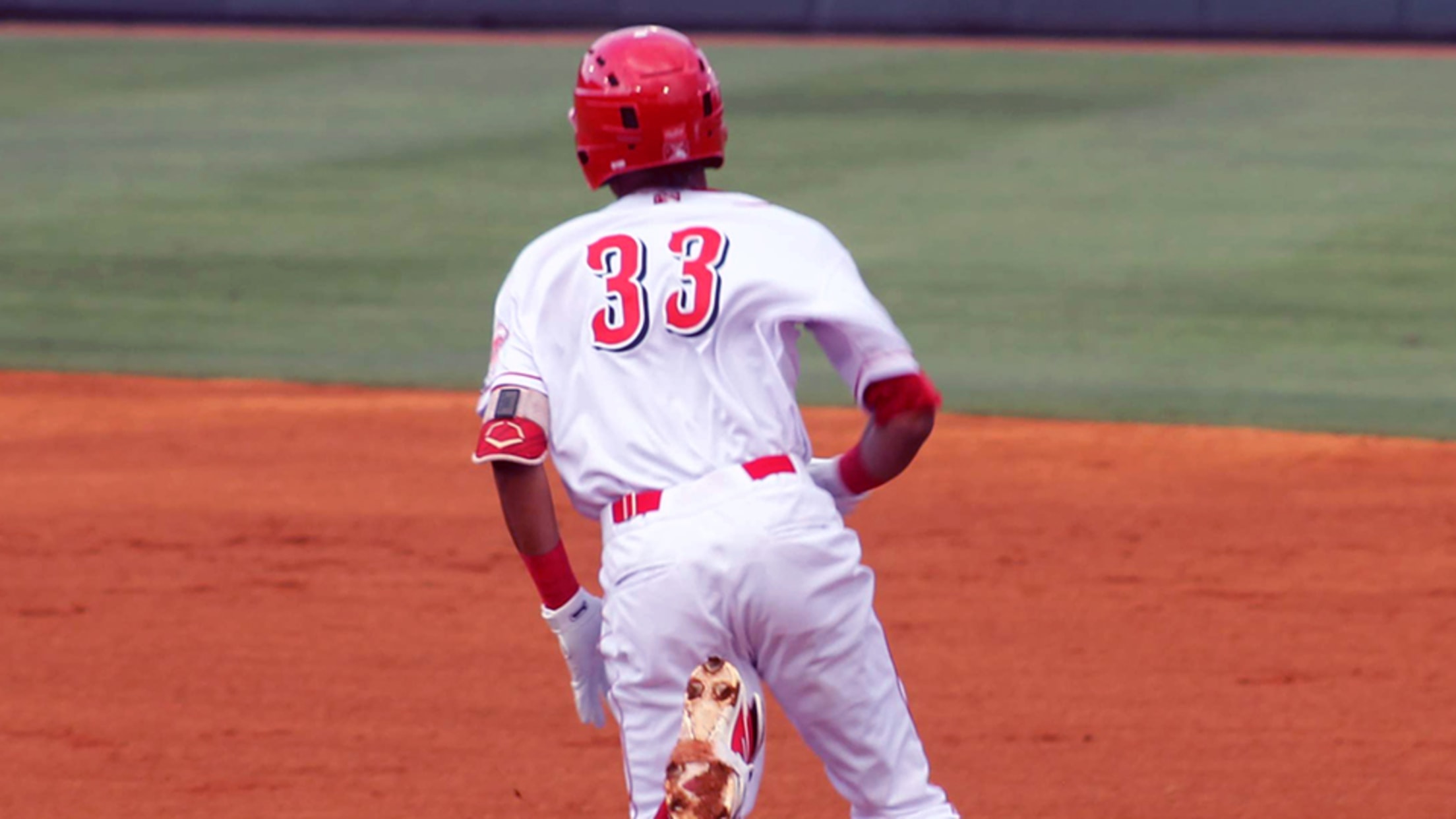 SS Miguel Hernandez came through with the go-ahead RBI triple in the top of the eight, as the Greeneville Reds erased a five-run deficit to defeat the Pulaski Yankees, 6-5, at Calfee Park on Saturday night. (Sally Fletcher)
PULASKI, Va. - Trailing 5-0 after three innings of play, the Greeneville Reds scored the final six runs of the contest - bringing home two in the eighth to grab the lead for good - to capture their third-straight victory, defeating the Pulaski Yankees, 6-5, at Calfee Park on Saturday evening.With
PULASKI, Va. - Trailing 5-0 after three innings of play, the Greeneville Reds scored the final six runs of the contest - bringing home two in the eighth to grab the lead for good - to capture their third-straight victory, defeating the Pulaski Yankees, 6-5, at Calfee Park on Saturday evening.
With the victory, Greeneville captures their first series win in franchise history and improved their overall record to 3-2. The one-run defeat is Pulaski's fourth in-a-row, as they dropped to 1-4 on the campaign.
Trailing 5-4 entering the eighth inning, it was a two-out rally and a smart coaching decision that sparked the game-winning onslaught. With a runner at first and two outs, manager Gookie Dawkins called on Justin Bellinger (1-1, R, 2B, RBI) to pinch-hit. On a 0-1 offering, the left-handed swinger ripped a double down the left-field line. C Hunter Oliver (2-4, 2 R, HR, 2 RBI, SO) - who singled with one out - scored standing from first to tie the game at five.
Three pitches later, SS Miguel Hernandez (1-4, 3B, RBI, SO) came through with his second big hit in as many nights. The 19-year-old hammered a 2-0 pitch over the centerfielder's head and off the wall. Bellinger scored easily, as Hernandez slid in head first with an RBI triple to give the Reds their first lead of the game, 6-5.
After working a scoreless eighth, RHP Stephen Keller (2.0 IP, H, 3 SO) stayed in to finish the contest. With the tying run at second and one out, 2B Cody Brown (2-4, R, BB) hit a missile to the right side. Bellinger - using every inch of his 6-foot-6 frame - made a leaping snag and threw to second to force the runner for a game-ending double play.
Following back-to-back victories without the benefit of an extra-base hit, Greeneville utilized the long ball to get back into the game.
In the fourth, RF Reniel Ozuna (2-5, 2 R, 3B, HR, 2 RBI, SO) smashed a one-out triple into the centerfield gap and Oliver - two pitches later - clobbered a delivery to straightaway center field for a two-run blast. The homer - his first of the career and the first in Greeneville Reds history - brought the squad within three, 5-2.
Two innings later, it was Ozuna's turn. Right after a leadoff walk to 2B Jonathan Willems (0-4, R, BB), the 19-year-old Dominican native walloped an offering over the centerfield fence and the batter's eye for a two-run dinger. The clout - his first of the season - made it a one-run contest, 5-4.
Pulaski initially jumped out to a five-run lead by scoring runs in each of the first three innings. After RHP Lyon Richardson (1.0+ IP, 3 H, 4 R, 4 ER, BB, SO) struck out the first batter he faced in his professional career, LF Jordan Scott (2-5, R, 2B, HR, RBI, 3 SO) slashed a home run over the high wall in right - his first of the year - to give the Yankees a 1-0 advantage.
The attack continued into the second. After a hit-by-pitch, a single and a fielding error put runners at second and third to start the frame, a wild pitch tracked home a run to give Pulaski a 2-0 edge. SS Max Burt (2-4, 2B, 2 RBI) then ripped a two-run double into the left-center field gap to chase Richardson from the game and give the Yankees a 4-0 lead.
Pulaski's final tally was an unearned run that came across on a throwing error in the third.
After four rocky games to begin the year, Greeneville's bullpen was magnificent on Saturday. RHP A.J. Moore (3.0 IP, 2 H, R, BB, 3 SO) - in his first pro game - RHP Francis Jones (3.0 IP, 4 H, 2 BB, 4 SO) and Keller united to hurl eight innings of one-run relief to keep the Reds in the game.
Jones earned the win, his first of the season, while Keller accumulated the first save of his professional career. RHP Bryan Blanton (1.1 IP, 3 H, R, ER, 2 SO) suffered the loss for Pulaski, his second of the campaign.
Despite a strong start, RHP Alexander Vizcaino (5.1 IP, 5 H, 4 R, 4 ER, BB, 9 SO) was saddled with a no-decision for the Yankees.
The Reds go for their first series sweep on Sunday night, as LHP Jacob Heatherly (0-1, 21.60 ERA) - Cincinnati's No. 15 prospect according to MLBPipeline.com - is projected to take the hill. Pulaski is projected to counter with RHP Pedro Espinola .
The G-Reds Pre-Game Show will kick off the broadcast at 6:45 p.m. ET, leading up to the 7:00 p.m. ET start at Calfee Park. Sunday night's contest can be heard on GreenevilleReds.com or via the TuneIn Radio and MiLB First Pitch apps.
The Redlegs will return home to square off against the Kingsport Mets on Monday, June 25 at 7 p.m. ET. It will be a Dollar Monday at Pioneer Park featuring hot dogs, candy, potato chips, popcorn and select draft beer options for just one dollar.
Season and single-game tickets are still available and can be purchased online at GreenevilleReds.com or by calling the Reds' Ticket Office at (423) 609-7400.