Reds hang on to earn first win in franchise history, 13-12
Claudio Finol's relay throw to the plate helps seal first victory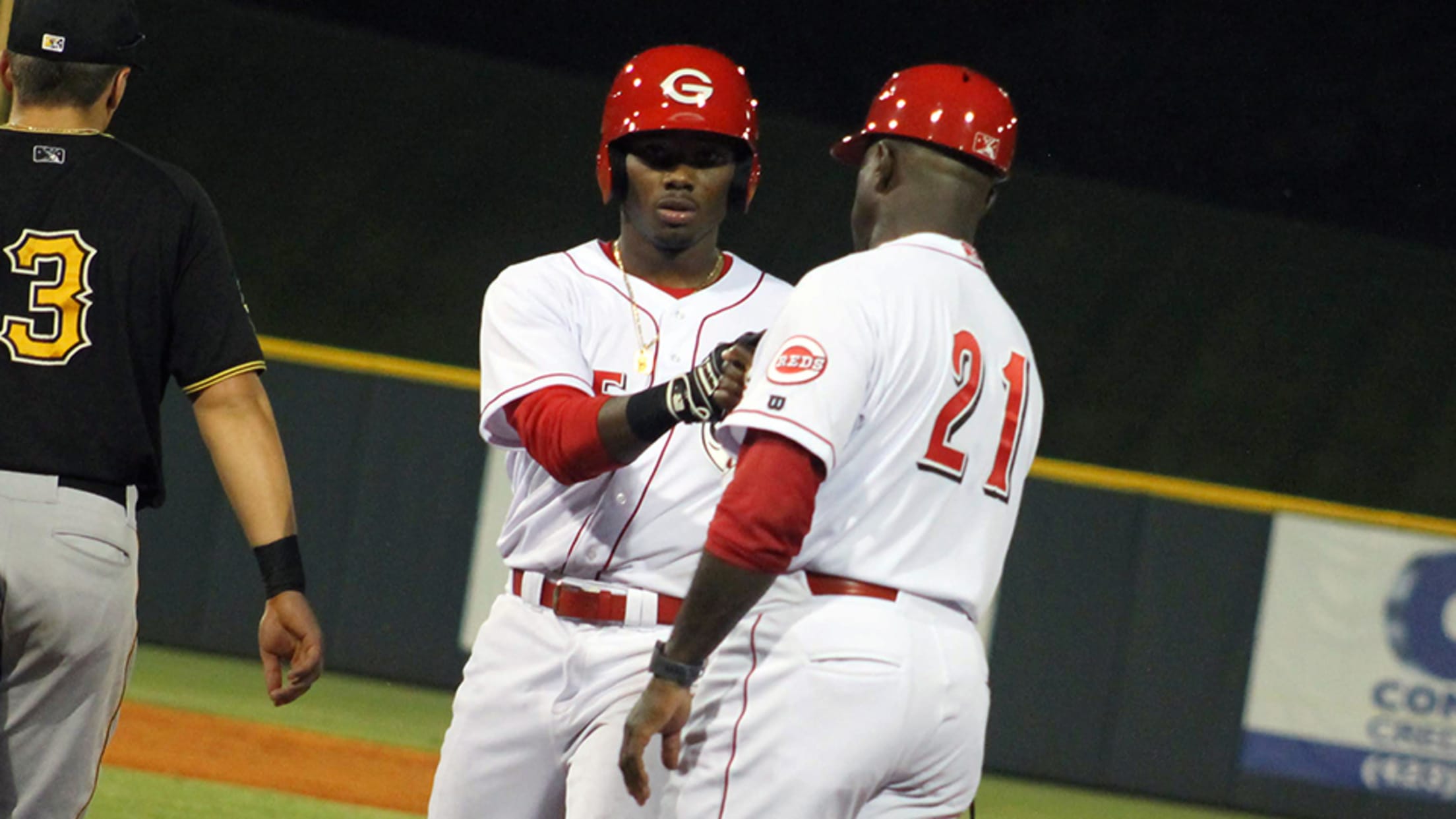 2B Jonathan Willems collected a pair of hits and drove in three runs, as the Greeneville Reds won the first game in franchise history, upending the Bristol Pirates, 13-12, on Thursday night at Pioneer Park. (Sally Fletcher)
GREENEVILLE, Tenn. - The Reds led 12-0 after five innings and 13-5 after six, but it was a perfectly executed relay from RF Reniel Ozuna to 2B Claudio Finol to C Hunter Oliver in the top of the ninth that cut down the game-tying run which helped Greeneville collect the first victory in franchise history, defeating
GREENEVILLE, Tenn. - The Reds led 12-0 after five innings and 13-5 after six, but it was a perfectly executed relay from RF Reniel Ozuna to 2B Claudio Finol to C Hunter Oliver in the top of the ninth that cut down the game-tying run which helped Greeneville collect the first victory in franchise history, defeating the Bristol Pirates, 13-12, in front of 813 fans at Pioneer Park on Thursday night.
With the victory, Greeneville avoided being swept at home to begin the season and improved their mark to 1-2. Bristol's loss ended their two-game winning streak and dropped them to 2-1 on the campaign.
Ahead 13-9 heading to the final frame, Bristol refused to go away. SS Chase Lambert (3-5, 3 R, RBI, SO) reached on a seeing-eye single to begin the inning and DH Mason Martin (2-4, 3 R, HR, 3 RBI, BB, SO) followed with a walk. After a groundout advanced the runners to second and third, LF Jeremias Portorreal (1-4, 2 RBI, BB, 2 SO) slapped a two-run single to right, pulling the Bucs within two, 13-11.
Following a hit-by-pitch, 2B Dean Lockery (3-5, R, 2B, RBI, SO) poked a knock down the right-field line. One run scored - trimming the Pirates once 12-run deficit to one - however, the relay throw to the plate cut down the game-tying run. RHP Uarlim German (1.0 IP, 3 H, 3 R, 3 ER, BB, SO) proceeded to strike out RF Christian Navarro (1-5, R, RBI, 2 SO) swinging to finish off the game and seal the first victory in Greeneville Reds history.
Despite the late-inning offensive onslaught, it could not rain on the magnificent start from Greeneville RHP Josiah Gray (3.0 IP, 5 SO). Cincinnati's second-round pick struck out the side in order in his first professional inning and faced the minimum over his three innings of work.
The offense supported Gray early, manufacturing six runs in the second and adding five more in the third.
Greeneville managed to load the bases in the second courtesy of back-to-back walks and a hit batsman. Finol (1-3, R, RBI) would give the squad their first lead in team history with a sacrifice fly to center, putting the Reds in front, 1-0. After a balk chased home another tally, CF Brian Rey (2-2, 2 R, 3 RBI, 2 BB) and LF Nate Scantlin (2-5, 2 R, 2B, 2 RBI, 2 SO) poked consecutive run-scoring singles, stretching the G-Reds lead to four. Two more would scamper across via an error and an RBI groundout by Ozuna (0-5, RBI, SO).
In the third, the Reds' bats were more explosive. With the bases loaded and one out via a pair of singles and a free pass, Rey delivered a two-run knock to center, pushing the early edge to 8-0. Scantlin proceeded to rip a tally-producing double to left-center and 2B Jonathan Willems (2-4, 3 RBI) ripped a two-run single to center, putting Greeneville comfortably ahead at the time, 11-0.
The Reds added another run in the fifth, as Oliver and Rey reached on a single and walk respectively to start the frame. After a fielder's choice put runners at the corners, Willems' second single of the night drove home his third RBI to make it a 12-0 affair.
Bristol's bats began to awaken in the sixth, as they brought home five runs with two outs on three consecutive singles, as well as a wild pitch third strike and a passed ball.
After a 1B Raul Juarez (1-3, R, RBI) drove home a run with an infield single in the bottom half of the frame, the Pirates proceeded to score the game's final seven runs.
In the seventh, the Bucs managed three runs on a solo home run by 3B Johan De Jesus (1-4, R, HR, 3 SO) and a two-run blast by Martin. Bristol also scored a run on an error in the eight to make it a 13-9 contest at the time.
RHP Oliver Garcia (1.1 IP, 2 H, 6 R, 4 ER, 2 BB, SO) suffered his first loss of the season in his United States debut, giving up six runs - four earned - in just an inning-and-a-third of work.
Greeneville's RHP Alexis Diaz (3.0 IP, 6 H, 5 R, 4 ER, BB, 7 SO) struggled in his final inning of work but was stellar over his first two frames of relief, garnering his first victory of the campaign.
The victory also marked the first win in Reds manager Gookie Dawkins' career.
Greeneville will travel to Pulaski, Va. for their first road trip of the season, as they take on the Pulaski Yankees. RHP Miguel Medrano will make his Cincinnati organization debut, while the Yanks will counter with RHP Luis Gil .
The G-Reds Pre-Game Show will kick off the broadcast at 6:45 p.m. ET, leading up to the 7:00 p.m. ET start at Calfee Park. Friday night's contest can be heard on GreenevilleReds.com or via the TuneIn Radio and MiLB First Pitch apps.
The Redlegs will return home to square off against the Kingsport Mets on Monday, June 25 at 7 p.m. ET. It will be a Dollar Monday at Pioneer Park featuring hot dogs, candy, potato chips, popcorn and select draft beer options for just one dollar.
Season and single-game tickets are still available and can be purchased online at GreenevilleReds.com or by calling the Reds' Ticket Office at (423) 609-7400.