Reds rally in ninth to top Redbirds, 4-2
Stallings delivers game-tying single, Siani posts go-ahead triple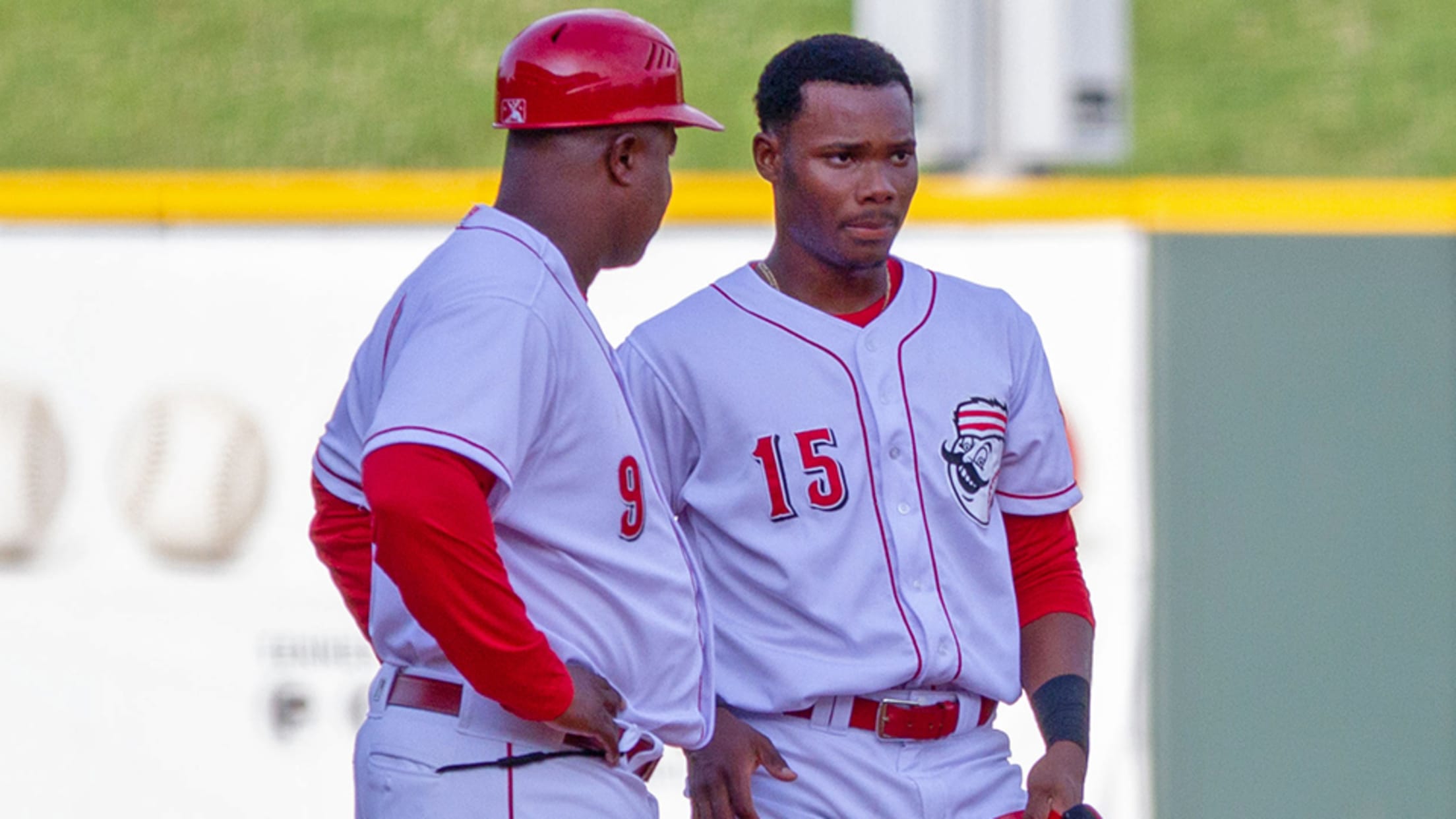 2B Jonathan Willems clocked a solo home run in the fourth and posted an RBI single in the ninth, as the Greeneville Reds rallied to defeat the Johnson City Cardinals, 4-2, on Saturday night at TVA Credit Union Ballpark. (Doug Gray / RedsMinorLeagues.com)
JOHNSON CITY, Tenn. -- Down by a run going to the ninth, Greeneville completed their fourth come-from-behind win of the week, as DH Brandt Stallings ' single and CF Mike Siani's triple helped the Reds defeat the Johnson City Cardinals, 4-2, in front a TVA Credit Union Ballpark-record 4,167 fans on Saturday night.With
JOHNSON CITY, Tenn. -- Down by a run going to the ninth, Greeneville completed their fourth come-from-behind win of the week, as DH Brandt Stallings ' single and CF Mike Siani's triple helped the Reds defeat the Johnson City Cardinals, 4-2, in front a TVA Credit Union Ballpark-record 4,167 fans on Saturday night.
With the win, Greeneville improves their overall mark to 28-36 and slides back into a tie with Johnson City for fourth place in the Western Division. The Redbirds defeat drops them to 28-36, as well.
Trailing 2-1 going to the final frame, SS Miguel Hernandez (1-5, R, 3B, RBI, SO) started the attack with a single to center. After a sacrifice bunt, Stallings (1-4, R, RBI, SO) blasted a single up the middle to score the 19-year-old and tie the contest up at two. One batter later, Siani (1-5, R, 3B, RBI, SO) launched a deep fly ball to right. The clout banged off the fence, as the Glenside, Pa. native slid head-first into third with a go-ahead RBI triple, putting the Redlegs in front, 3-2. 2B Jonathan Willems (3-5, R, HR, 2 RBI, SO) added to the advantage with an infield single to third, making it a 4-2 affair.
RHP Connor Bennett (1.0 IP, 2 SO) came on in the bottom of the ninth and sealed the win. The 21-year-old induced a fly out to right and struck out a pair of hitters in a perfect inning of relief, capturing his sixth save of the season.
Scoreless through three, the G-Reds jumped to an early lead in the fourth. Willems blasted the first pitch of the inning over the left-field fence for a solo home run - his eighth of the year - giving Greenville a 1-0 edge.
It stayed that way into the seventh when Johnson City scored their only runs of the ninth. Following a leadoff triple by 3B Liam Sabino (2-3, R, 3B, BB), C Benito Santiago (1-3, R) was hit by a pitch and a wild pitch allowed the tying run to score. Another free pass and an infield single loaded the bases and another wild pitch gave the Cardinals a one-run lead, 2-1.
Both starters were superb, but both took no-decisions. Greeneville RHP Alexis Diaz (6.0 IP, 2 H, 4 BB, 5 SO) hurled six shutout innings for his team-leading fourth quality start, while Johnson City RHP Tommy Parsons (7.0 IP, 7 H, R, ER, BB, 6 SO) went seven strong for the second straight start.
RHP Justin McGregor (1.1 IP, H, SO) posted 1.1 innings of scoreless ball to earn his first Appalachian League victory for the Redlegs. RHP Parker Kelly (1.0 IP, 4 H, 3 R, 3 ER) suffered his second blown save and third defeat for the Cardinals in relief.
The series returns to Greeneville for the rubber match on Sunday evening. RHP Ricky Karcher (0-3, 9.59 ERA) is expected to make the start for the Reds, while the Cardinals are projected to counter with RHP Cole Aker (2-2, 4.80 ERA).
The G-Reds Pre-Game Show will kick off the broadcast at 4:45 p.m. ET, leading up to the 5:00 p.m. ET start at TVA Credit Union Ballpark. Sunday evening's contest can be heard on GreenevilleReds.com or via the TuneIn Radio and MiLB First Pitch apps.
Single-game tickets are still available and can be purchased online at GreenevilleReds.com or by calling the Reds' Ticket Office at (423) 609-7400.