Reds split doubleheader from Royals
Burlington takes game one, 9-2; Greeneville snags nightcap, 6-1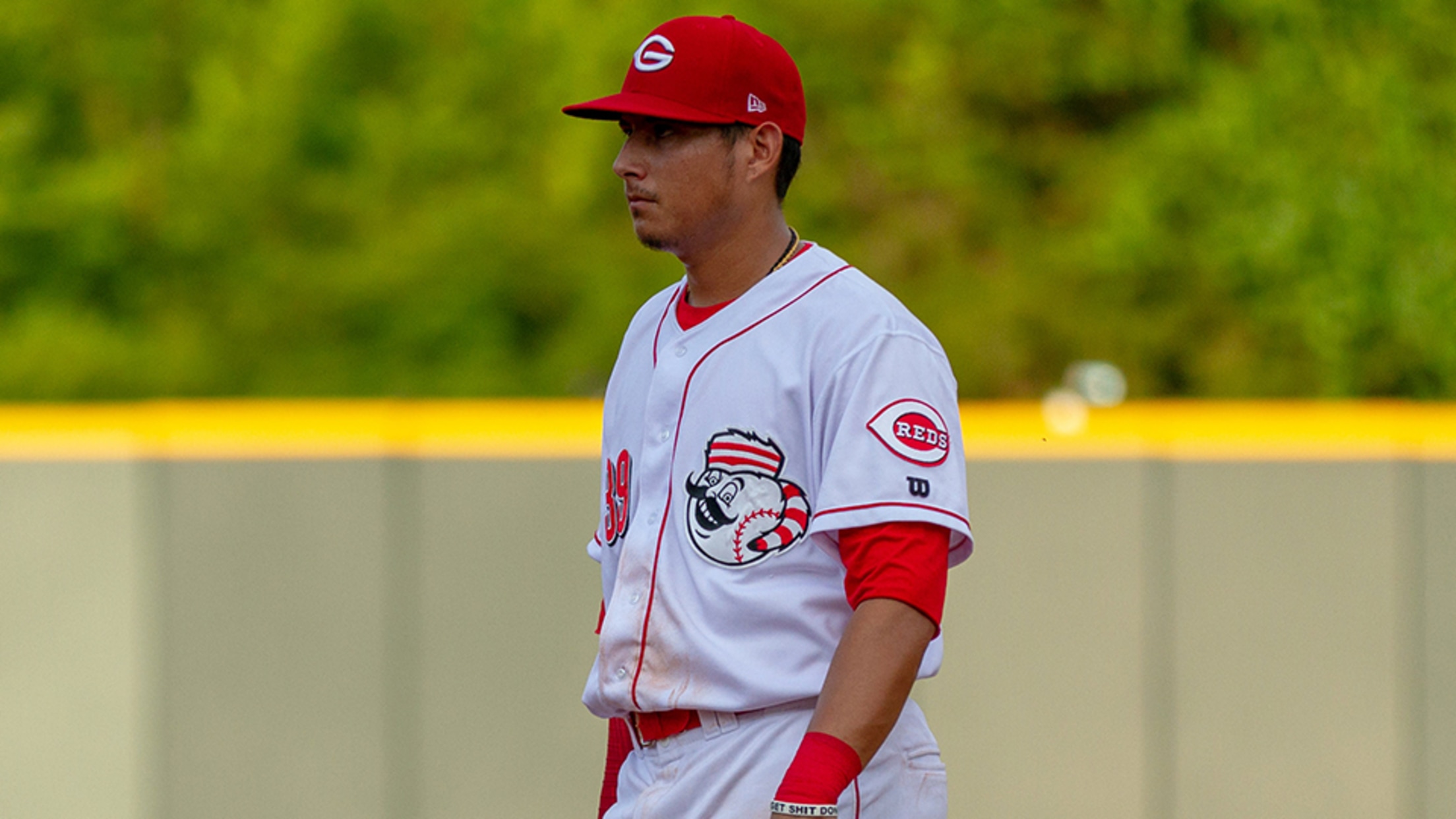 3B Raul Juarez smashed a two-run home run in game two, as the Greeneville Reds took the nightcap, 6-1, while the Burlington Royals captured game one, 9-2, in front of 992 fans at Pioneer Park on Sunday night. (Doug Gray / RedsMinorLeagues.com)
GREENEVILLE, Tenn. -- After a two-hour and 29-minute rain delay, baseball was finally played at Pioneer Park. The Burlington Royals captured game one, 9-2, while the Greeneville Reds came away with a triumph in game two, 6-1, in front of 992 fans on Sunday night.With the split, the Redlegs' record moved
GREENEVILLE, Tenn. -- After a two-hour and 29-minute rain delay, baseball was finally played at Pioneer Park. The Burlington Royals captured game one, 9-2, while the Greeneville Reds came away with a triumph in game two, 6-1, in front of 992 fans on Sunday night.
With the split, the Redlegs' record moved to 12-18 on the season, while the Royals saw their mark for the year go to 9-22.
After falling in the lid-lifter, Greeneville jumped out of the gate early in the nightcap. In the bottom of the second, 1B Rylan Thomas (0-1, R, BB) was plunked and RF Reniel Ozuna (2-2, R, 2 RBI, BB) walked to start the frame. C Rob Boselli (2-3, RBI) followed with a run-scoring single and - after an errant pickoff throw moved Ozuna to third - LF Brandt Stallings (0-1, R, RBI, BB, SO) clocked a sacrifice fly to center to give the Reds a 2-0 lead.
In the third, 2B Jonathan Willems (1-3, 2 R, 2B) stroked a two-out double down the left-field line and Thomas drew a free pass. Ozuna then ripped a single to center to score Willems and stretch Greeneville's advantage to 3-0. An inning later, Stallings worked a one-out walk and on the next pitch 3B Raul Juarez (1-3, R, HR, 2 RBI, SO) ripped a line drive over the left-field fence for a two-run home run. The blast - his first of the year - extended the Reds cushion to 5-0.
Both teams traded runs in the fifth. Burlington pushed their lone run of game two across on a wild pitch, while Willems reached on a missed catch error, scooted to second on a wild pitch, advanced to third on a fly out and then came home on another single by Ozuna.
RHP Josiah Gray (4.2 IP, 3 H, R, ER, 2 BB, 6 SO) was splendid but fell one out shy of qualifying for the win. RHP Manuel Cachutt (1.1 IP, 2 BB, SO) tossed a scoreless outing of relief to earn his first win of the season.
It was a rough night for Burlington LHP Marlin Willis (3.1 IP, 4 H, 5 R, 4 ER, 5 BB, SO). The 20-year-old walked five and issued five runs (four earned), suffering his second defeat of the campaign.
The Royals saw much more success offensively in game one, scoring eight runs in the first three innings.
Burlington put the first three men of the game on-base courtesy of two walks and a single. A bases-loaded walk to DH Jackson Lueck (0-2, 2 RBI, BB, SO) and a fielder's choice from C Freddy Fermin (0-4, RBI, SO) brought in a pair to give the Royals an early 2-0 lead.
Greeneville would answer back, as 3B Jonathan India (3-3, R, HR, 2 RBI) smashed a solo home run to deep left-field - his third of the year - to pull the Reds back within one, 2-1. Yet, that was as close as they would get.
A four-run second helped create distance for the Royals and two more in the third put the contest out of reach. A throwing error and a walk started the frame, as SS Jeison Guzman (3-4, 2 R, BB) laid down a bunt single. Another errant toss allowed a run to score, giving Burlington a 3-1 edge. A two-run double by CF Eric Cole (2-3, 2 R, 2B, 3 RBI, BB) and a sacrifice fly from Lueck made it a five-run affair, 6-1. LF Colby Schultz 's (1-3, R, 2 RBI, BB) two-RBI single in the third put the Royals up 8-1.
Much like game two, both teams traded tallies in the fifth. A run-scoring base-hit by Cole put Burlington ahead by eight, 9-1, but India responded again with an RBI knock to left to pull the Reds back within a touchdown, 9-2.
LHP Austin Cox (5.0 IP, 5 H, 2 R, ER, 3 SO) did not have his best strikeout stuff but yielded only two runs (one earned) over five innings to earn his first professional win for the Royals. His counterpart - LHP Jacob Heatherly (1.0 IP, H, 2 R, 2 ER, 3 BB, SO) - failed to last past the first inning for the Reds and was handed his third defeat.
Greeneville will go for their third-straight series victory on Monday night, as RHP Miguel Medrano (0-2, 8.85 ERA) is expected to toe the slab. Burlington is expected to counter with Kansas City's No. 27 prospect according to MLB.com, RHP Elvis Luciano (0-3, 7.17 ERA).
The G-Reds Pre-Game Show will kick off the broadcast at 6:45 p.m. ET, leading up to the 7:00 p.m. ET start at Pioneer Park. Monday night's contest can be heard on GreenevilleReds.com or via the TuneIn Radio and MiLB First Pitch apps.
It will be a Dollar Monday at the ballpark, as fans can enjoy hot dogs, potato chips, candy, and select beer options for just one dollar.
Season and single-game tickets are still available and can be purchased online at GreenevilleReds.com or by calling the Reds' Ticket Office at (423) 609-7400.