Reds start trip with twinbill sweep over Braves
Offense explodes late to win game one, 7-2; Ride pitching to win in game two, 2-1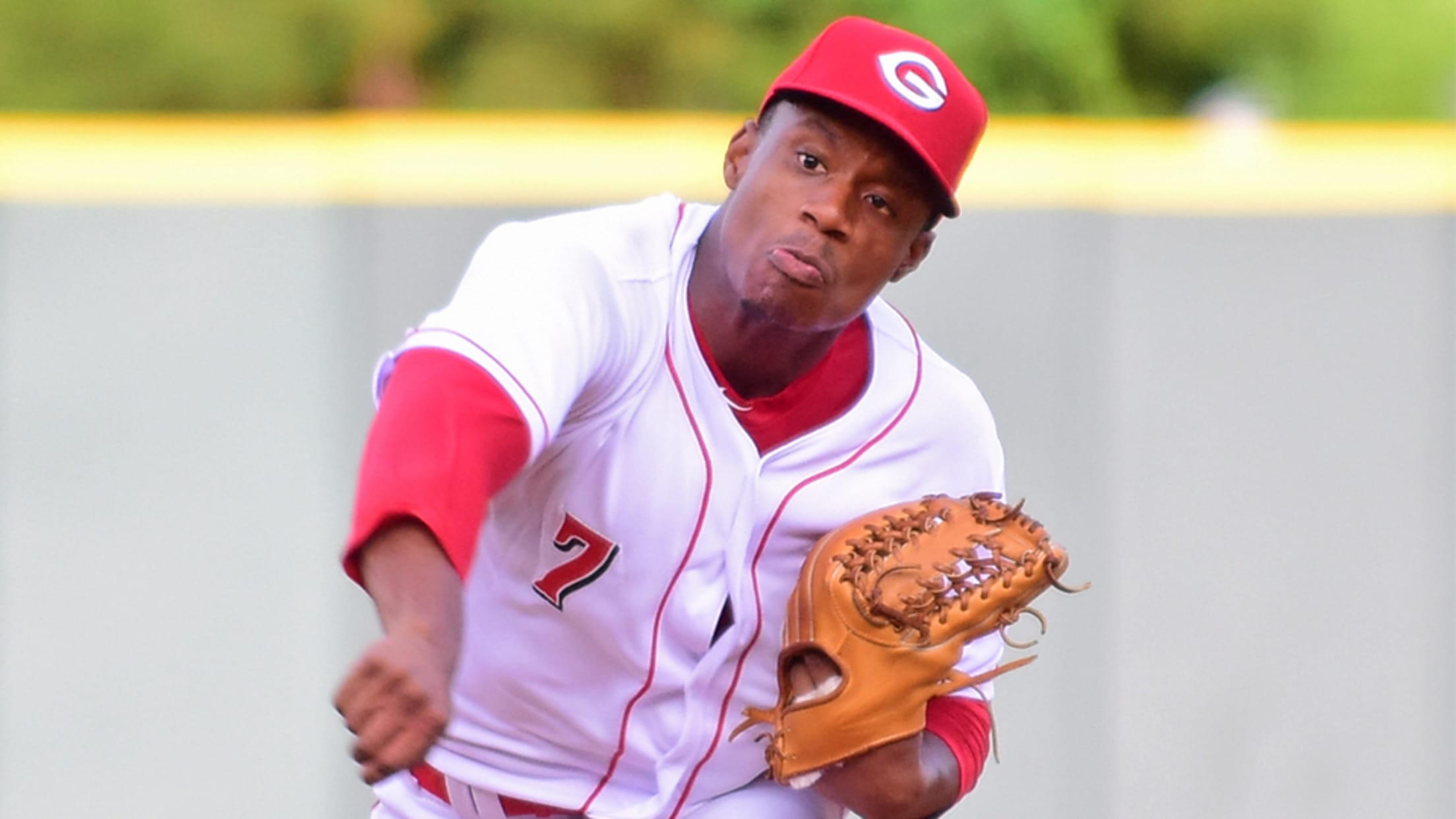 RHP Josiah Gray allowed just one hit and retired the final 13 men he faced en route to his second pro victory in game one of a doubleheader over the Danville Braves, 7-2. The Greeneville Reds took game two, as well, 2-1, at Legion Field on Thursday night. (Tate Russell / The Greeneville Sun)
DANVILLE, Va. -- Rested after the season's final off day, Greeneville proved how fresh they were, as they came-from-behind to take both games of a doubleheader against the Danville Braves. The Reds captured game one, 7-2, and registered a triumph in the nightcap, 2-1, on Thursday night at Legion Field.With the
DANVILLE, Va. -- Rested after the season's final off day, Greeneville proved how fresh they were, as they came-from-behind to take both games of a doubleheader against the Danville Braves. The Reds captured game one, 7-2, and registered a triumph in the nightcap, 2-1, on Thursday night at Legion Field.
With the doubleheader sweep, Greeneville improved their overall record to 22-32. Danville's pair of losses dampened their playoff hopes, falling to 29-26 on the campaign.
Trailing 1-0 after four in the lid-lifter, the Reds grabbed the lead for good in the fifth. RF Reniel Ozuna (1-3, R, SO) broke up a no-hit bid with a single to right and DH Jonathan Willems (1-3, R, SO) followed with a knock of his own. Following a strikeout, C Hunter Oliver (2-2, 2 R, RBI, BB) poked a base-hit up the middle - scoring Ozuna - to tie the game up at one. SS Miguel Hernandez (2-3, 2 R, HR, 4 RBI) capped off the rally by launching a three-run home run over the left-field fence - his second of the year - to put Greeneville in front, 4-1.
The Redlegs put the game out of reach in the seventh. Thanks to a pair of singles from 2B Claudio Finol (1-3, R, SO) and Oliver, as well as a pair of wild pitches, the visitors had second-and-third and no one out. Consecutive knocks from Hernandez and CF Mike Siani (1-3, RBI, BB) drove in both men to expand Greeneville's advantage to five, 6-1. A passed ball permitted Hernandez to cross the dish, making it a 7-1 contest.
Danville tallied a run in the first on an infield single by RF Justin Smith (1-3, R, RBI, SO) and another in the seventh on a single and a scoring error, but the G-Reds pitching stole the show.
RHP Josiah Gray (5.0 IP, H, R, ER, BB, 5 SO) surrendered only one hit - retiring the final 13 men he faced - to garner his second professional win. LHP Jerry D'Andrea (2.0 IP, H, R, 2 SO) issued a measly unearned run over two frames to tally his second pro save.
RHP Matt Rowland (5.0 IP, 4 H, 4 R, 4 ER, 2 BB, 4 SO) carried a no-hit bid through 4.1 innings in game one but faltered after it was broken up. The 20-year-old ended up taking his second defeat of the season.
In the nightcap - once more - the Braves jumped out to an early advantage. SS Luis Mejia (1-4, R, SO) started the home half of the first with a single and moved all the way to third on a fielding error. 3B Brett Langhorne (1-3, RBI) stroked an RBI single to center to give Danville a 1-0 edge.
The Braves pitching staff kept Greeneville scoreless for the first five frames of the nightcap, but that was all. CF Mike Siani (1-4, R, 2B, SO) ignited the attack with a double to right, while SS Claudio Finol (2-4, 2B) followed with an infield single to short. After an errant throw on the knock allowed the 19-year-old to take third, 3B Rylan Thomas (1-2, 2B, RBI, SO) lofted a fly ball to deep left. Siani tagged up and scored on the sacrifice fly to tie it up at one.
Despite not registering a base-hit, the Redlegs took the lead for good in the top of the seventh. C Rob Boselli (0-2, 2 SO) was plunked by a pitch to start the inning and was lifted immediately for Nate Scantlin to pinch-run. A wild pickoff throw enabled the Rose Hill, Kan. native to advance to third before another hit-by-pitch got RF Brian Rey (0-2) aboard. With DH Edwin Yon (0-1, BB, SO) at the dish, a wild pitch allowed Scantlin to scamper home to give G-Reds a one-run lead, 2-1.
That was more than enough for RHP Connor Bennett (1.0 IP, SO) who came on to seal the deal in the bottom of the inning. The former 34th-round pick retired Danville in order to close out the sweep and his third save of the season.
Bennett's effort came in support of a marvelous start by RHP Miguel Medrano (6.0 IP, 6 H, R, 2 BB, 9 SO). The 20-year-old struck out a season-best nine and yielded only one unearned run en route to his second win of the season.
RHP Mason McReaken (2.1 IP, 2 H, 2 R, BB, 3 SO) struggled with his command after a strong start and was saddled with a blown save and his first loss of the campaign. RHP Trey Riley (2.0 IP, H, 4 SO) punched out four in two innings in a no-decision for Danville.
Greeneville will look to capture their first series of the month, as LHP Jacob Heatherly (0-4, 7.71 ERA) - Cincinnati's No. 19 prospect according to MLB.com - is slated to take the mound in game three. Danville is projected to counter with RHP Jose Montilla (1-2, 3.86 ERA).
The G-Reds Pre-Game Show will kick off the broadcast at 6:45 p.m. ET, leading up to the 7:00 p.m. ET start at Legion Field. Friday evening's contest can be heard on GreenevilleReds.com or via the TuneIn Radio and MiLB First Pitch apps.
Following the road trip, the Reds will return to open up a three-game, two-day series against the Kingsport Mets on Sunday, August 19. It will be a doubleheader against the K-Mets with first pitch slated for 4:00 p.m. ET. Fans are encouraged to arrive early, as the first 500 fans through the gates will receive a commemorate Tony Perez T-Shirt Giveaway.
Single-game tickets are still available and can be purchased online at GreenevilleReds.com or by calling the Reds' Ticket Office at (423) 609-7400.