Reds use 11th inning magic to top Yanks, 8-7
Greeneville scores two in 11th to capture second-straight win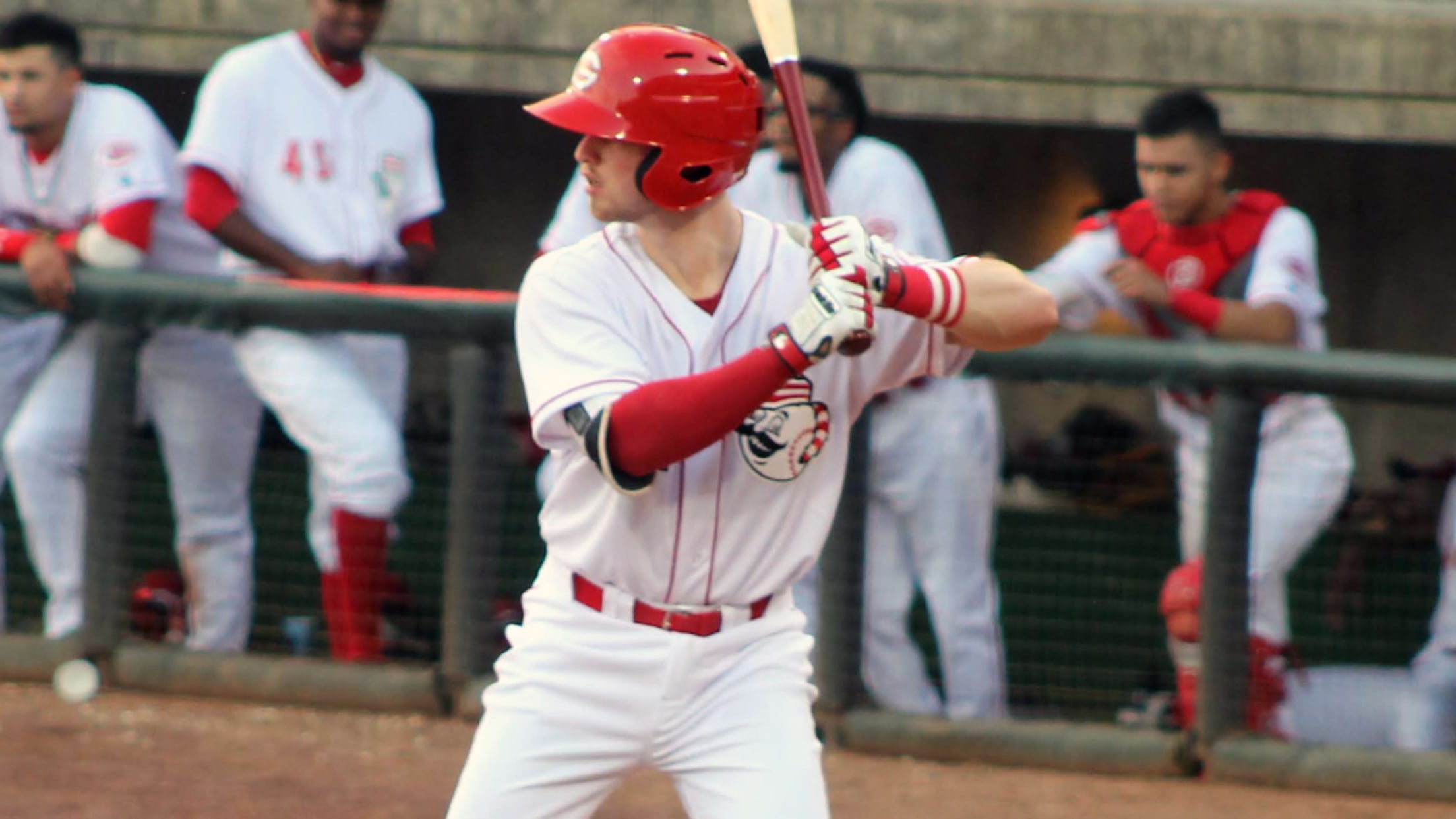 DH Cash Case picked up two hits and drove in a pair of runs, as the Greeneville Reds knocked off the Pulaski Yankees, 8-7, in 11 innings on Friday night at Calfee Park. (Sally Fletcher)
PULASKI, Va. - No one ever said winning is easy. A night after needing a stellar relay to hold on to a win, Greeneville executed small ball perfectly in extra innings and took advantage of a few Pulaski miscues, as the Reds knocked off the Yankees, 8-7, in 11 innings at
PULASKI, Va. - No one ever said winning is easy. A night after needing a stellar relay to hold on to a win, Greeneville executed small ball perfectly in extra innings and took advantage of a few Pulaski miscues, as the Reds knocked off the Yankees, 8-7, in 11 innings at Calfee Park on Friday night.
With the victory, the G-Reds have now won consecutive ballgames for the first time this season, improving their record to 2-2. Pulaski's defeat was their third straight in extra innings, as they dropped to 1-3 on the year.
Tied at six, the Reds started with the go-ahead run at second in the 11th, as a part of Minor League Baseball's new extra-inning rules. Leading off the frame, 3B Juan Martinez (0-2, 3 R, 2 BB, SO) attempted to pull back on a sacrifice bunt with a fastball tailing up-and-in, but ended up making contact. An errant throw trying to get the lead runner went up the third-base line, allowing 1B Raul Juarez (0-1, R, SO) - the man who was placed at second to start the frame - to score, giving Greeneville the lead, 7-6. After a bunt single by DH Cash Case (2-4, 2 RBI, BB, 2 SO), SS Miguel Hernandez (1-5, RBI, 4 SO) roped an RBI single past the drawn-in infield, giving the Reds a two-run advantage, 8-6.
In the bottom half of the frame, LHP Jerry D'Andrea (1.0 IP, R, SO) allowed the assigned runner to score after a fly out and a wild pitch, but struck out 3B Nelson Gomez (2-5, 2 R, HR, RBI, BB, 3 SO) looking to seal the win and his first professional save.
Greeneville initially maintained a 6-2 advantage after five-and-a-half innings before Pulaski mounted their rally.
Trailing 1-0 in the fourth, 2B Claudio Finol (1-5, R) ignited the inning with a single to center and moved to second on a walk issued to Martinez. Following a wild pitch, Case slapped a two-run single to center to put the Reds in front, 2-1.
LF Zeke White (2-4, 2 R, RBI) would manufacture a run by himself in the fifth. After getting aboard with a leadoff single, the speedster swiped second, advanced to third on a sacrifice bunt and came across to score on a throwing error, making it a 3-1 contest.
Following a solo home run by Pulaski's CF Everson Pereira (2-6, 2 R, HR, RBI, 3 SO) that cut the advantage to one, Greeneville struck back with a three-run top of the sixth.
1B Justin Bellinger (1-4, R, 2 SO) and Martinez got aboard with a single and a walk to begin the frame. After a pair of punch outs, White stroked a single through the left side of the infield - scoring Bellinger - to stretch the Reds lead back to two, 4-2. RF Satchel McElroy (0-4, 2 SO) would hit a grounder to third, but another errant throw allowed two more runs to cross the dish, giving Greeneville a 6-2 edge.
The Yankees were able to tie it thanks to a solo home run by Gomez in the sixth, a run-scoring single by SS Max Burt (2-5, 2B, RBI, 2 SO) in the eighth and a two-run, game-tying homer to left by RF Juan De Leon (2-4, R, HR, RBI, 3 RBI, 2 SO) with one out in the ninth.
Despite the no-decision, RHP Miguel Medrano (5.0 IP, 6 H, 2 R, 2 ER, 2 BB, 8 SO) was magnificent in his Cincinnati organizational debut. The 20-year-old demonstrated a sharp-breaking curveball to strike out eight Pulaski hitters, yielding two runs in five frames.
His counterpart - Pulaski's RHP Luis Gil (4.0 IP, 2 H, 2 R, 2 ER, 2 BB, 6 SO) - punched out six in a no-decision.
RHP Cory Heitler (2.0 IP, 2 H, 2 R, 2 ER, 5 SO) surrendered the game-tying blast in the ninth, but struck out the side in the 10th to garner his first professional victory. RHP Brett Morales (1.0 IP, 2 H, 2 R, ER, SO) suffered his second defeat of the campaign in relief for Pulaski.
The Reds will search for their third-straight triumph on Saturday night, as RHP Lyon Richardson - Cincinnati's second-round selection and highest signed draftee - is expected to make his professional debut. RHP Alexander Vizcaino is slated to toe the slab for the Yankees.
The G-Reds Pre-Game Show will kick off the broadcast at 6:45 p.m. ET, leading up to the 7:00 p.m. ET start at Calfee Park. Friday night's contest can be heard on GreenevilleReds.com or via the TuneIn Radio and MiLB First Pitch apps.
The Redlegs will return home to square off against the Kingsport Mets on Monday, June 25 at 7 p.m. ET. It will be a Dollar Monday at Pioneer Park featuring hot dogs, candy, potato chips, popcorn and select draft beer options for just one dollar.
Season and single-game tickets are still available and can be purchased online at GreenevilleReds.com or by calling the Reds' Ticket Office at (423) 609-7400.