Reports Indicate Wong to Rehab in Peoria Tuesday
Cardinals 2B likely to play Wed/Thurs too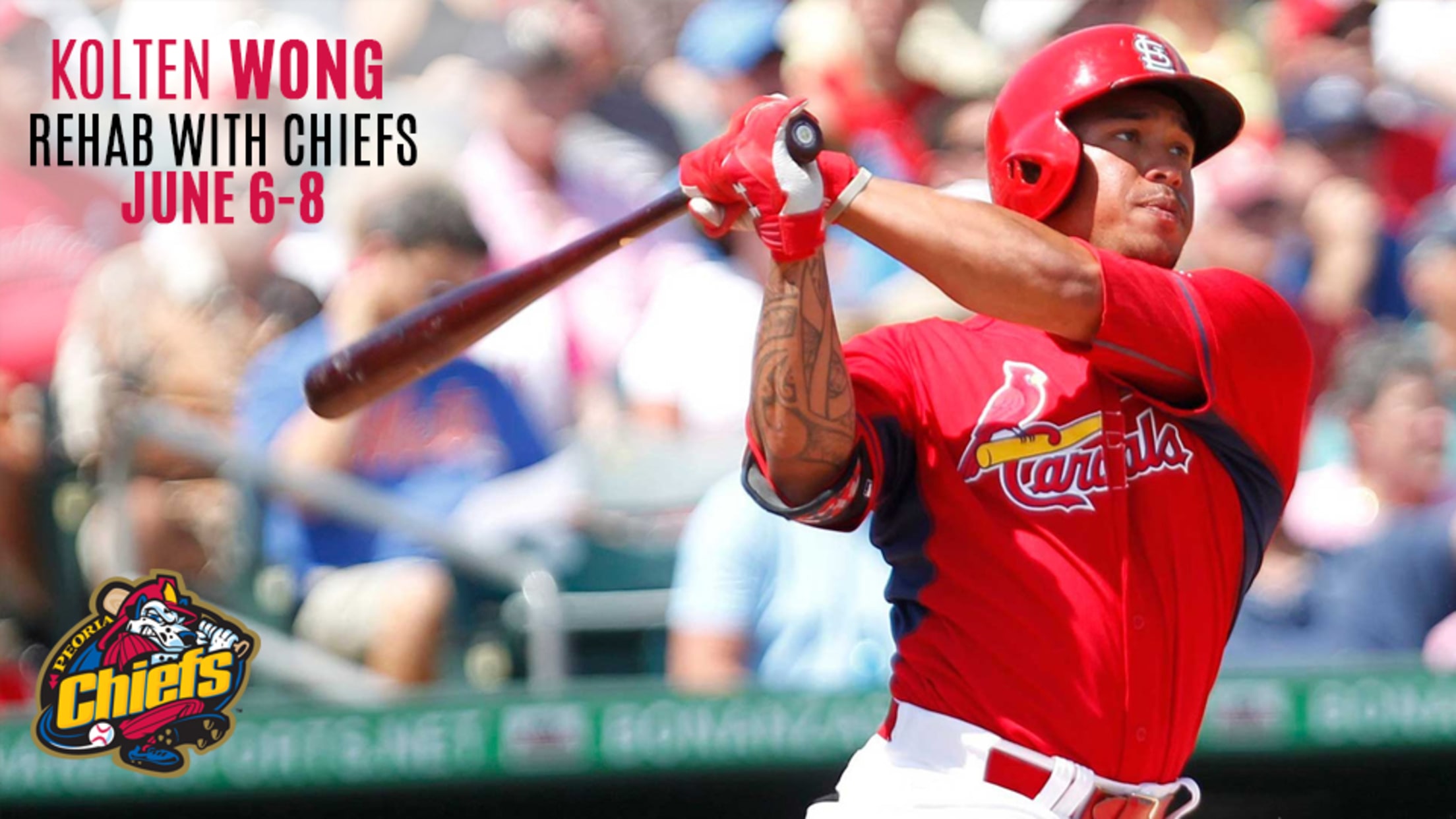 According to reports second baseman Kolten Wong will begin a rehab stint in the Midwest League on Tuesday as the Peoria Chiefs host Kane County at 7:00 p.m. Those reports indicate that Wong is also scheduled to play for the Chiefs on Wednesday and Thursday with both games starting at
According to reports second baseman Kolten Wong will begin a rehab stint in the Midwest League on Tuesday as the Peoria Chiefs host Kane County at 7:00 p.m. Those reports indicate that Wong is also scheduled to play for the Chiefs on Wednesday and Thursday with both games starting at 7:00 p.m. against the Cougars.
Wong went on the Cardinals disabled list May 28 with an elbow strain after originally getting hurt a week earlier. In 41 games this season he is batting .278 with a home run, 11 doubles, two triples, 18 runs scored, 16 RBI and three steals. Last year the 26-year-old hit .240 with five homers, seven doubles, seven triples and 23 RBI in 121 games.
A native of Hilo, Hawaii, Wong made his MLB debut in 2013 with 59 at-bats in 32 games. He hit a career-high 12 homers with 42 RBI, 14 doubles, 20 steals and a .249 average in 2014 while being named the May NL Rookie of the Month. Wong hit .262 with 11 homers, 28 doubles, 15 steals and a career-best 61 RBI in 2015. Wong added three home runs in the 2014 MLB playoffs including a walk-off homer against the San Francisco Giants in Game 2 of the National League Championship Series.
After being selected with the 22nd overall pick in the 2011 draft, Wong reported to the Midwest League's Quad Cities River Bandits. He hit .335 in 47 games in the second half of the season to help the River Bandits to the MWL Championship with five homers, 15 doubles, nine steals, 25 RBI and 39 runs scored. Wong played 126 games for Double-A Springfield in 2012, batting .287 with nine homers, 23 doubles, 52 RBI and 79 runs scored while being named a Mid-Season and Post-Season Texas League All-Star. He played 107 games for Triple-A Memphis in 2013 with a .303 average to go along with 10 homers, 21 RBI, eight triples and 45 RBI before making his MLB debut. While in the Minors, Wong represented the Cardinals in both the 2012 and 2013 MLB Futures Games and was named the Cardinals 2013 Minor League Player of the Year.
Wong would be the Chiefs second MLB rehab of the 2017 season following pitcher Tyler Lyons last month. Last year Jhonny Peralta played five games on the infield for the Chiefs. Cardinals LHP Jaime García threw the first five innings of a no-hitter against Clinton on July 23, 2015 in a rehab start. Jon Jay also rehabbed for the Chiefs in the outfield in 2015 while Jake Westbrook threw seven innings in a win against Quad Cities on June 9, 2013.
All three games in which Wong is scheduled to play against the Kane County Cougars start at 7:00 p.m. Tuesday is a Chik-Fil-A Thanks For Your Service Tuesday where veterans and first responders get $3.00 tickets. Wednesday is Social Media Night and the first 1000 fans 13 and over get a T-Shirt featuring an emoji of 2012 Chiefs slugger Javier Báez presented by Sam's Club. Wednesday is also a Bang for Your Buck Night with $1 hot dogs, $1 sodas and $1 nachos. Thursday includes an appearance by WWE Hall of Famer Jim "Hacksaw" Duggan and is also a Brewers Distributing Beer & Brats Thirsty Thursday with $2 12-ounce domestic drafts and sodas, $3 16-ounce craft drafts, $3 margaritas and $3 brats. Thursday is also a Taco Bell Live Mas Thursday where a receipt from a Central Illinois Taco Bell gets a Buy One Get One Free ticket deal (limit 4 free tickets).
Tickets for this week's games are available at the Dozer Park Box Office or online at www.peoriachiefs.com. Per the Chiefs ticket policy, the Never-A-Wasted Ticket exchange plan is suspended for all MLB Rehab appearances.
Tickets and Promotions:
Season ticket packages, including full-season, a 35-game ticket package, an 18-game ticket package, a Flex Plan or Pick-Six Plan are currently on sale by calling 309-680-4000. Individual and group tickets are also available online at www.peoriachiefs.com. All game times and promotions are subject to change. Fans can keep up with all Chiefs news at www.peoriachiefs.com and on twitter: @PeoriaChiefs.