Return Of The Gold Sox Boosts Amarillo To Fourth Straight Win 
In 100th Game Of Season, Gold Sox Earn Series Win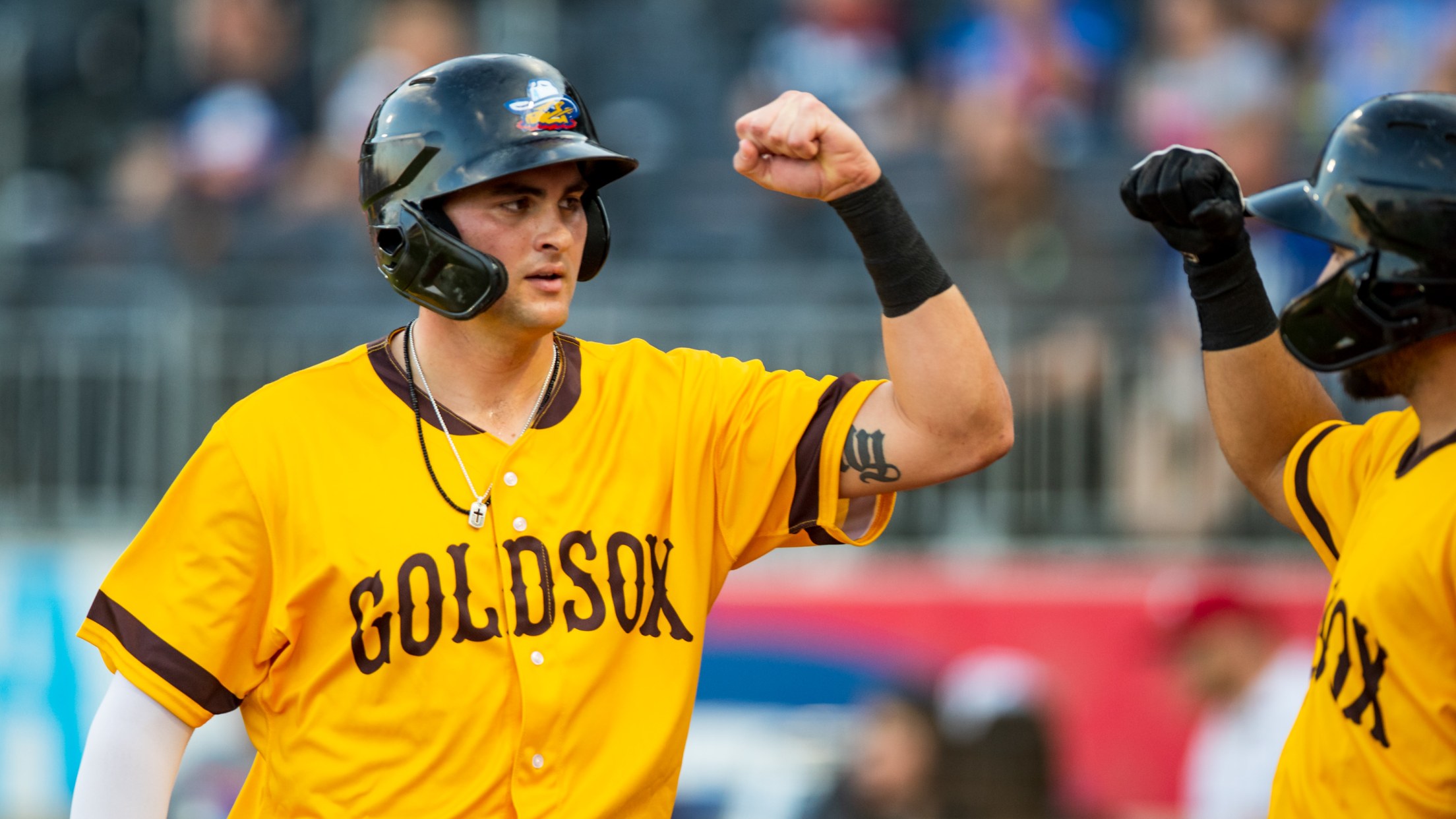 (John Moore)
Saturday, August 28, 2021 vs. Frisco RoughRiders [TEX] Frisco RoughRdiers (56-44) | Amarillo Sod Poodles (47-53) Amarillo, Texas — Donning replica Amarillo Gold Sox jerseys honoring the 1976 Texas League Championship team, Amarillo earned their fourth straight win, tying a season-high for consecutive wins in 2021. Amarillo put themselves up
Saturday, August 28, 2021 vs. Frisco RoughRiders [TEX]
Frisco RoughRdiers (56-44) | Amarillo Sod Poodles (47-53)
Amarillo, Texas — Donning replica Amarillo Gold Sox jerseys honoring the 1976 Texas League Championship team, Amarillo earned their fourth straight win, tying a season-high for consecutive wins in 2021. Amarillo put themselves up 6-0 in the second inning on a trio of home runs and outlasted Frisco's comeback bid in the 9-6 win.
Ryder Jones singled with one out in the bottom of the opening frame and then raced around the bases to score on Stone Garrett's double. His team-leading 94th hit ricocheted off the concrete base of the left field wall and away from the Frisco left fielder allowing Jones to score from first.
Dominic Canzone singled to leadoff the second inning for the Gold Sox. An errant pickoff attempt moved him into scoring position. Amarillo backstop Dominic Miroglio notched his eighth homer of the season as the Gold Sox built a three run lead. For the second time in this series, Amarillo went back-to-back with Jancarlos Cintron hitting his sixth home run of the year behind Miroglio. Jones got in on the action with his sixth homer of the season and Amarillo's third home run of the inning, building a six run advantage.
Jones added his third hit of the night when he doubled to begin Amarillo's fourth inning. Consecutive ground outs were good enough to score Amarillo's seventh run of the night.
Right-hander Drey Jameson made his fifth start with Amarillo since being promoted to Double-A earlier this month. The former first round draft pick cruised through his first four innings, allowing just one hit and adding four strikeouts along the way. He ran into some trouble in the fifth inning with the Riders taking advantage of three hits to score as many runs, cutting into the six run lead. His night came to an end after going five innings and allowing the three runs on four hits with six strikeouts.
The Gold Sox got a pair of those runs back in the bottom of the 5th inning highlighted by a RBI double off the bat of Ben DeLuzio.
Frisco added runs in the sixth and seventh inning off a pair of home runs. Rangers No. 5 rated prospect hit a solo home run in the sixth and then Jax Biggers added an inside the park home run in the seventh. Biggers hit a ball into deep left-center field that caromed off the wall after Amarillo center fielder crashed into the wall trying to rob Biggers of the hit.
Mitchell Stumpo became the third Amarillo arm of the night after replacing Blake Workman who worked an inning and a third. Stumpo went 1.2 innings with two hits allowed and struck out three to keep Frisco at bay and leaving two RoughRiders stranded in the top of the seventh with the game still at 9-6 in favor of the Gold Sox. Stumpo issued a walk to the leadoff man in the top of the 8th before a double sent the potential tying run to the plate with one out. He struck out Rangers No. 28 rated prospect Bubba Thompson and then got out of the inning on a fly ball into right field.
Amarillo was unable to push their lead any further even with Jones picking up his fourth hit of the night before swiping second and then third on a throwing error with the next three hitters behind him going down on strikes.
Blake Rogers came out of the bullpen for his ninth save appearance since joining Amarillo in mid June. Rogers set his career-high for saves in a season when he picked up his seventh save in his last outing on Thursday night. He retired Frisco in order in the top of the ninth to earn his eight save of the year and seventh in eight save opportunities in August.
Amarillo secured the series win on Saturday night and will go for their fifth straight win tomorrow evening. Game six of the series continues with D-backs' No. 6 rated prospect Bryce Jarvis (1-1, 5.16 ERA) making his first start since July 11th after a stint on the IL.
Notes:
Pass The Boot, Amarillo: Sticking with the Amarillo God Sox theme, tonight's game featured one of the more infamous traditions in minor league baseball, passing the boot after home runs. Fans used to fill boots or put money through the screen behind home plate when players hit homers with the players keeping the pot. Dominic Miroglio hit the first home run of the night, putting Amarillo up 3-0 at the time. Before the boots could be passed around, Jancarlos Cintron added a home run of his own, going back-to-back with Miroglio. Ryder Jones added a homer of his own in the inning with the three splitting HODGETOWN's first ever boot-full of money.
Drey Day: Arizona Diamondbacks' No. 17 rated prospect made his fifth Double-A start and second inside the home ballpark since his promotion earlier this month. The former 1st round draft pick (34th overall) in the 2019 MLB draft entered tonight's start leading all of minor league baseball in strikeouts since the calendar turned to August. The right-hander added another six to his season total on Saturday night. He went five innings and allowed three runs on four hits. It was the first time since his promotion that he did not go at least six innings and pick up a quality start in Double-A but he did pick up the win, improving to 3-0 in Double-A.
Ryder, Oh My: Amarillo infielder Ryder Jones set a new season-high with four hits in the club's 9-6 win over Frisco on Saturday night. Jones went 4-for-4 with a home run, double, and three runs scored as he fell a triple shy of the cycle. He tied his career-high with his performance while also tying the team single-game high in 2021. He joins Stone Garrett, Osvaldo Abreu, Dominic Miroglio, and Ben Deluzio who all have four hit games this season. He also crossed the plate three times, the fourth time in his career he has accomplished that feat.
WWWWin: Amarillo tied their season-high by picking up their fourth straight win with the win over the Riders. Amarillo's last four game win streak came all the way back in May. The team ended their first 12-game road trip of the season with a pair of wins over Wichita before returning to HODGETOWN and taking the first two games over Midland. The Sod Poodles have since won three games twice, but never getting that fourth. The win also secures their fourth series win of the year and first over Frisco in 2021. The Sod Poodles have won three straight home series dating back to their series against San Antonio from July 27- August 1. With splits in their other two series in that time frame, Amarillo has won or split their last five six-game series.
Double Trouble: Amarillo hit five doubles on Saturday night for the fourth time in 2021. They set a season-high with seven doubles in a game at HODGETOWN on June 18th versus Midland.
M_A\S*_Hers: Four Soddies currently rank among the D-backs minors Top-10 in homers. Eduardo Diaz currently leads the system with 18 while Buddy Kennedy, Andy Yerzy, and Stone Garrett are tied for second with 17 each.
Three Hits, He Was In The....Canzone: Dominic Canzone tied a single-game high with three hits in tonight's win. Since returning from the IL earlier this series, Canzon is 4-for-7 with a triple, double, three RBI and two walks. In 17 games in Double-A, the Ohio State product is 19-for-65 (.292) with eight extra base hits and 14 RBI.
Eight It Great: Right-hander Blake Rogers earned his eighth save of the year, adding to what already is a career-high for saves in a single-season. Seven of his eight saves have come in the month of August. He is currently in solo second place for saves in the D-backs' farm system. He trails Miguel Aguilar who has 15 saves with Triple-A Reno.