Riders Rally in 7th to Win Series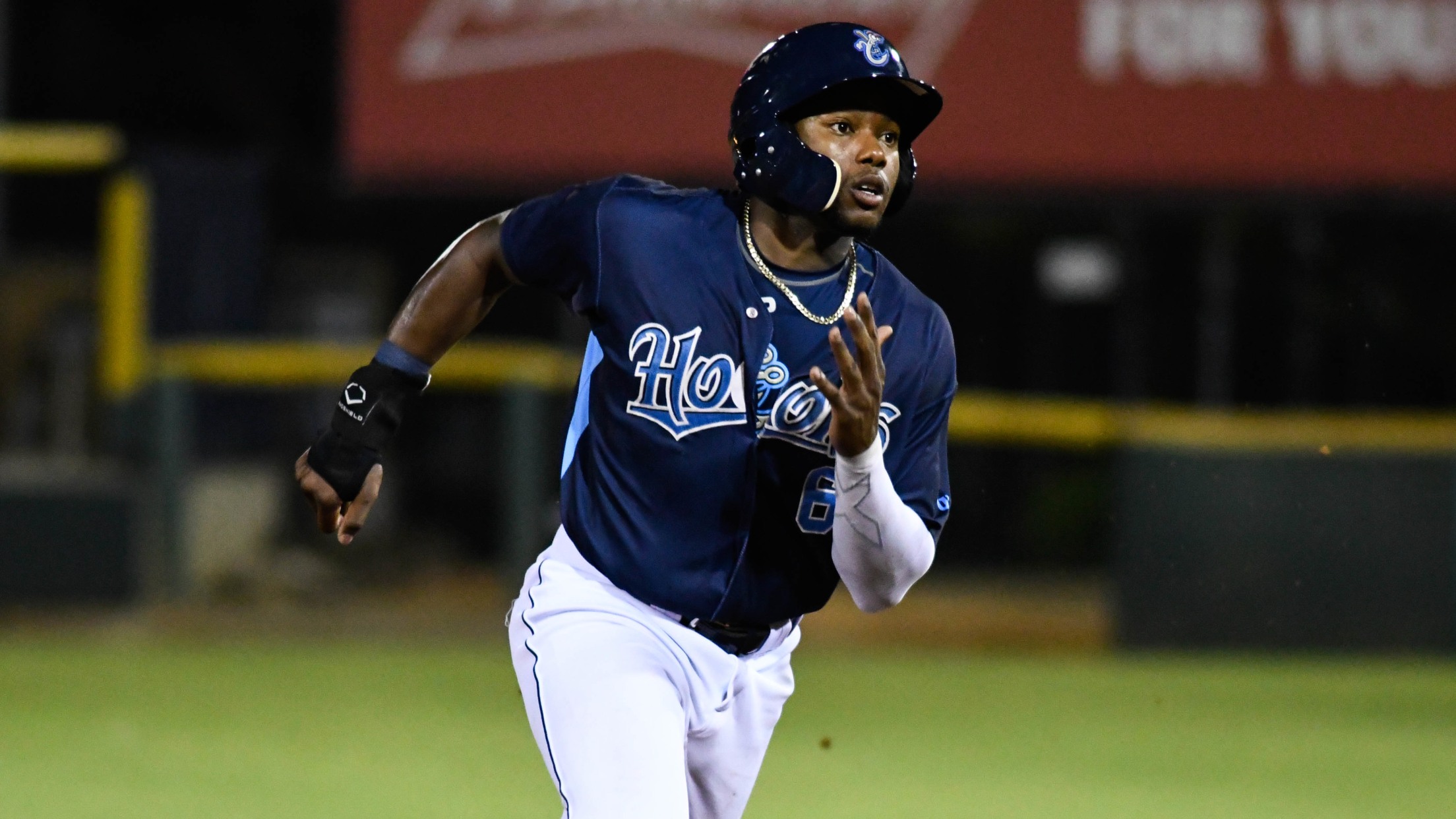 Ronnie Dawson was a triple shy of the cycle Saturday night. (Charlie Blalock)
FRISCO - Luis Yander La O's two-out, two-run double in the seventh inning Saturday night sent the RoughRiders to a 5-3 come-from-behind win over Corpus Christi in front of 7,402 fans at Dr Pepper Ballpark.Ronnie Dawson put the Hooks (25-18, 68-44) in front by attacking the game's first pitch and
FRISCO - Luis Yander La O's two-out, two-run double in the seventh inning Saturday night sent the RoughRiders to a 5-3 come-from-behind win over Corpus Christi in front of 7,402 fans at Dr Pepper Ballpark.
Ronnie Dawson put the Hooks (25-18, 68-44) in front by attacking the game's first pitch and sending it over the left-field fence for his first Double-A home run.
Pedro Payano settled in, retiring nine of the next 10 batters.
Rehabbing Astro Carlos Correa disrupted the sequence by crushing a first-pitch fastball onto the berm in straight-away center field to open the fourth. The 445-foot shot was Correa's first home run since June 17 in Kansas City.
Correa, rehabbing a lower-back injury, is 1-for-6 with a walk in two games for the Hooks.
Corpus Christi starter Brett Adcock exited the game in line for the victory. Adcock spread one run and three hits over five innings of work. The 6-1, 266-pound southpaw struck out five and walked two.
The Hooks played add-on in the seventh. Carmen Benedetti worked a lead-off walk from Ryne Slack (2-3). Benedetti stole second and then advanced to third on a groundout. Lorenzo Quintana cracked a 1-2 pitch into shallow left-center for a 3-1 Corpus Christi edge.
Framber Valdez (4-5), who struck out the side in a perfect sixth, issued a four-pitch walk to start the Frisco (26-17, 50-63) seventh. Destin Hood was next and launched a 3-1 offering onto the left-field berm to tie the game at 3. Chuck Moorman and Jose Cardona later scratched out singles, putting men on for La O's decisive two-out swing.
Adam Parks and Tyler Davis pitched scoreless ball in the eighth and ninth, with Davis picking up his third save.
The Hooks, aiming to avoid being swept, send Corbin Martin (6-1, 2.40) to the mound Sunday night. Lefty Yohander Méndez (0-0, 6.88) is slated to toil for Frisco. First pitch 7:05.