Riders Take Back-&-Forth Affair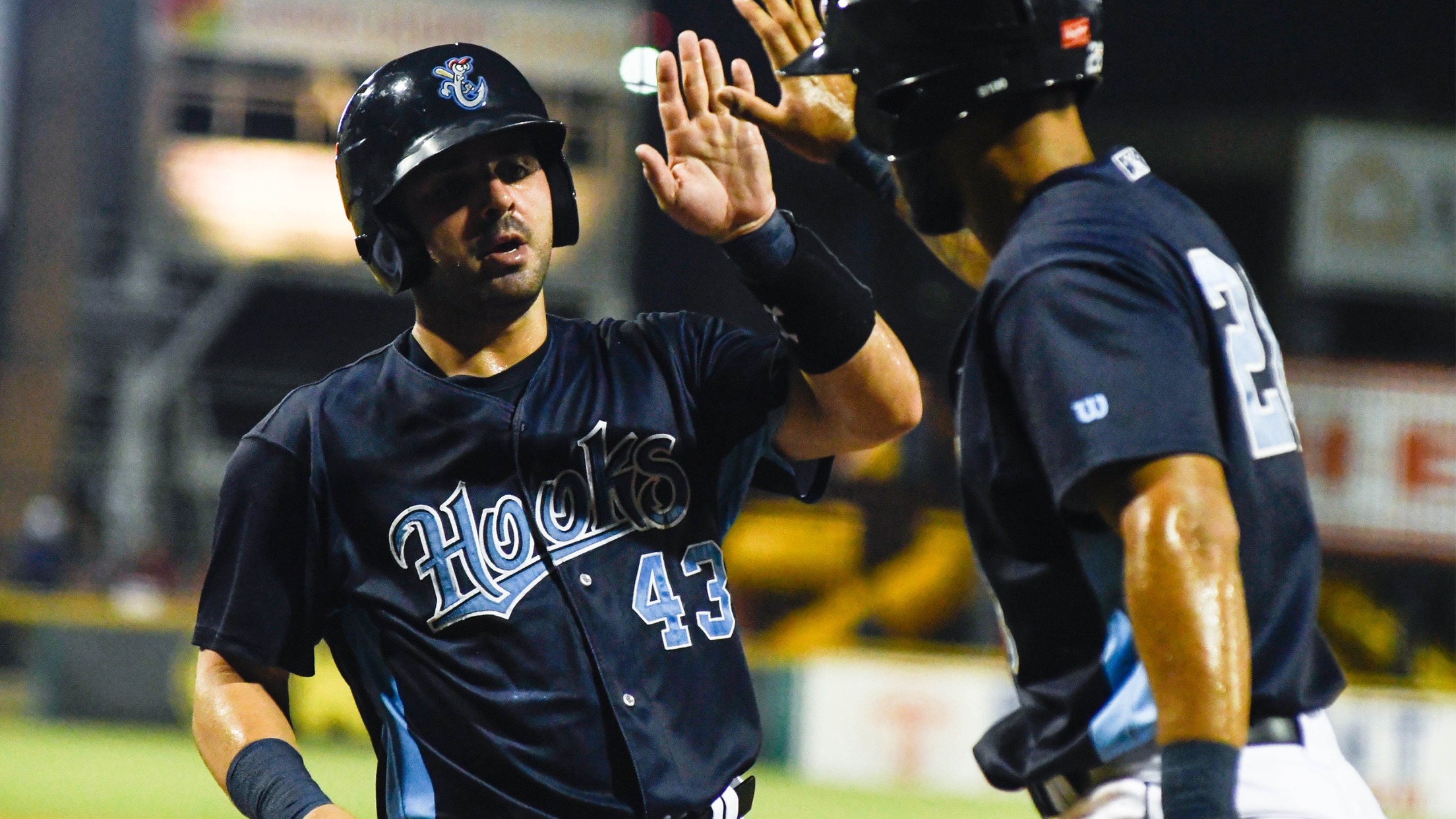 Lorenzo Quintana is 7-for-13 with 9 runs, 2 doubles, 4 home runs, and 10 RBIs in his last 4 games. (Charlie Blalock)
CORPUS CHRISTI - The RoughRiders plated three ninth-inning runs Sunday night en route to a 9-7 victory over the Hooks in the series opener at Whataburger Field.Frisco (14-9, 38-55) racked up 18 hits and went 7-for-16 with men in scoring position, handing the Hooks just their third loss in the
CORPUS CHRISTI - The RoughRiders plated three ninth-inning runs Sunday night en route to a 9-7 victory over the Hooks in the series opener at Whataburger Field.
Frisco (14-9, 38-55) racked up 18 hits and went 7-for-16 with men in scoring position, handing the Hooks just their third loss in the last 15 games.
With Corpus Christi (17-6, 60-32) trailing 6-5, Abraham Toro opened the eighth with a base hit up the middle off lefty Adam Choplick (5-1). Lorenzo Quintana followed with a double into the right-field corner, putting a pair in scoring position. Alex De Goti cashed in with a deep fly ball that one-hopped the centerfield fence. His two-run, two-bagger made it 7-6 Corpus Christi.
Frisco answered immediately. A barrage of four hits greeted Erasmo Pinales (1-4) in the ninth. Preston Beck started the rally with a double to right-center. Three singles followed. The Riders scored the go-ahead run when Destin Hood hit into a 4-6-3 double play. Luis Mendez made it a two-run game with an RBI single into right field.
Reed Garrett worked a 1-2-3 ninth to pick up his 11th save. Sunday's series opener featured eight lead changes, with the clubs combining for nine runs over the final three innings.
Randy César started the scoring for Corpus Christi with a two-run double in the first. The Hooks were also bolstered by home runs from De Goti, Quintana, and Carmen Benedetti.
Lead-off hitter Eliezer Álvarez paced the attack for the RoughRiders, going 4-for-5 with three runs scored, a double, home run and two RBIs.
Hooks starter Corbin Martin needed 86 pitches to get through four innings of work. Martin, who entered the contest 6-1 with a 2.23 ERA in 12 Texas League outings, was touched for three runs on seven hits and three walks.
Justin Ferrell allowed two runs on four hits in 2 1/3 frames.
Akeem Bostick (1-2, 3.81) is slated to start for Corpus Christi Monday night. The RoughRiders will send Justin Topa (0-2, 6.63) to the hill. First pitch 7:05.