Rise to top a family affair for Bryant, Gallo
Las Vegas products together grew into game's top power prospects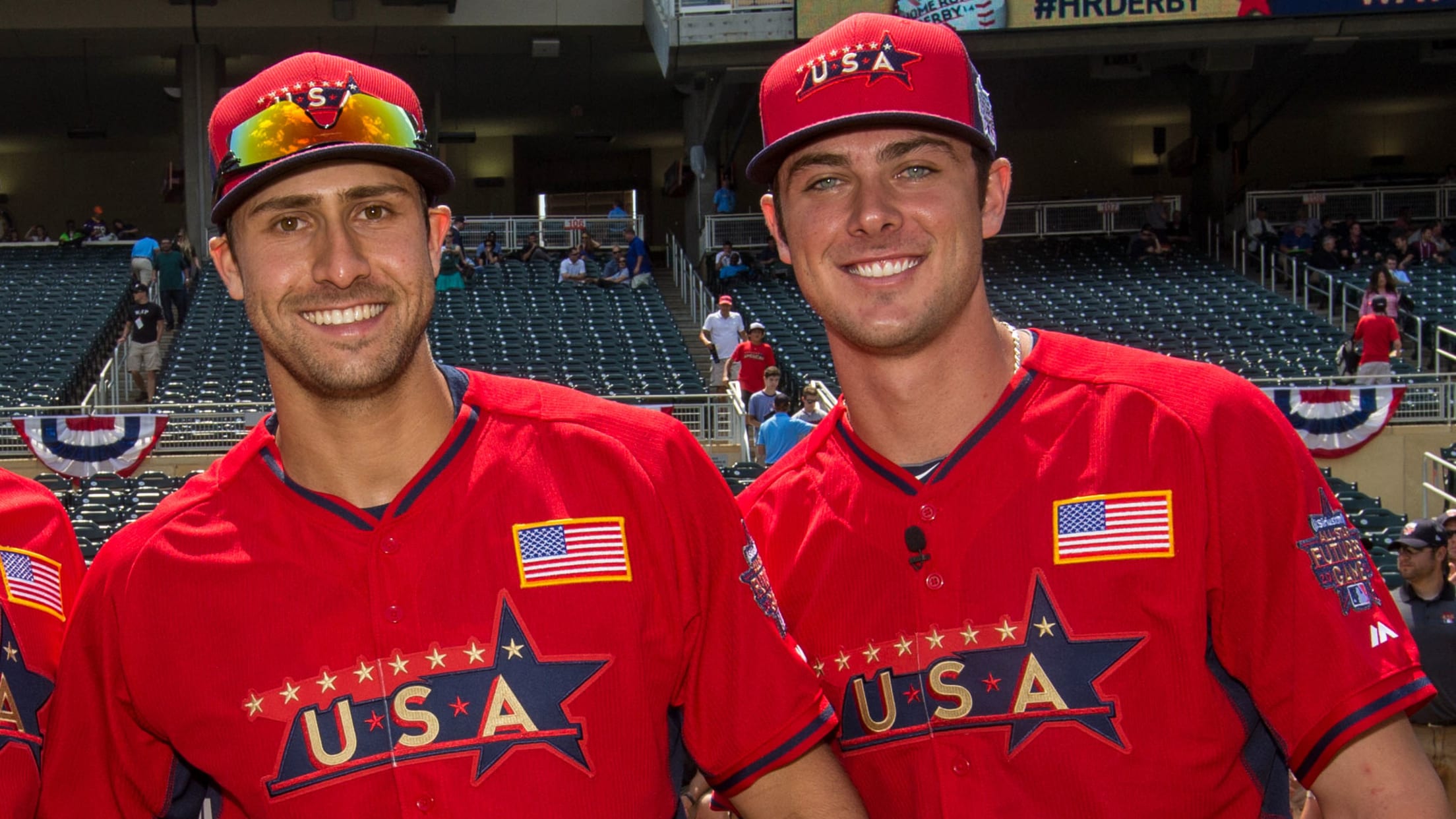 Joey Gallo and Kris Bryant met up again at the 2014 Futures Game at Target Field. (Brace Hemmelgarn/Minnesota Twins)
Mike Bryant and Tony Gallo each have a word to describe their sons' ascension to baseball's power throne. For Bryant, it's "validation." For Gallo, "surreal." For both, it's nearly indescribable. Kris Bryant and Joey Gallo are towering, hulking ballplayers now, top prospects in the Cubs and Rangers systems respectively and
Mike Bryant and Tony Gallo each have a word to describe their sons' ascension to baseball's power throne. For Bryant, it's "validation." For Gallo, "surreal."
For both, it's nearly indescribable.
Kris Bryant and Joey Gallo are towering, hulking ballplayers now, top prospects in the Cubs and Rangers systems respectively and far cries from the small, quiet boys their fathers developed into athletes and their mothers molded into men. From the dusty fields of Las Vegas to the manicured oases of the Major Leagues, Bryant and Gallo have ignited the imaginations of two fan bases and widened the eyes of those who've witnessed their power.
It all started with a book.
"You know what we get to do today, guys?" Mike Bryant would ask his son's teams before their games when Kris was just a boy in his native Las Vegas. "We get to play baseball. And it's December. And it's 60 degrees out. This is the happiest day of my life right now."
Kristopher Bryant came into the world the son of a baseball man who believed in the tenets of one of the game's greatest, and after a brief professional career on the field, applied those principles to countless boys chasing the same dream.
"When I watched [Kris and Joey] hit for the first time," Mike Bryant said, "the very first time they swung the bat, they swung the bat up. That's what the body wants to do. It wants to swing up. It starts in a certain position, you finish above your shoulders, and the bat has natural upswing to it. Nobody's ever explained that better than Ted Williams. I got his book when I was 14 years old, and it was talking about angles and the degree of the flight, how curveballs have more depth in terms of degrees on them."
Williams' 1971 book The Science of Hitting was a revelation to the elder Bryant. A one-time Red Sox farmhand himself, Bryant found a kindred spirit in the "Splendid Splinter," who preached meeting a slightly downward-traveling pitch with a slightly upward-traveling bat to create an even plane.
"Every kid that plays this game -- from the time they're bright-eyed and pick up the bat for the first time -- they all dream about hitting home runs. If you're teaching them anything else, you're crushing their dreams," Bryant said with a laugh. "You know what it's like when you're a 6-year-old kid: Hit it over the fence? How do you do that? It comes back to the old Ted Williams approach to hitting which is -- hit it hard and hit it in the air.
"What's being taught to the kids -- they just talk about hitting it on the ground, swinging down on the ball, hitting the top of the ball, all that stuff. It never made any sense to me."
A ninth-round Red Sox selection in 1980, Bryant spent two years in the Minors and hit just four home runs. After leaving the game, he moved to Las Vegas and became a career man, husband and father to Nick and Kris.
Six years before Boston picked Bryant, left-handed flamethrower Tony Gallo signed with Montreal as a free agent. Days after boarding a plane for the first time to fly to Florida for his professional debut, the southpaw's playing days ended following just three Gulf Coast League appearances.
Two decades after they stopped playing, Bryant and Gallo crossed paths on a diamond in Sin City and embarked on a journey that would give rise to two precocious power hitters.
When Kris was in elementary school, his father worked 85 hours a week, making it to his son's games in the third or fourth innings. Though he wasn't there for all the action, it didn't take long for Mike Bryant to notice the fervent pitching instructor often on the field.
"[Tony] was really diligent and passionate with the kids," Bryant said. "We got to talking and I gave him my story, and he said, 'Man, you've got to get down here on the field.'"
Bryant did. A partnership immediately took hold.
"The other two coaches who were running the team saw the bond me and Tony had. We really hit it off because we were two ex-pros."
Bryant and Gallo began assembling some of the best club teams in the nation from their Las Vegas base; clubs that included their talented sons.
"I think some of the parents thought that we were always pushing our boys," Gallo said. "'Just play baseball. This is what you need to do. I played, you need to play.' Honestly, both of us never did that -- I just let [Joey] play. If he wanted to play baseball, fine. If he wanted to play football, that was fine too. He tried the other sports, but honestly, he always gravitated back to baseball."
"My dad and his dad were always coaching together, and I'd always go over to their house every Sunday morning, hit in the cage with them," said Joey Gallo, 22 months younger than Bryant. "I was a little kid at the time, and they were a little bigger than me and better. I was a little intimidated."
Though Gallo may have been intimidated by Bryant, the budding sluggers were putting fear into opposing teams.
"There was one tournament when [Joey] was 10 where he hit 10 or 11 home runs, which actually broke Bryce Harper's record for a 10-year-old," Tony Gallo recalled. "It was just like, 'This is business. I do this every day.' It wasn't like the crazy high-fives and slow-mo around the bases. He always kept his composure."
Mike Bryant tells a similar tale.
"They were pretty quiet kids on the field because they were both playing up with kids a year older," Bryant said. "They were always kind of hanging in the background just doing their thing, quietly dominating the game. Kris and Joey would hit three home runs in a game, and no one would notice."
The baseball world began to. While Harper, right between Bryant and Gallo in age, garnered the headlines as a Vegas prep star, the two coach's sons continued to develop into prospects ... and not just at the plate.
Joey and Kris flashed impressive potential on the mound under Gallo's tutelage as well. Bryant touched the mid-90s as a reliever in a high school playoff game -- after barely pitching all season -- and Gallo hit triple digits on a Toronto scout's radar gun during a postseason high school game of his own. When Tony Gallo informed the scout his son wanted to be an everyday player and not a pitcher, the scout's reaction was disbelief.
"I think [my dad] is more happy to see us on the field living out our dream rather than taking credit for any of our home runs," Kris Bryant said. "For me, I can say he played a big part in my success and my career so far just because he's a dad who was always out there throwing to me in the cage. I'm sure Joey's very thankful for him too, and I'm thankful for Tony, Joey's dad. He taught me how to pitch growing up. I thought I was going to be a pitcher, and I actually turned out to be a hitter.."
With loads of club tournament wins, individual honors and high school in the rearview mirror, Bryant headed to the University of San Diego, where he claimed USA Baseball's 2013 Golden Spikes Award as the top collegiate player before the Cubs selected him second overall in that year's Draft. Gallo had committed to LSU out of high school, but instead signed with the Rangers after being taken in the supplemental first round in 2012.
Baseball has always lent itself to fathers and sons, but mothers have played as big a role in as many hardball legends' lives. Bryant blasts tape-measure homers due in large part to his father's pedigree and training, but he also sends game-used bats to fans on Twitter and spawns viral videos by signing autographs for kids after Spring Training games, a softer side with origins his dad can pinpoint.
"He got all that from his mama," Mike Bryant said, crediting wife Susie. "When I first met her, she was very quiet, to herself. I'm this super-jock, outgoing, Type-A, high-energy, brash, shoot-first-apologize-later-type guy.
"He gets his humility and his genuineness from his mom. He's got some of me in him. He got my baseball DNA, so that's pretty good."
Gallo's mom, Laura, played an integral role in her son's baseball upbringing as Joey's dad worked long hours.
"Probably no one knows him better than my wife," Tony said. "She's probably been to more games because I was working. She would see things right away. When he'd have kind of an off game, she'd go, 'You know what, he's too open, he's too crouched, his hands are too high," just absolutely amazing job. If you ever talk to his agent, Joel Wolfe, he will tell you she should probably be working for MLB."
Standing at his locker at the Cubs' Mesa, Arizona complex on a clear March morning, Bryant reflected on some of his oldest memories with Gallo when a nearby voice piped up.
"Who has more thump?" Cubs center fielder Dexter Fowler asked. "I mean, let's get down to the nitty-gritty here. Who's got more thump? That's my only question."
Without hesitation, Bryant responded, "He does."
"But you just hit more?" Fowler pressed.
"He definitely has more thump. I think his homers go a lot further than mine and are more impressive. I hit one more than him, but he crushes balls better."
The 2014 season saw the former kid wonders go from top prospects to household names. Gallo, fresh off a Minor League home run crown in 2013, blasted 42 jacks as an encore. Bryant, in his first full professional season, did him one better to capture the title.
Last July 13 at Target Field in Minneapolis, for the first time since they were thinking about prom dates and graduation on opposing teams in high school, third basemen Bryant and Gallo stepped onto the same field as members of the U.S. team for the 2014 Futures Game. In batting practice, Gallo broke the windshield of a truck parked on the right-field concourse. In the game, he hammered a home run into the level above it. Bryant was one of the first players to greet him in the first-base dugout after his trot.
"That was really cool," Bryant said. "We've come a long way from the club baseball days and high school days, and it's definitely really surreal. We can look back on that game and the whole season and just have really good memories."
It was for their families too.
"I can't even tell you how nervous we were," Tony Gallo said. "We were just sitting there like, 'Joe, just put the ball in play. Just have a good time. Have fun.' And then he pulls something like that."
The younger Gallo won Futures Game MVP honors for his monumental day.
"If you told us when we were little kids that we'd be where we are today, we wouldn't believe it," Joey said. "It's pretty special, especially that we grew up together. I've known him my entire life, and now where we are, it's pretty amazing."
Bryant was the talk of baseball in Spring Training, posting an eye-popping .425/.477/1.175 line with nine homers and 15 RBIs in 14 games for the Cubs before being assigned to Triple-A Iowa to open his 2015 season. Gallo was impressive in his own right, batting .250/.333/.469 with two mammoth blasts and six RBIs in 15 games for the Rangers. He's ticketed for Double-A Frisco after he recovers from last week's surgery to remove a bone in his left heel.
"I know it's both of our dreams to play in the big leagues and play there for as long as possible," Bryant said. "It's kind of cool looking back on it and seeing all the fields that we've played at and how terrible they were. Eventually they got a little bit better. The grass started to get a little bit greener. The fields started to be a little flatter."
On the cusp of realizing their dreams on the manicured diamonds of the Major Leagues, Bryant and Gallo take a message from their childhood to the ballpark day after day -- one they'd still impart on their younger selves now.
"The biggest piece of advice, especially as a kid, is just to enjoy it," Gallo said. "I know it's cliché, but just to have fun. Growing up -- when you start getting that pressure that you're going to get drafted and colleges -- you kind of lose the fun in the game and why you played it in the first place. I've gotten it back now and I really enjoy playing it. But in high school, it was tough having scouts at every game. I think that's one of the main things that I'd even tell young kids that are growing up right now -- just have fun. Enjoy it and never take it for granted. I wish I could go back and play with some of my friends from high school again and play with Bryce Harper on the same team. We never really knew how special it was until it was over, until right now."
Bryant agrees.
"Have fun -- that's usually my piece of advice," he said. "I still try to live and play the game that way just to have fun. When we were 4 years old, we didn't start playing the game for money or fame, it was always just because it's a game. It's fun to play, and you get to hit the ball and run around the bases. I think that's the best piece of advice you can give to anybody."
Tyler Maun is a contributor to MiLB.com. Follow him on Twitter @TylerMaun.