River Cats hang on for victory against Grizzlies
Gage allows one run over 5.2 innings in another strong outing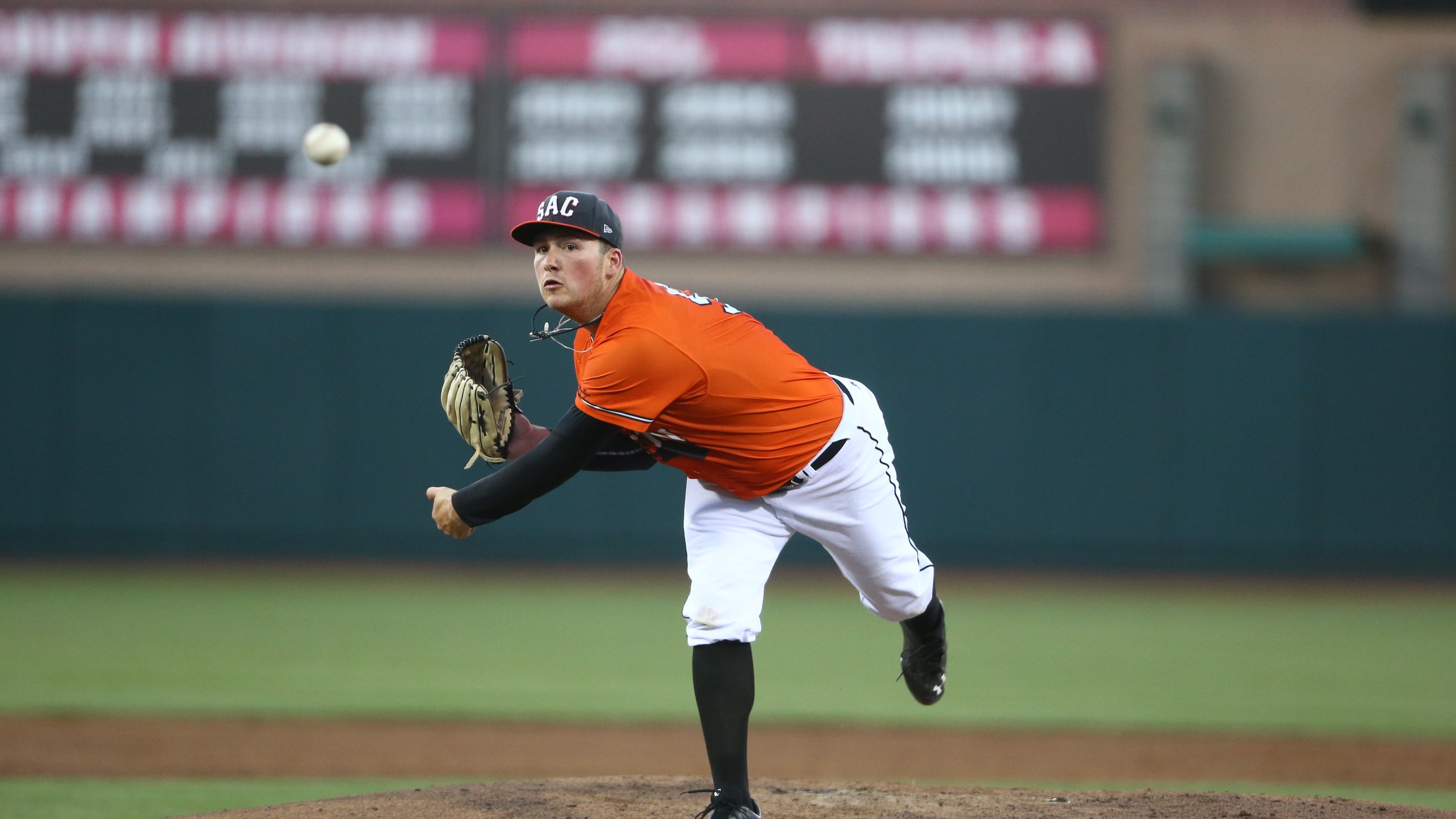 (Ralph Thompson)
FRESNO, CA -- For the second consecutive outing, left-hander Matt Gage held the opposition to just one run. He helped secure another win for the Sacramento River Cats (15-15), this time getting the club get back to .500 with a 6-1 victory over the Fresno Grizzlies (19-12) despite a late-inning
FRESNO, CA -- For the second consecutive outing, left-hander Matt Gage held the opposition to just one run. He helped secure another win for the Sacramento River Cats (15-15), this time getting the club get back to .500 with a 6-1 victory over the Fresno Grizzlies (19-12) despite a late-inning scare.
Right-hander Derek Law pitched a scoreless eighth, but fell apart in the ninth as Fresno came within one with four runs on six hits. Lefty Manny Parra entered and on one pitch stranded the tying and winning run with a groundout to second base.
Gage, who was transferred to Sacramento from Double-A Richmond to replace Andrew Suárez's spot in the order, surrendered five hits and two walks while striking out three. With a game score of 60, it was Gage's second best outing in 14 career Triple-A starts.
The contest was still close heading into the eighth inning as the River Cats led 3-1. But back-to-back jacks from infielders Ryder Jones and Kyle Jensen opened the game up. For Jones, it was his second of the season while it was Jensen's fourth. It was also the third time the River Cats have hit consecutive home runs in 2018.
It will be a slightly earlier start time Monday evening as the River Cats and Grizzlies wrap up the four-game set. Right-hander Dereck Rodríguez (1-0, 4.26) will take the hill for Sacramento facing Grizzlies' righty Cy Sneed (2-1, 4.97) starting at 6:35 p.m. (PT).
Catch all of the action live online at rivercats.com, on the MiLB First Pitch app, and on the air on Money 105.5 FM beginning at 7:00 p.m. (PT).
Additional Notes
• Outfielder Austin Slater collected two doubles, giving him a Pacific Coast League-leading 11 on the year. He's managed to be atop the leaderboard in that category despite not having enough plate appearances to qualify for batting average leaders.
• Right-hander Dusten Knight has pitched four scoreless innings of relief since joining the club from Richmond. Last season with Sacramento, Knight struck out 59 in 60.1 innings with a 3.43 ERA.