River Cats homer seven times in season finale, get 10-9 come-from-behind win
Sacramento sets franchise record with four-homer ninth, Heathcott walks it off in 10th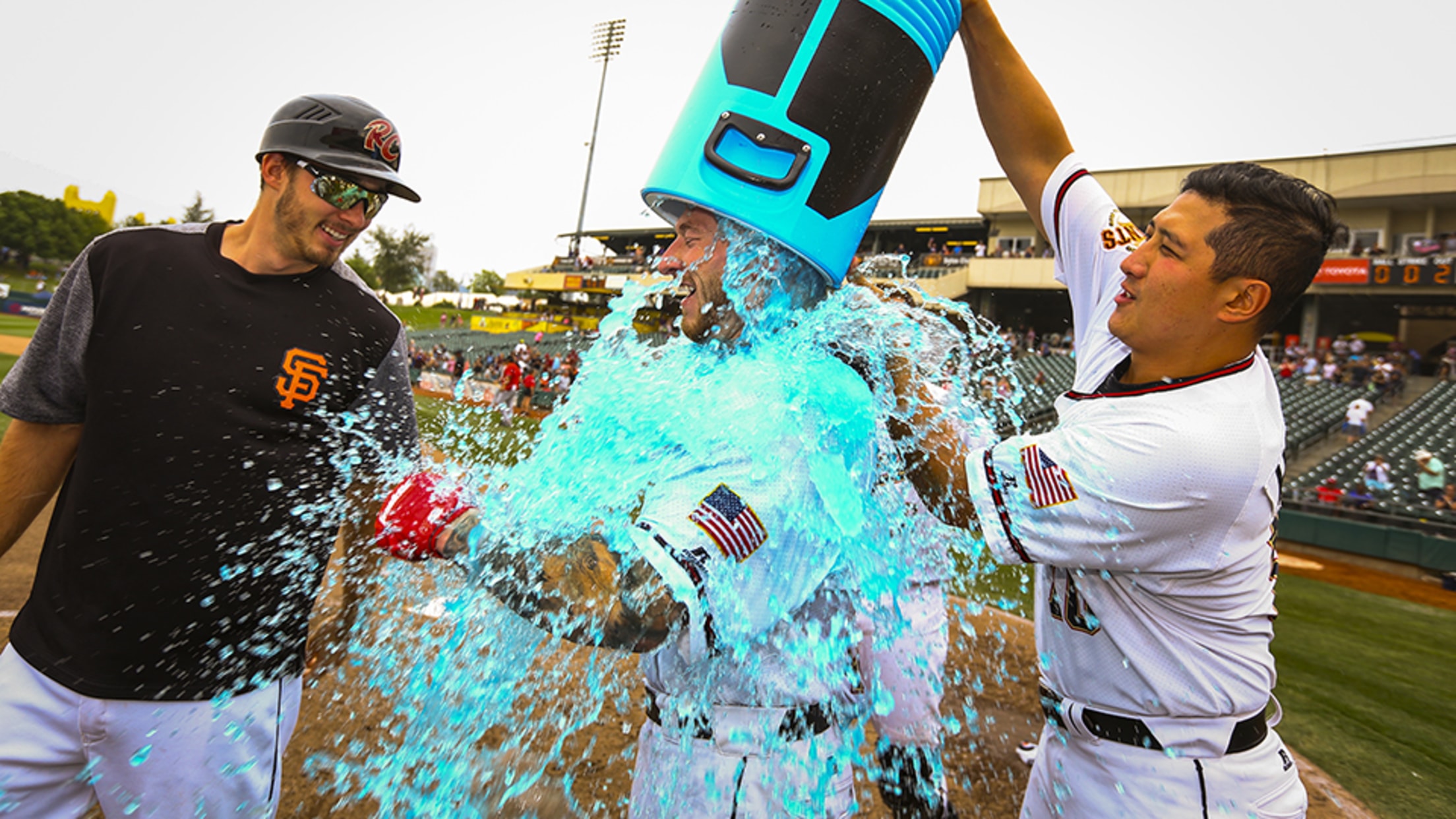 Sacramento's slade Heathcott gets a Powerade bath as Trevor Brown looks on. Heathcott belted a walk-off home run against El Paso Sept 4,2017. Sacramento hit seven home runs in the contest, winning 10-9 in 10 innings. RalphThompson/ River Cats (Ralph Thompson)
West Sacramento, CA - The Sacramento River Cats (64-77) put on a fireworks show in their 2017 season finale, setting a franchise-record with four home runs in the ninth inning. Slade Heathcott completed the comeback, sending the River Cats faithful home happy with a 10th inning walk-off home run to
West Sacramento, CA - The Sacramento River Cats (64-77) put on a fireworks show in their 2017 season finale, setting a franchise-record with four home runs in the ninth inning. Slade Heathcott completed the comeback, sending the River Cats faithful home happy with a 10th inning walk-off home run to beat the El Paso Chihuahuas (73-69) by a final score of 10-9.
The River Cats entered today's game 1-27 when trailing after eight innings. Despite facing a 9-2 deficit in the home half of the eighth, Sacramento managed to claw their way back, scoring eight unanswered runs en route to the 10-9 win. Sacramento got home runs from five different players, including two from Heathcott and Chris Shaw. Their seven total home runs today were one shy one of their franchise record (8, 6/17/09 at Fresno).
The River Cats wrap up the 2017 season on a high note, having won six of their last eight games. Sacramento will kick off the 2018 season with an exhibition game against their major league affiliate, the San Francisco Giants, on Saturday, March 24.
Postgame Notes
Hold my Beer: Jeff Arnold, Juniel Querecuto, and Slade Heathcott hit back-to-back-to-back home runs…was the first back-to-back-to-back home runs this season for Sacramento…Sacramento also hit back-to-back home runs for the second time this season (Austin Slater and Chris Shaw).
Shawesome: Left fielder Chris Shaw hit his team-leading 17th and 18th home runs today…finished the 2017 season with 50 RBI, second behind Jae-Gyun Hwang (55).
See You S'later: Right fielder Austin Slater hit his fifth home run with the River Cats and first since May 28.
Can You Dug It: Centerfielder Steven Duggar extended his hitting streak to six games after going 1-for-4…hitting .320 (8-for-25) with four RBI, three runs and three walks.
Roger That: Right-hander Tyler Rogers made his league-leading 55th appearance today…the lone River Cats All-Star finished tied for the fourth-lowest batting average in the PCL (.235).
*
The Sacramento River Cats are the Triple-A affiliate of the three-time World Champion San Francisco Giants. The team plays at Raley Field in West Sacramento, consistently voted one of the top ballparks in America. River Cats Season Tickets, Mini-Plans, and Flex Plans can be purchased for the 2017 season by calling the River Cats Ticket Hotline at (916) 371-HITS (4487). For more information about the River Cats, visit www.rivercats.com. For information on other events at Raley Field, visit www.raleyfield.com.