River Cats rally late but fall 4-3 to Rainiers
Sacramento leaves bases loaded in ninth, is swept by Tacoma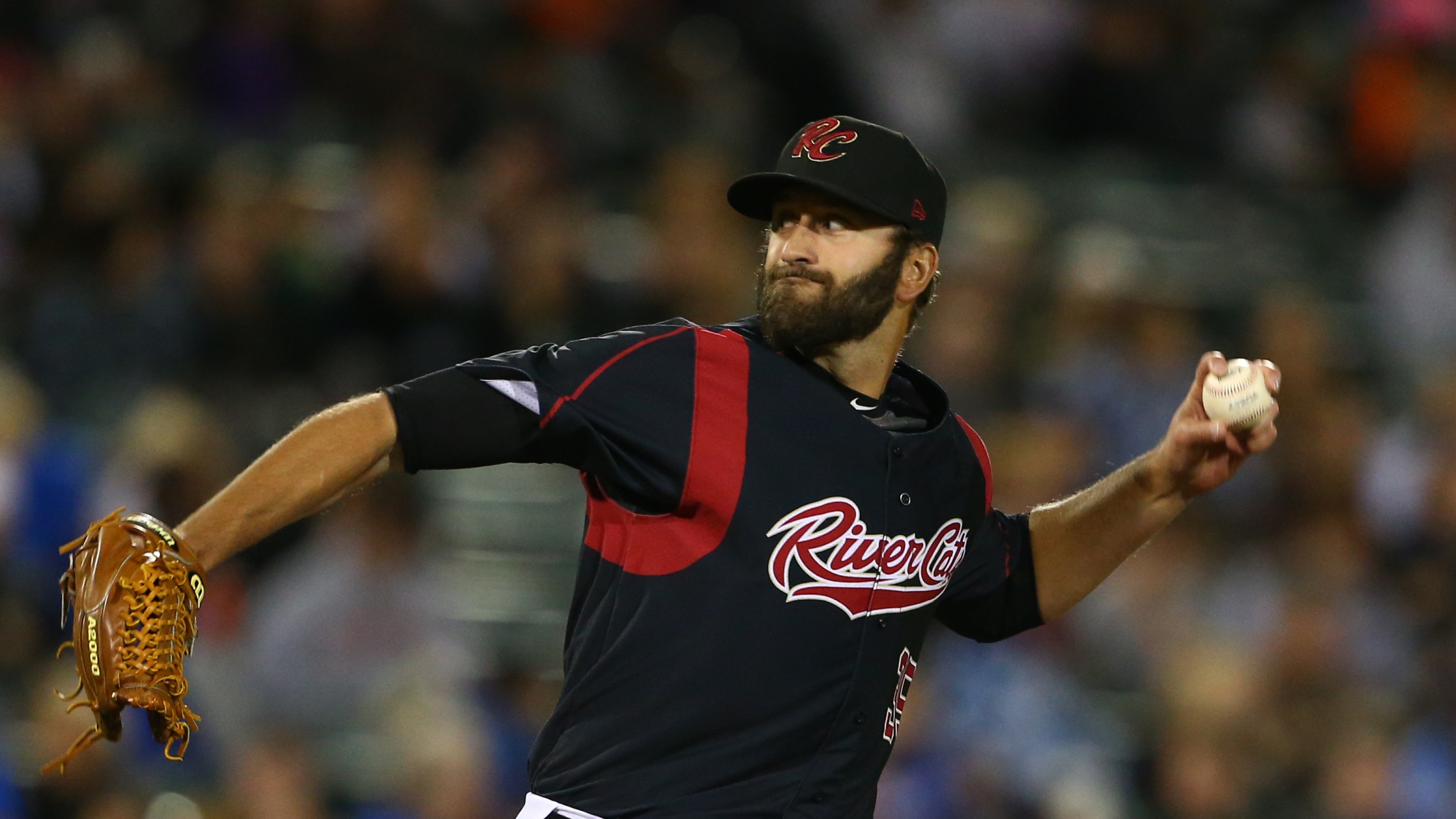 The Sacramento RiverCats lost to the visiting Las Vegas 51's 3-2 on April 22,2017 (Ralph Thompson)
Tacoma, WA - The Sacramento River Cats (40-61) loaded the bases with one out in the ninth inning against the Tacoma Rainiers (52-50) Monday afternoon, but went down swinging for their final two outs in their 4-3 loss. 
Tacoma, WA - The Sacramento River Cats (40-61) loaded the bases with one out in the ninth inning against the Tacoma Rainiers (52-50) Monday afternoon, but went down swinging for their final two outs in their 4-3 loss.
Sacramento first showed signs of life in the sixth inning, pushing three runs across to bring them within one run. In the ninth, catcher Trevor Brown led off the inning with a single and was followed by walks to Juniel Querecuto and Carlos Moncrief to load the bases. After Ryan Lollis flied out to left field, River Cats manager Dave Brundage turned to bench for pinch hitter Chris Shaw. Shaw was unable to take advantage however, striking out swinging. Juan Ciriaco also went down on strikes to follow to end the game.
Tacoma touched up starter Kraig Sitton for three runs over three innings today. Sitton, who was making a spot-start for Tyler Beede, was relieved for right-hander Collin Balester who allowed the fourth and final Rainiers run and also went three innings. The River Cats suffered their fifth series sweep this season and fifth straight loss.
Sacramento returns home tomorrow night to open a four game series against the Round Rock Express. Right-hander Chris Stratton (4-5, 5.11) will start for the River Cats and right-hander Clayton Blackburn (4-2, 4.98) returns to Raley Field to face his former team. First pitch is set for 7:05 p.m. (PT) and the game can be heard live on the air on ESPN 1320 and online at rivercats.com.
Postgame Notes
Ruggiano: Right fielder Justin Ruggiano collected three of the team's eight hits today…was his third three-hit game this year…two of his hits were doubles, the first time he's doubled twice in a game this year.
FedEx: Designated hitter Tim Federowicz knocked in his fourth run of the series today…in his three games against Tacoma this series, went 5-for-11 with two doubles and three runs scored…leads the team with a .300 batting average.
Caught 'em: Catcher Trevor Brown threw out two Tacoma base stealers today…has now thrown out 11 of 47 attempted (.234%)…Sacramento is now 12th in the league in caught stealing percentage at .230 (25 caught of 109 attempted).
Series Recap: Over the four game series, Sacramento had a lead for just eight of the 37 innings (led 3-2 after eight innings in game one)…were outscored by Tacoma 19-11 and outhit 44-31.
*
The Sacramento River Cats are the Triple-A affiliate of the three-time World Champion San Francisco Giants. The team plays at Raley Field in West Sacramento, consistently voted one of the top ballparks in America. River Cats Season Tickets, Mini-Plans, and Flex Plans can be purchased for the 2017 season by calling the River Cats Ticket Hotline at (916) 371-HITS (4487). For more information about the River Cats, visit www.rivercats.com. For information on other events at Raley Field, visit www.raleyfield.com.