River Cats run out of luck against Aces in 6-5 loss
Sacramento makes late comeback thanks to Slater but drop third straight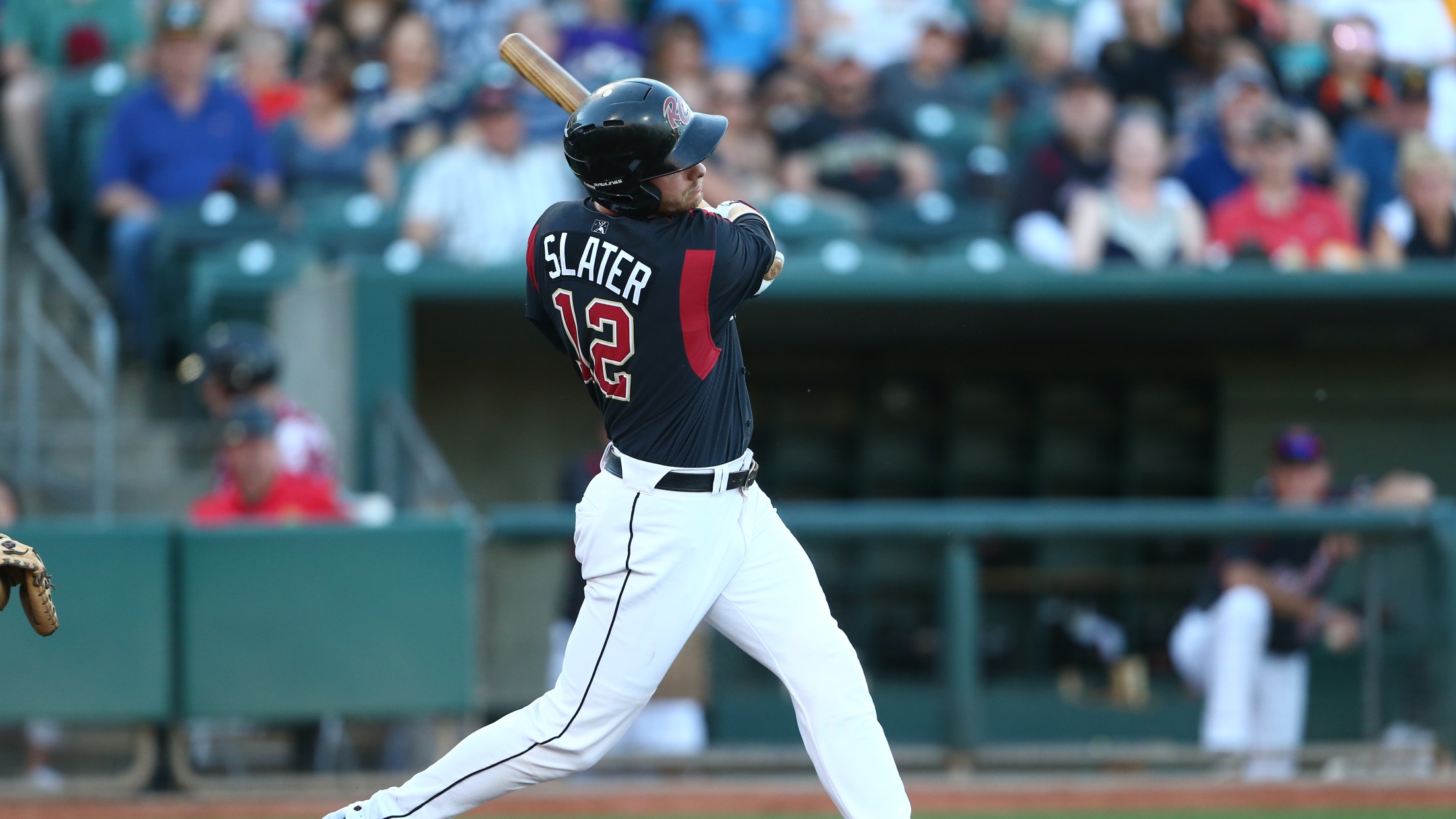 Sacramento RiverCats vs Nashville Sounds May 20,2017 at Raley Field. (Ralph Thompson)
Reno, NV - The Sacramento River Cats (18-31) rallied late against the Reno Aces (32-19) for a second straight night but came up just short in their 6-5 defeat. 
Reno, NV - The Sacramento River Cats (18-31) rallied late against the Reno Aces (32-19) for a second straight night but came up just short in their 6-5 defeat.
Sacramento came to bat in the seventh inning trailing 6-0 before getting on the board thanks to an Austin Slater solo home run, his fourth of the season. The River Cats pushed three more runs across in the eighth thanks to a two-run single by Ryder Jones and an RBI-double by Jae-Gyun Hwang, his team-leading 30th of the year.
Slater once again got things going in the ninth, leading off the frame with a double and later came around to score on a wild pitch to make it a 6-5 ballgame. Centerfielder Wynton Bernard had a chance to tie things up with runners on first and second but struck out swinging.
Tomorrow's Memorial Day game will feature River Cats right-hander Joan Gregorio (2-4, 3.02) up against Aces' left-hander Eric Joksich (3-1, 6.32). Gregorio's 3.02 ERA is the third-best in the PCL. First pitch is set for 1:05 p.m. (PT) and the game can be heard live online at rivercats.com and on the air on ESPN 1320.
Postgame Notes
Beede: Sacramento starter Tyler Beede threw a season-high 100 pitches (63 strikes) in his outing tonight…he tied a season-high with six earned runs and induced 10 ground ball outs…Beede held Ketel Marte, the PCL's leading hitter, to 0-for-3 and got Marte to ground into a double play.
Tomlinson's streak: Second baseman Kelby Tomlinson extended his hitting streak to nine games, going 1-for-4 tonight with a walk…hitting .421 over that span (16-for-38)…Tomlinson also stole second and third base tonight and now has eight on the year.
Close contests: Sacramento and Reno once again played a tightly contested game…all six of their games this season have been decided by one run…the River Cats are now 8-8 in one-run games while the Aces are a PCL-best 12-3.
Blunders: The River Cats committed an error tonight for the sixth straight game…Beede committed the lone error tonight, his first of the year…entered play with the sixth-best fielding percentage in the league with a .980 mark (36 errors, 48 games)…Sacramento is 5-13 when committing one error.
***
The Sacramento River Cats are the Triple-A affiliate of the three-time World Champion San Francisco Giants. The team plays at Raley Field in West Sacramento, consistently voted one of the top ballparks in America. River Cats Season Tickets, Mini-Plans, and Flex Plans can be purchased for the 2017 season by calling the River Cats Ticket Hotline at (916) 371-HITS (4487). For more information about the River Cats, visit www.rivercats.com. For information on other events at Raley Field, visit www.raleyfield.com.