River Cats walk off on Perez single
Pinch runner Madison Younginer, a relief pitcher, scored the winning run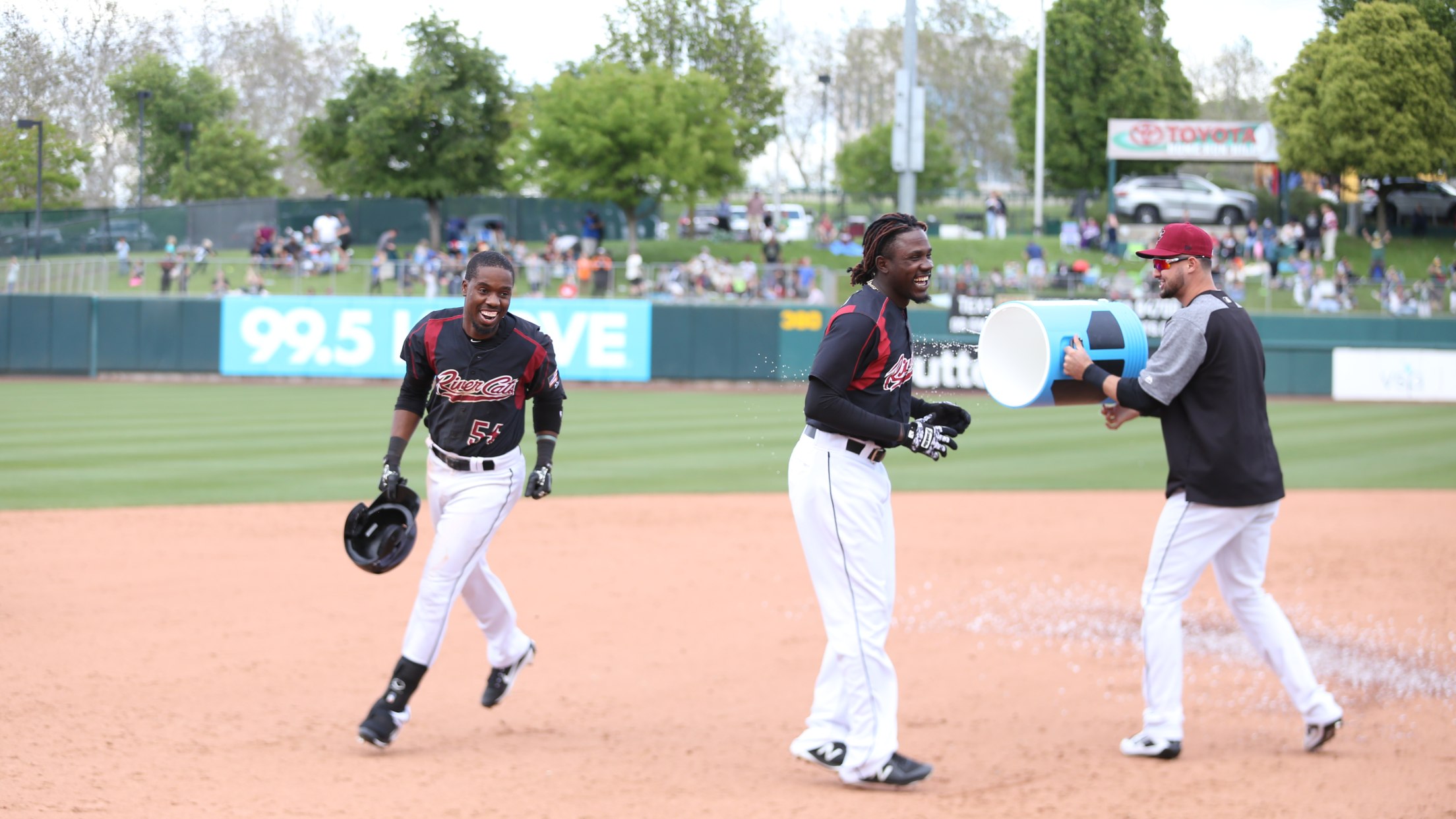 Eury Perez and Orlando Calixte celebrate a walk-off 7-6 victory over the Reno Aces on April 29, 2018. (Credit: Vanessa Nelson)
WEST SACRAMENTO, CA -- Sunday afternoon's matinee ended in unusual fashion. The Sacramento River Cats (11-12) and Reno Aces (7-17) were in danger of having play during their 6-6 tie suspended due to a curfew needing to be implemented to accommodate Reno's travel plans to El Paso, Texas. But outfielder
WEST SACRAMENTO, CA -- Sunday afternoon's matinee ended in unusual fashion. The Sacramento River Cats (11-12) and Reno Aces (7-17) were in danger of having play during their 6-6 tie suspended due to a curfew needing to be implemented to accommodate Reno's travel plans to El Paso, Texas. But outfielder Eury Pérez, who made a spectacular catch the end the top of the ninth, singled to left with the bases loaded to send everybody home and give the River Cats a 7-6 win.
Play in the bottom of the ninth began with a Jeff Arnold walk - his third of the game. Outfielder Caleb Gindl continued his streak of plate appearances without recording an at-bat, sacrificing Arnold to second with a bunt. Relief pitcher Madison Younginer was selected to pinch-run for Arnold at second, and following a fielder's choice and an intentional walk, Younginer frantically ran home as the winning run.
A curfew was needed for Sunday's game due to a 6:50 p.m. flight the Aces had booked out of Sacramento inbound for El Paso for their series beginning Monday. Had the top of the ninth not begun before 4:30 p.m., or had neither team scored a run in the ninth, the two clubs would have had to complete their game at a later date. Though, it would have had to take place in Reno since Sunday's game was the final contest between the two teams in Sacramento this season.
Sacramento's bullpen pitched 4.1 one-run innings, striking out five and allowing just one walk after right-hander Jose Flores gave up five unearned runs on four hits and four walks.
The River Cats are off to Las Vegas to face the 51s in a four-game set. First pitch Monday evening will be at 7:05 p.m. (PT) and will feature the third start of the season for Tyler Beede (1-1, 3.75) in a River cats uniform. He'll oppose southpaw P.J. Conlon (1-1, 6.63).
Catch all of the action live online at rivercats.com, on the MiLB First Pitch app, and on the air on Money 105.5 FM.
Additional Notes
• Steven Duggar's four walks tied a career-high. He went 0-for-1 with four free passes on June 4, 2016 while playing for the San Jose Giants. He's reached base in 18 of his last 38 plate appearances.
• Madison Younginer had never crossed the plate in a minor league game until this afternoon's winning run. He does have six career hits, including yesterday's double, in 22 trips to the plate spread over nine years.