RiverDogs Announce Game Times for 2020
Charleston opens the season at home on Thursday, April 9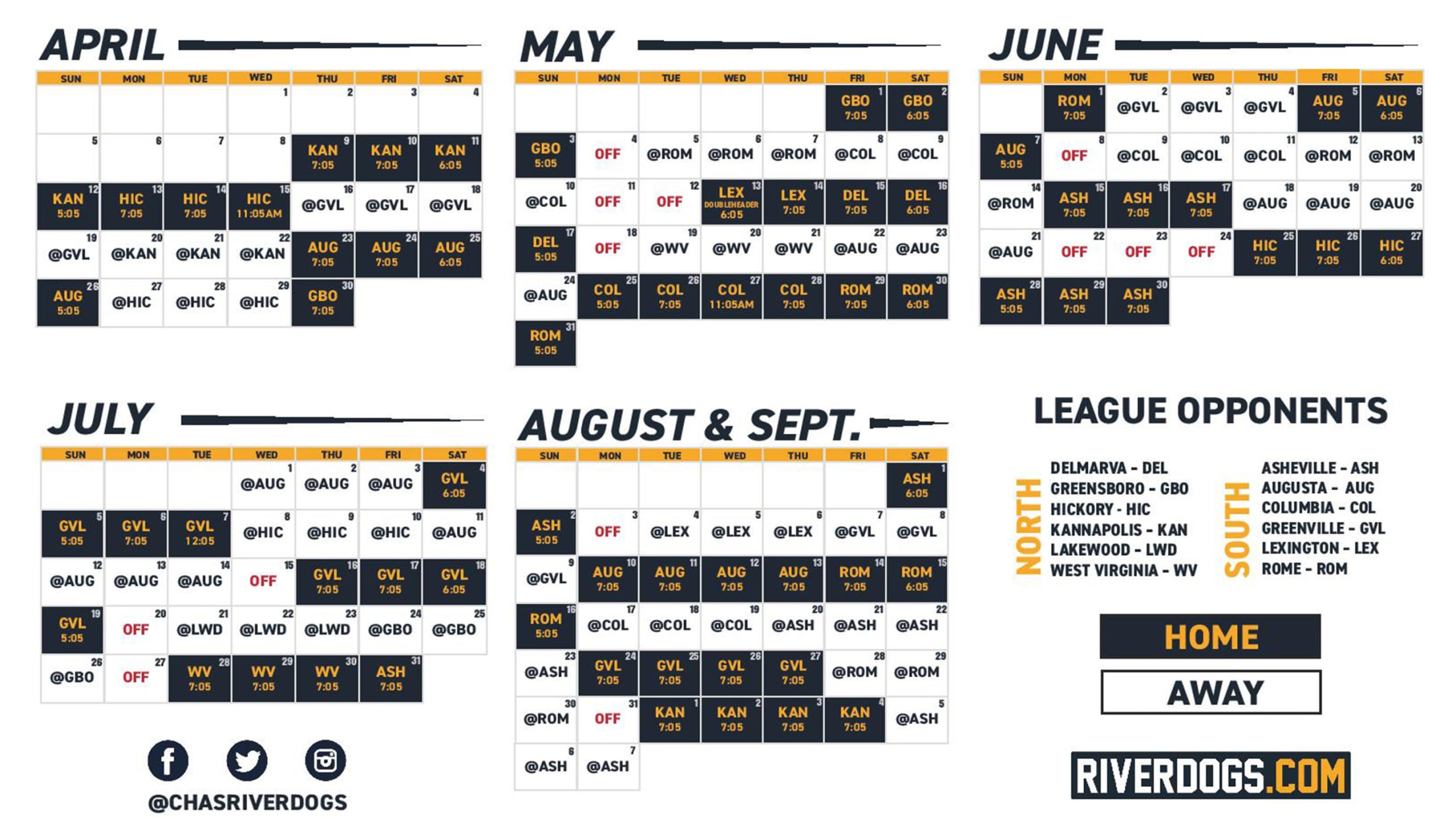 CHARLESTON, SC - Following a year in which the club welcomed more than 300,000 fans for a third consecutive season, the Charleston RiverDogs have announced their game times for the 2020 season with tickets now available for the Charleston club's 24th year playing at Joe Riley Park. As in years
CHARLESTON, SC - Following a year in which the club welcomed more than 300,000 fans for a third consecutive season, the Charleston RiverDogs have announced their game times for the 2020 season with tickets now available for the Charleston club's 24th year playing at Joe Riley Park.
As in years past, RiverDogs home games will feature a standard 7:05 p.m. first pitch on Monday-Fridays, a 6:05 p.m. start on Saturdays, and 5:05 p.m. open on Sunday home games with a few notable exceptions:

Wednesday, April 15 - Education Day at 11:05 a.m.

Wednesday, May 13 - Scheduled doubleheader starting at 6:05 p.m.

Monday, May 25 - Memorial Day at 5:05 p.m.

Wednesday, May 27 - Education Day at 11:05 a.m.

Tuesday, July 7 - Big Splash Day at 12:05 p.m.
The RiverDogs begin their season on Thursday, April 9 taking on the Kannapolis Cannon Ballers (Chicago White Sox) in the first of 11 Thirsty Thursday dates over the course of the season. The RiverDogs will also host 11 home games each on Fridays and Saturdays throughout the 2020 campaign.
Until single-game tickets go on sale in March, fans can secure tickets now by booking a group or purchasing a flex plan starting with 10-game packages. More information is available at riverdogs.com/tickets. Holiday plans that include 10 undated flex vouchers for the 2020 season and a RiverDogs cap start at just $89 and are available HERE.
Season ticket plans, including options to the Riley Park Club, are available by contacting the RiverDogs front office at 843-577-3647 (DOGS). A full schedule for the 2020 season is available at riverdogs.com.
--RIVERDOGS--