RiverDogs Take Bookends of Series over Asheville Behind Yajure's Sparkling Home Debut
20-year-old righty fans nine in combined one-hitter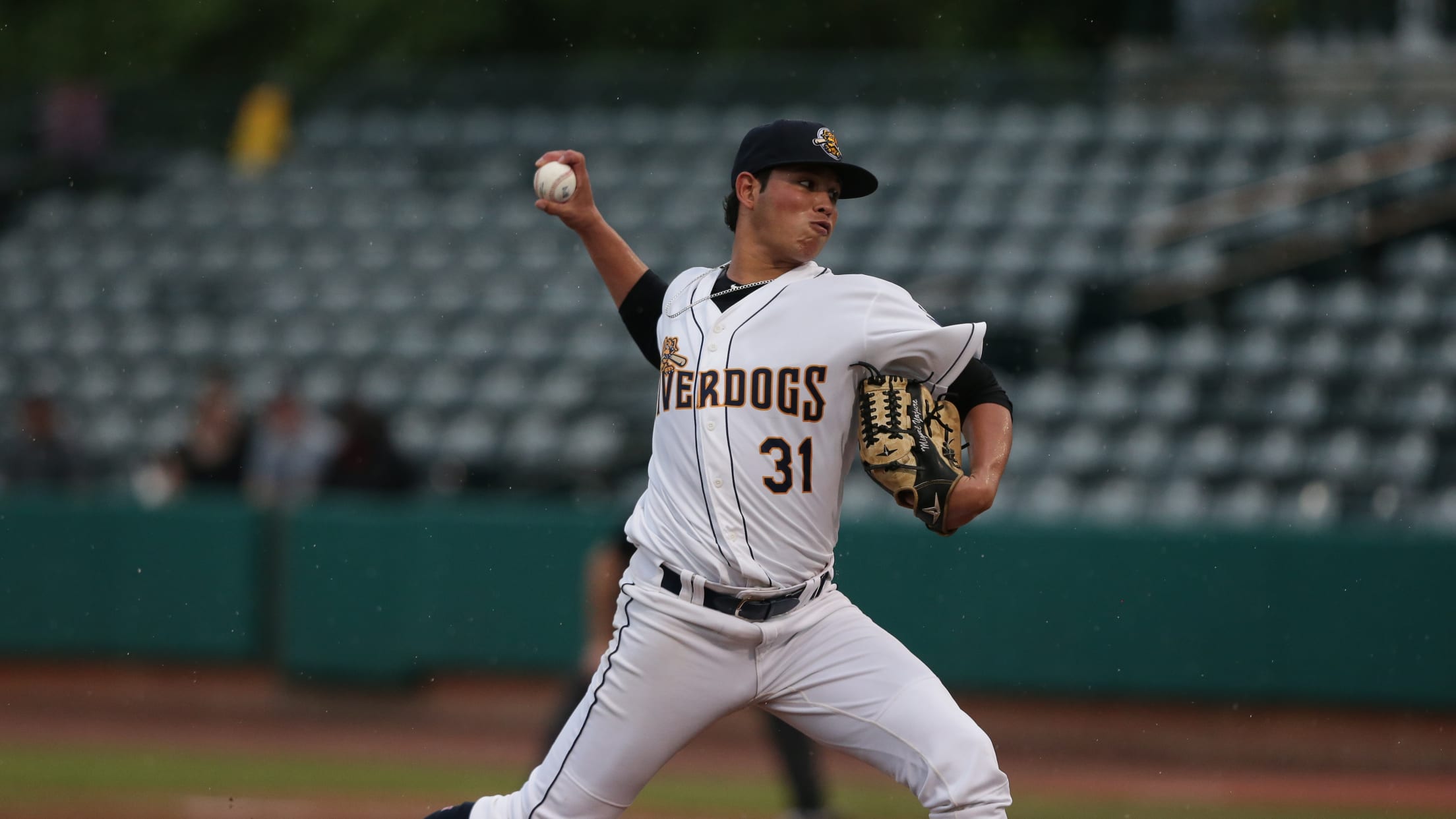 Yajure struck out a career-best nine batters, fanning seven Tourists in a row at one point. (Zach Bland)
CHARLESTON, S.C. - Charleston right-hander Miguel Yajure fanned nine batters over five no-hit innings in his Riley Park debut as the RiverDogs salvaged a series split with the Tourists with a 2-1 victory on Thursday night in front of 4,910 at Joe Riley Park.The 20-year-old righty dazzled over five one-run
CHARLESTON, S.C. - Charleston right-hander Miguel Yajure fanned nine batters over five no-hit innings in his Riley Park debut as the RiverDogs salvaged a series split with the Tourists with a 2-1 victory on Thursday night in front of 4,910 at Joe Riley Park.
The 20-year-old righty dazzled over five one-run frames, striking out seven in a row at one point. The Venezuelan righty fanned the side in both the third and fourth innings before getting Casey Golden to wave at a 1-2 pitch to begin the fifth. All nine of his strikeouts came over a ten-batter span between the second and fifth innings.
Yajuare (1-0) allowed just one unearned tally in the top of the first on an error by third baseman Dermis Garcia before a pair of passed balls by Jason Lopez moved him up to third. First baseman Chad Spanberger brought in his league-leading 55th run on a sac fly to center to make it 1-0 Tourists (26-40) at the outset.
Charleston (32-33) took the lead with the help of a visitor error in the fourth. After shortstop Wilkerman Garcia drilled a base hit into right, designated hitter Oswaldo Cabrera cranked the next pitch to left-center for a run-scoring double. On the same play, Cabrera came around to cross home himself when shortstop Ryan Vilade tossed a relay throw into the Asheville dugout to give the Dogs the lead.
Alexander Vargas tossed four scoreless innings of relief to pick up his first save. The Rockies Class A club collected their only hit of the ballgame in the seventh when right fielder Sean Bouchard reached on a chopper to third that skipped by Dermis Garcia deep in the hole down the third base line.
Charleston's combined nine-inning, one-hitter was first such victory since July 28, 2016 against the Lexington Legends at The Joe.
Cabrera collected two of the five Charleston hits in the win to stay hot. After a 0-for-27 slump in mid-May, the Venezuelan teenager is now 25 for his last 73 (.342) since.
In seven meetings with the Tourists' league-worst pitching staff, the RiverDogs have now been held to three runs or fewer five times.
Ballpark Fun
The Charleston club honored the nation's armed forces on Military Appreciation Night on Flag Day presented by Bank of America. All current military and veteran service members received complementary tickets at the gate. The RiverDogs' reverent night was even complete with an F-16 flyover during the National Anthem. A raucous Budweiser Thirsty Thursday crowd also enjoyed dollar beers and the scintillating tunes of DJ Natty Heavy all night in the Budweiser Ashley View Pub all night long.
Upcoming
The RiverDogs start their final series of the first-half on Friday night, welcoming in the Greenville Drive, the Class A affiliate of the Boston Red Sox, in game one of a weekend set at 7:05 p.m. Right-hander Rony Garcia (2-3, 3.83) will toe the rubber for the Dogs as the Drive throw righty Kutter Crawford (0-3, 2.71) in the opener. For those that can't make it out to the park, Friday's contest will be broadcast on 1250 WTMA in the tri-county area, with audio available at riverdogs.com and the RiverDogs TuneIn radio station.
RiverDogs single-game tickets, including options to the Riley Park Club, are now available for the 2018 campaign, the club's 25th season as the RiverDogs and their "175th season in dog years." Ticket information can be secured by contacting the box office at (843) 577-DOGS (3647) or online at www.riverdogs.com/tickets.
--RIVERDOGS--