Roger Clemens to be inducted into PawSox Hall of Fame
Ceremonies Take Place on Friday, June 21 at McCoy Stadium thanks to our partners at Narragansett Bay Insurance Company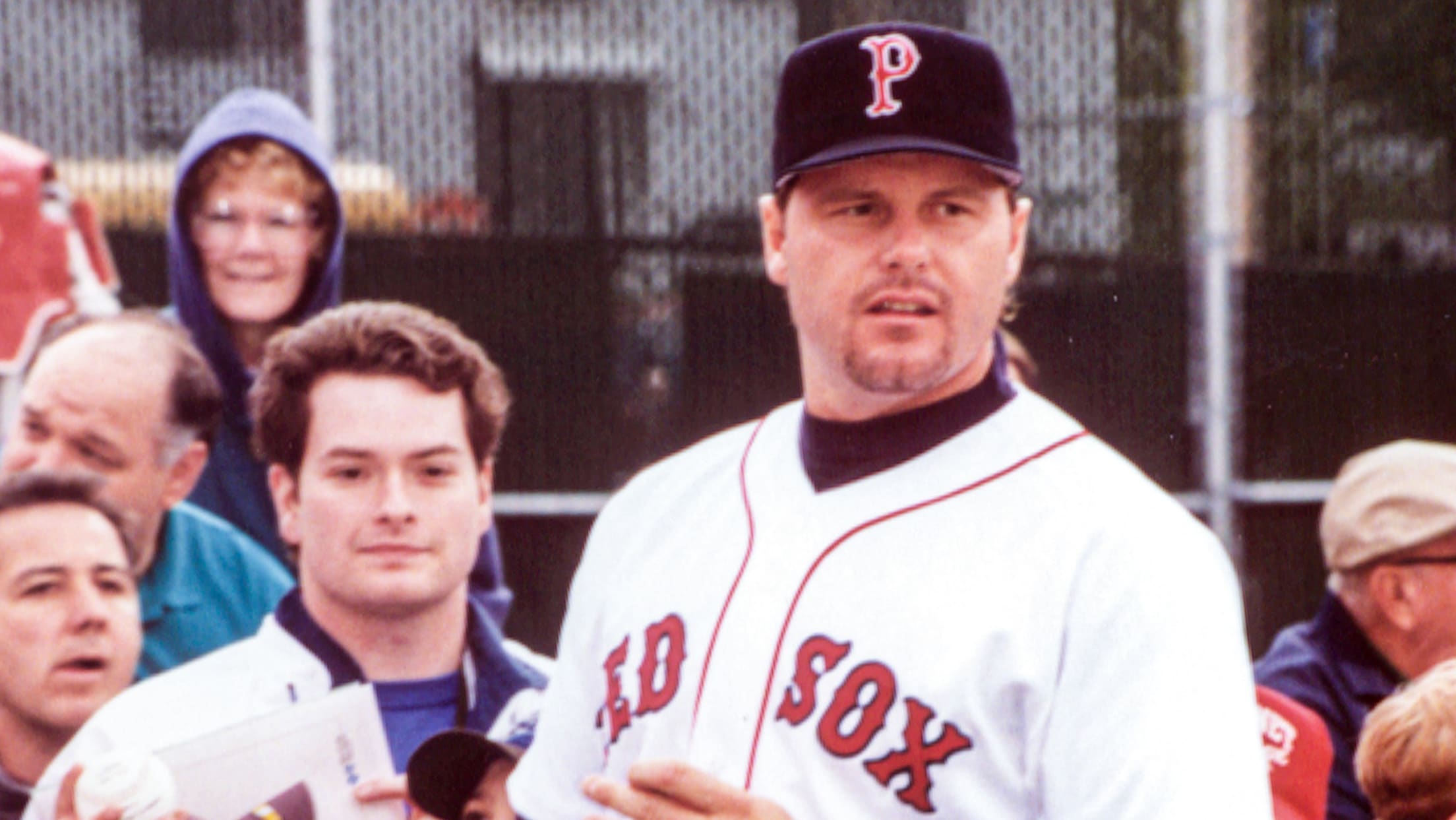 Former Pawtucket Red Sox and Boston Red Sox ace Roger Clemens  has been selected as the 2019 PawSox Hall of Fame inductee. Roger will be enshrined in special pre-game ceremonies prior to Pawtucket's game at McCoy Stadium on Friday, June 21 vs. Indianapolis at 7:05 pm as part of Legendary Fridays
Former Pawtucket Red Sox and Boston Red Sox ace Roger Clemens has been selected as the 2019 PawSox Hall of Fame inductee. Roger will be enshrined in special pre-game ceremonies prior to Pawtucket's game at McCoy Stadium on Friday, June 21 vs. Indianapolis at 7:05 pm as part of Legendary Fridays at McCoy in 2019.
This season's PawSox Hall of Fame ceremonies, presented by Narragansett Bay Insurance Company, will feature a an exclusive, VIP meet-and-greet with Roger in the "Shady Pines" area of the White BBQ tent at McCoy from 5:45 - 6:30 pm, followed by a pregame ceremony on the field before the entire McCoy crowd. Clemens will then be available for photos with fans in the Vertikal 6/PawSox Fan Center located along the main concourse from 7:45 to 8:30 pm.
The limited number of tickets to the VIP meet-and-greet can be purchased at the McCoy Stadium box office, via pawsox.com, or by calling 401-724-7300. Each ticket includes an all-you-can-eat barbeque, admission to the game, and the opportunity to spend time with Roger. VIP tickets are $40 apiece while children (aged 12 & under) are $25. There is no charge (beyond the ordinary ticket price) for fans who wish to take photographs during the game.
The fourth PawSox Hall of Fame class was chosen by a 14-person panel, which includes club executives, print and broadcast media members, long-time fans, and historians.
Ben Mondor, the late long-time PawSox owner, along with former Pawtucket Red Sox and Boston Red Sox legends Wade Boggs and Jim Rice, both National Baseball Hall of Fame players, comprised the inaugural 2016 PawSox Hall of Fame inductees. The 2017 Class included another National Baseball Hall of Famer, Carlton Fisk, and a pair of fellow Boston Red Sox Hall of Famers, Mo Vaughn and manager Joe Morgan. Last season, Fred Lynn, another Red Sox Hall of Famer, joined long-time PawSox executive Mike Tamburro as the 2018 inductees.
Individual Hall of Fame plaques and a Hall of Fame mural reside on the main concourse at McCoy Stadium near the Food Court.
"The PawSox Hall of Fame celebrates our franchise's most legendary figures," said PawSox Executive Vice President/Real Estate Development & Business Affairs. "We're pleased to congratulate and welcome one of the best pitchers in baseball history, Roger Clemens, to our Hall of Fame."
Roger Clemens played with the PawSox for less than two months to begin the 1984 season before embarking on a stellar 24-year Major League career that saw him become one of the most dominant pitchers in MLB history. Clemens won a record seven Cy Young Awards, one American League MVP Award, was an 11-time All-Star, and a two-time World Series champion. He pitched for the Boston Red Sox (1984-1996), Toronto Blue Jays (1997-98), New York Yankees (1999-2003 and again in 2007), and the Houston Astros (2004-06). He amassed 354 wins with a 3.12 ERA and 4,672 strikeouts (the third-most all-time) in 709 big league games and is the only pitcher in major league history to record over 350 wins and strikeout over 4,500 batters.
Roger was a 1st round selection of the Boston Red Sox (#19 overall) in the 1983 draft after leading the University of Texas to the 1983 College World Series championship (Clemens was on the mound when the Longhorns clinched the title). He reported to Single-A Winter Haven that summer (3-1, 1.24 in 4 games) and quickly earned a promotion to Double-A New Britain to finish the '83 season (4-1, 1.38 in 7 games).
Clemens began 1984 in Pawtucket's starting rotation and went 2-3 in 7 games despite posting a 1.93 ERA. By early-May he was promoted to Boston and would remain with the Red Sox for the next 13 years (with the exception of one rehab start with the PawSox in both 1993 & 1995).
Nicknamed "Rocket", Clemens burst on the scene with one of the greatest seasons in baseball history in 1986 when he went 24-4 with a 2.48 ERA in 33 starts along with 238 strikeouts in 254 innings. That year he led MLB in wins (something he would do four times during his career) and he led MLB in ERA (an accomplishment he would do seven times). In addition, on April 29, 1986, he became the first pitcher in history to strike out 20 batters in a nine-inning game when he beat the Seattle Mariners, 3-1 at Fenway Park. (Roger would duplicate that feat in 1996 when he struck out 20 batters in a game at Detroit).
Clemens' historic 1986 season earned him a host of honors including the All-Star Game MVP, the American League MVP, and the first of his seven Cy Young Awards while leading the Red Sox to a berth in the World Series where they would lose to the New York Mets in seven games.
Roger ended his Red Sox career tied with the immortal Cy Young for most victories in franchise-history (192) and Clemens is still Boston's all-time strikeout leader with 2,590. He was inducted in the Boston Red Sox Hall of Fame in 2014.
After the 1996 season, he would sign with Toronto and in 1997 and 1998 he would win the pitching triple crown and the Cy Young in both of his seasons with the Blue Jays. Clemens was traded to the New York Yankees before the 1999 season and he won World Series titles with the Yankees in both 1999 and 2000. In 2001, he became the first pitcher in MLB history to start a season 20-1. He would finish 20-3 for the Yankees and earn his sixth Cy Young.
Clemens, who will turn 57 on August 4, 2019, announced his retirement early in the 2003 season, however, he came out of "retirement" in January of 2004 when he signed with his adopted hometown Houston Astros. Amazingly, at the age of 42, he became the oldest pitcher to ever win the Cy Young going 18-4 with a 2.98 for the 2004 Astros. Nearing the end of his incredible career he somehow posted the lowest ERA of his then-22-years in the big leagues when he finished with a 1.87 in 32 starts for Houston in 2005.
Roger unexpectedly returned from his second "retirement" (following the 2006 season with Houston) when he rejoined the Yankees in June of 2007. On July 2, 2007 he notched his 350th win to become one of only three pitchers to pitch his entire career in the live-ball era and reach 350 wins.
We'll see you at McCoy on June 21.