Rome pitchers combine on 4-hit shutout to beat Hoppers
With prospect Carmen Mlodzinski on IL, newcomer Santiago Florez makes first start for Greensboro; Matt Fraizer's hit streak snapped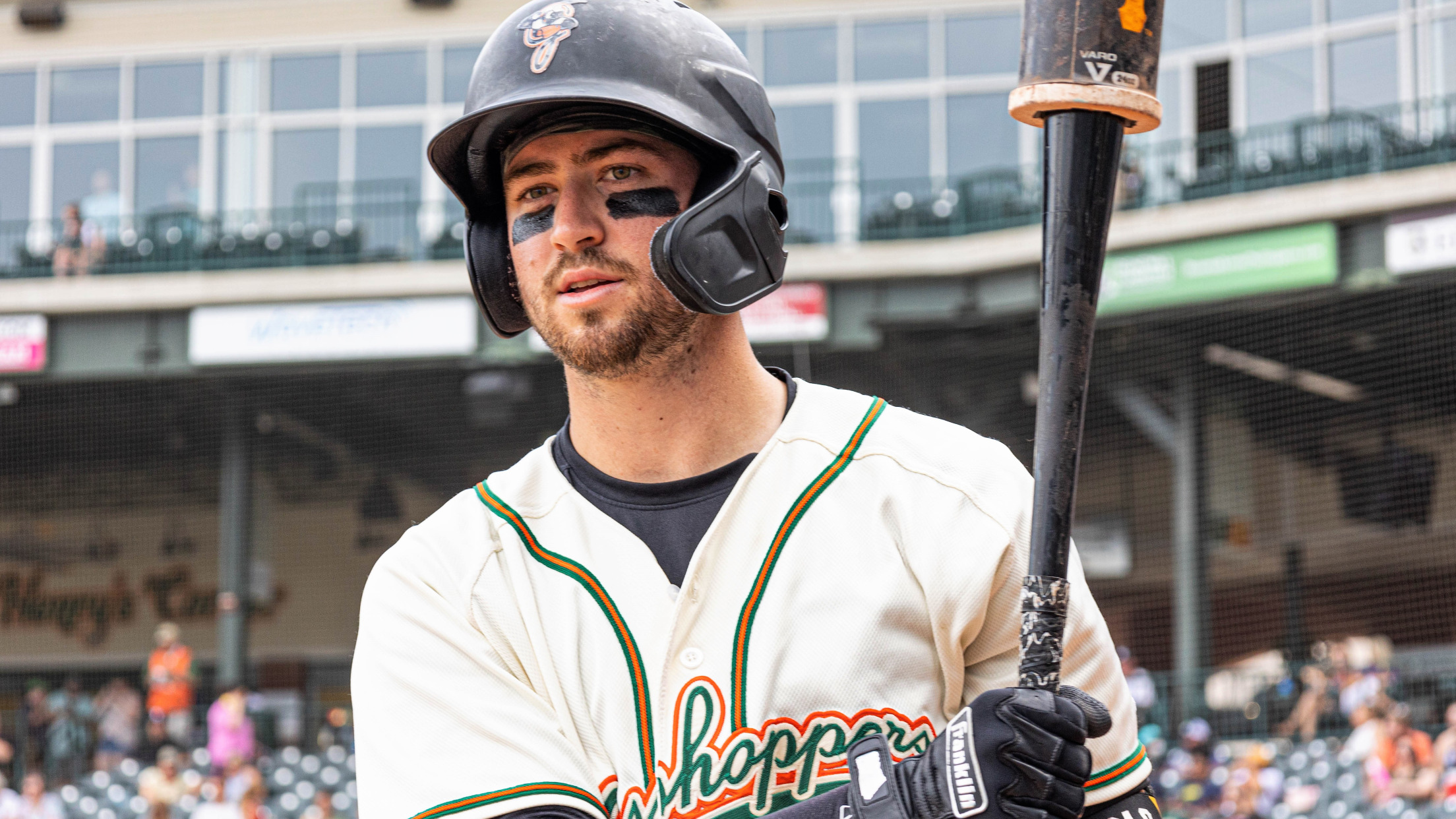 Greensboro third baseman Jared Triolo doubled and scored the go-ahead run in the regular-season finale. Triolo led the High-A East in hits, doubles and finishes second in the batting title chase. (Jak Kerley/Greensboro Grasshoppers)
ROME, Ga. ― Right-hander A.J. Puckett and two relievers combined on a four-hit shutout, and the Rome Braves beat the Greensboro Grasshoppers 6-0 on Thursday night at State Mutual Stadium. Jared Triolo went 2-for-4, and Matt Gorski was 1-for-2 with a double and two walks to lead Greensboro (37-26). The
ROME, Ga. ― Right-hander A.J. Puckett and two relievers combined on a four-hit shutout, and the Rome Braves beat the Greensboro Grasshoppers 6-0 on Thursday night at State Mutual Stadium.
Jared Triolo went 2-for-4, and Matt Gorski was 1-for-2 with a double and two walks to lead Greensboro (37-26). The Hoppers have won eight of their last 11 games and remain in second place in the High-A East's South Division, five games behind the Bowling Green Hot Rods.
Greensboro lead-off hitter Matthew Fraizer went 0-for-4 to snap a 12-game hitting streak.
Winning pitcher Puckett (3-1, 3.38 ERA) was dominant, allowing two hits and a walk in seven scoreless innings, striking out five.
UNCG alumnus Andrew Moritz went 3-for-4 with a double and an RBI to lead the Braves' offense, and highly-touted outfield prospect Michael Harris was 2-for-4 with an RBI.
Santiago Florez (0-1, 5.40 ERA) made his first start for the Hoppers and took the loss. Florez allowed three earned runs on four hits and three walks in five innings of work.
Florez, a 21-year-old right-hander, was promoted to Greensboro from the Low-A Bradenton Marauders on Tuesday. He was 5-2 with a 1.37 ERA in 10 games for Bradenton, striking out 71 in 52 2/3 innings.
Florez took the roster spot of 22-year-old right-hander Carmen Mlodzinski, who was placed on the 7-day injured list. Mlodzinksi, rated by MLB Pipeline as the No. 10 prospect in Pittsburgh's farm system, took himself out of his last start in the fourth inning after feeling tightness in his right shoulder.
Infielder Andres Alvarez had the Hoppers other hit Thursday. He was 1-for-2, was hit by a pitch and stole two bases.
NOTES: Triolo, who is Greensboro's regular third baseman, played shortstop on Thursday while highly-touted prospect Liover Peguero got a day off. ... Regular first baseman Aaron Shackelford also got a day off. ... Triolo has hit safely in eight of his last 10 games, going 13-for-41 (.317) during that stretch to raise his batting average to .270. ... Fraizer has now had 16-game and 12-game hitting streaks since June 1. The 23-year-old outfieler was 21-for-47 (.447) during this latest streak, and he has hit safely in 16 of his last 18 games. ... Fraizer leads the High-A East in batting average (.322), hits (76) and runs scored (44). He ranks second in home runs (15), and third in both on-base percentage (.404) and OPS (.988).
In his career at the News & Record, journalist Jeff Mills won 10 national and 12 state writing awards from the Associated Press Sports Editors, the Society for Features Journalism, and the N.C. Press Association.