Rosa's rocket topples Tortugas, 8-6
Lakeland salvages final game of season series over Daytona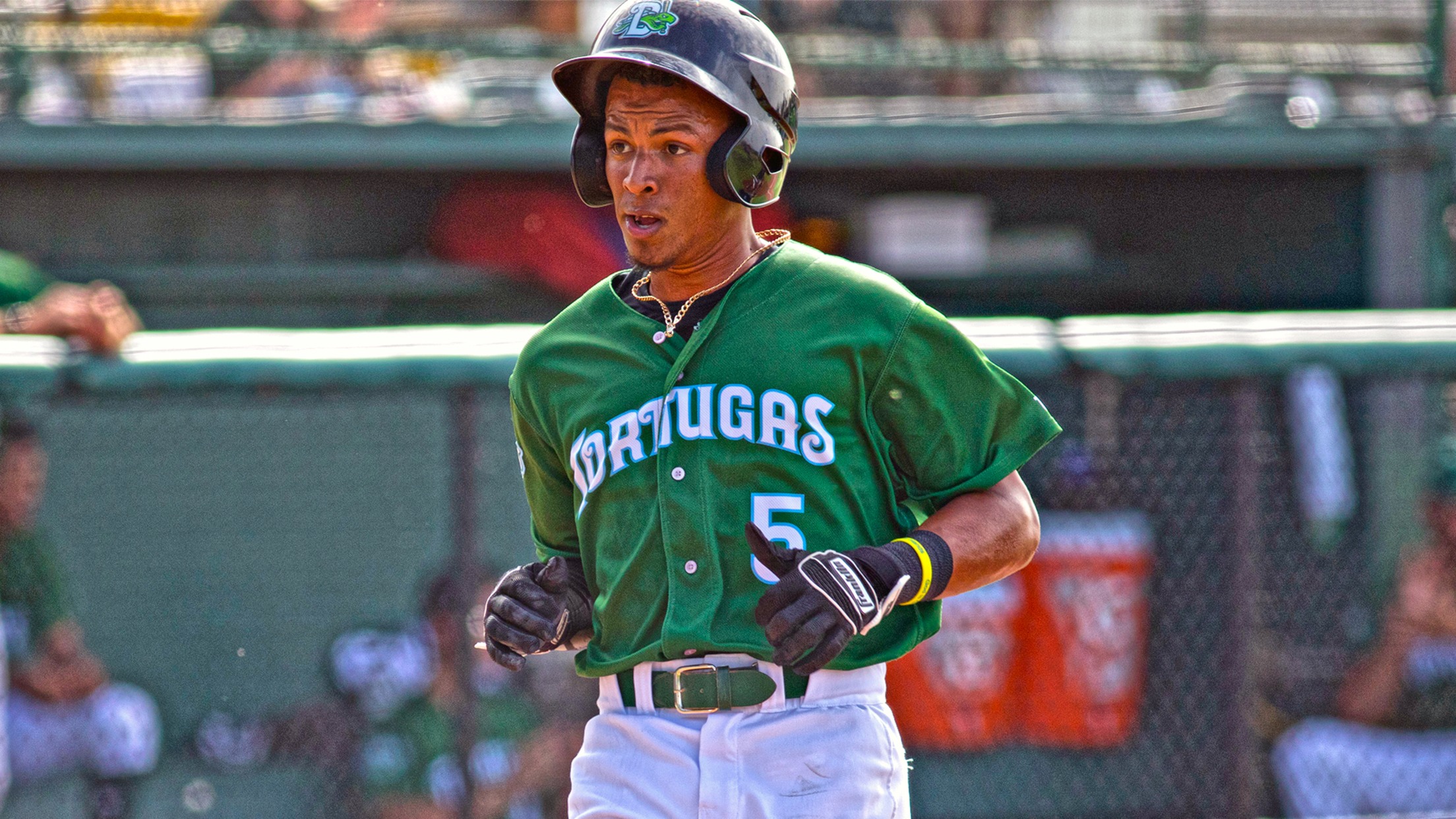 RF Lorenzo Cedrola picked up three hits and scored three runs, but the Lakeland Flying Tigers salvaged the final game of the season series, defeating the Daytona Tortugas, 8-6, on Sunday afternoon at Publix Field at Joker Marchant Stadium. (Aldrin Capulong)
LAKELAND, Fla. - After Daytona snagged the first 11 games of the season series, Lakeland finally got in the win column in the finale, as the Flying Tigers outlasted the Tortugas, 8-6, on Sunday afternoon at Publix Field at Joker Marchant Stadium.
LAKELAND, Fla. - After Daytona snagged the first 11 games of the season series, Lakeland finally got in the win column in the finale, as the Flying Tigers outlasted the Tortugas, 8-6, on Sunday afternoon at Publix Field at Joker Marchant Stadium.
A pitcher's duel early, Lakeland (14-19, 43-53) jumped ahead in the bottom of the first, as CF Brock Deatherage (1-5, R, 3B) tripled and scored on a single by SS Cole Peterson (2-4, RBI). Daytona (15-17, 50-47) tied it up in the next half-inning, as RF Lorenzo Cedrola (3-4, 3 R, BB) walked, moved to third on a single by LF Drew Mount (2-4, 2 RBI, SO) and scored on a subsequent fielding error.
It remained a one-all contest until the Flying Tigers' offense emerged in the bottom of the sixth. After 2B Kody Clemens (1-4, R, 2 SO) singled, RF Dylan Rosa (2-4, 2 R, 3B, HR, 2 RBI) put Lakeland in front, 2-1, on an RBI triple to center. 1B Chad Sedio (3-4, 2 R, 2B, RBI) and SS Luke Sherley (2-4, RBI) each added run-scoring singles to extend their advantage to three, 4-1. An RBI fielder's choice off the bat of LF Reece Hampton (1-3, 2 RBI) made it a 5-1 affair.
Daytona would not go quietly, as they managed to tie it over the following two frames. CF Andy Sugilio (2-5, 2B, RBI) helped whittle the lead down to three in the seventh, as he smacked an RBI single to right to score Cedrola.
In the eighth, the Tortugas drew even. RF Michael Beltré (2-5, R, 2 SO) got aboard with an infield single to begin the frame. A walk to 1B Bruce Yari (0-3, R, 2 BB, SO) and a single by Cedrola loaded the bases with two down. Mount then came through with a base-hit to center. Beltré and Yari scored on the single, while Cedrola came around from first after a misplay in the outfield, enabling the 'Tugas to knot the ballgame up at five.
The contest would not remain tied for long. Lakeland jumped back ahead three pitches into the bottom of the eighth, as Rosa hit a laser that sailed just over the fence in left for a solo home run. The 23-year-old's eighth homer of the campaign gave the Flying Tigers the edge, 6-5.
Lakeland kept the attack rolling in that frame, as they added two more tallies to roll out in front, 8-5, on an RBI bunt single from 3B John Valente (1-3, RBI, BB) and a run-producing ground out by Hampton.
Making sure it wasn't an easy finish for the home team, Daytona put the tying and go-ahead runs aboard in the ninth. 2B Alejo López (1-4, RBI, BB) made it a two-run game, 8-6, with an RBI knock to center. The Tortugas later loaded the bases following a two-out walk to Yari. However, RHP Ángel De Jesus (0.2 IP, BB, SO) was able to induce a foul pop to first by Cedrola to end the contest and seal his fourth win of the year.
Despite giving up five runs (four earned), RHP Mark Ecker (2.1 IP, 9 H, 5 R, 4 ER, BB, 2 SO) garnered his fifth win in relief for Lakeland. RHP Diomar López (1.0 IP, 3 H, 3 R, ER) surrendered the go-ahead tallies in the eighth and suffered his first defeat.
Neither starter received a decision on Sunday. In his first start since August of 2016, Tortugas' RHP Aaron Fossas (5.1 IP, 8 H, 4 R, 4 ER, 2 SO) battled through 5.1 frames. RHP Joe Navilhon (3.0 IP, 2 H, R, BB, 2 SO) lasted three frames in a spot-start for the Flying Tigers.
Daytona's 13-game road trip heads to Tampa on Monday, as the Tortugas are set to open up a three-game series against the Tarpons, the High-A affiliate of the New York Yankees. RHP Mac Sceroler (4-2, 4.46 ERA) is expected to get the ball for the 'Tugas in game one. Tampa is scheduled to counter with the Yankees' No. 16 prospect according to Baseball America, RHP Clarke Schmidt (3-3, 3.21 ERA).
The Tortugas Pre-Game Show will kick off the broadcast at 6:15 p.m. ET, leading up to the 6:30 p.m. ET start at George M. Steinbrenner Field. Monday evening's game can be heard on www.daytonatortugas.com or via the TuneIn Radio and MiLB First Pitch apps.
Following the lengthy road trip, the Tortugas will return to The Jack to open up a three-contest set against the St. Lucie Mets, the High-A affiliate of the New York Mets, on Friday, August 2. Daytona continues its Best Dressed Friday series, as players and coaches will don special uniforms in honor of the 25th anniversary of comedy classic, "Dumb and Dumber". Those jerseys will be auctioned off online throughout the weekend. It will be another Friday Night Happy Hour presented by Kona Brewing with buy-one, get-one Kona beer products and Bud Light from 5:30 p.m. until first pitch. Finally, after the game, fans will be treated to another splendid Postgame Fireworks display.
Multi-game plans and single-game tickets are still currently available and can be purchased online at www.daytonatortugas.com, or by calling the Tortugas' Ticket Office at (386) 257-3172.
ABOUT THE DAYTONA TORTUGAS
The Daytona Tortugas are the High-A Affiliate of the Cincinnati Reds and a member of the Florida State League. The Tortugas play at Jackie Robinson Ballpark in downtown Daytona Beach, Fla. Jackie Robinson Ballpark also plays host to Bethune-Cookman University, the Beijing Shougang Eagles of National Pro Fastpitch (NPF) and many large community events and initiatives throughout the season.