Rough Sixth Dooms G-Braves In Toledo, 5-1
Gwinnett pitching gives up 13 hits in loss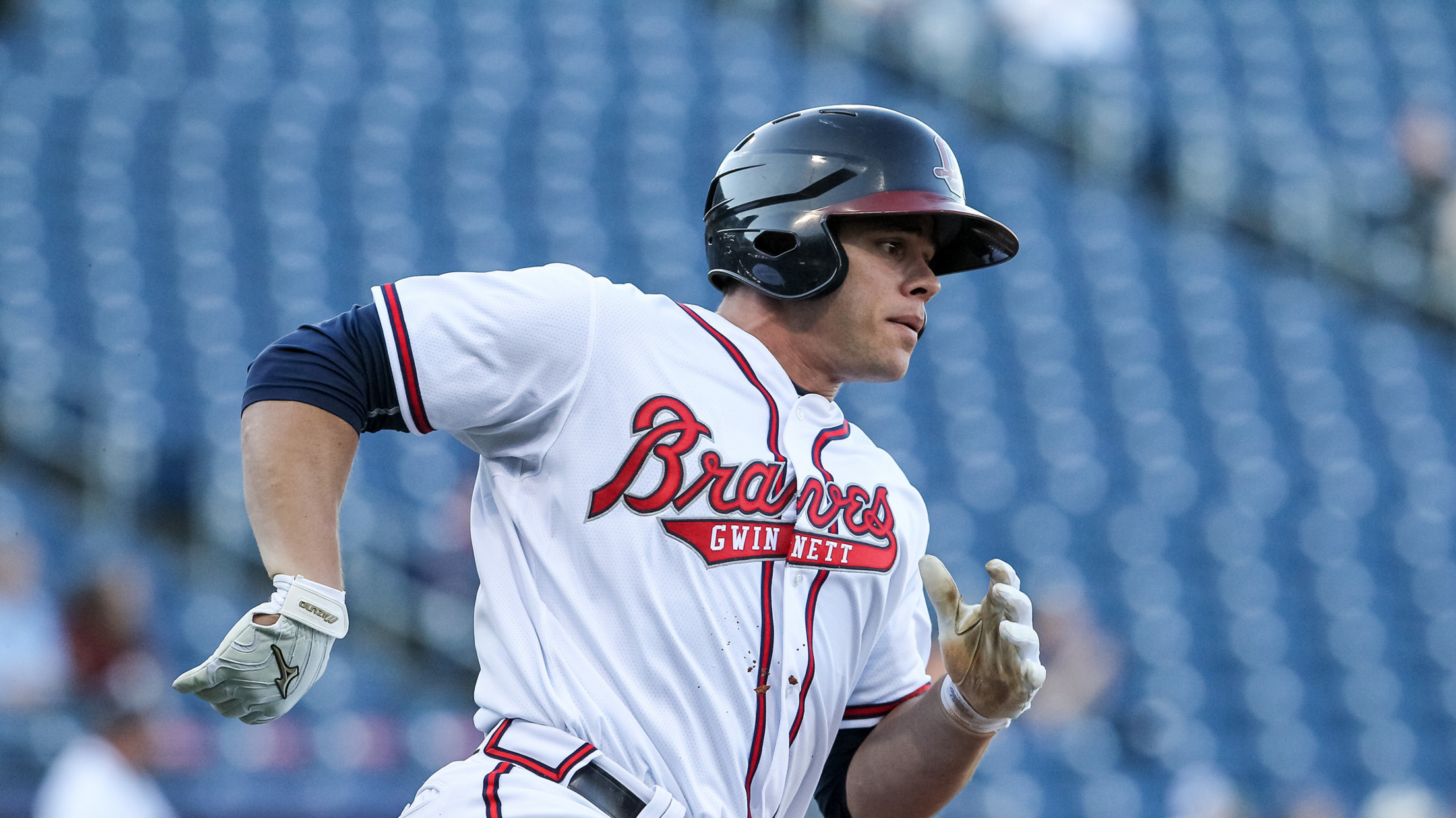 Anthony Recker drove in Gwinnett's only run with a triple on Tuesday night. (Karl L. Moore)
 TOLEDO, OH- The Toledo Mud Hens (33-42) used a four-run outburst in the bottom of the sixth to defeat the Gwinnett Braves (39-37) by a 5-1 score on Tuesday night in game two of the four-game series at Fifth Third Field. The Mud Hens broke a scoreless tie in the bottom
<o:p>
TOLEDO, OH- The Toledo Mud Hens (33-42) used a four-run outburst in the bottom of the sixth to defeat the Gwinnett Braves (39-37) by a 5-1 score on Tuesday night in game two of the four-game series at Fifth Third Field.<o:p>
<o:p>
The Mud Hens broke a scoreless tie in the bottom of the fourth when, after they loaded the bases with no outs against Gwinnett starting pitcher Matt Wisler , they got a sacrifice fly to left from catcher Bryan Holaday for a 1-0 lead. Later in the inning, Wisler worked out of a jam as he struck out JaCoby Jones to end the inning with the bases loaded.<o:p>
<o:p>
Gwinnett tied the game in the top of the fifth as Sean Kazmar Jr. led off the inning with a single to left against Toledo reliever Ruben Alaniz and moved to second on a soft grounder to third by Kyle Kubitza . Anthony Recker followed with a deep triple to right-center, scoring Kazmar and tying the score at 1-1. The triple was Recker's first as a G-Brave and first since he played for Triple-A Las Vegas in 2015.<o:p>
<o:p>
However, in the bottom of the sixth, things fell apart for Gwinnett. Jason Krizan (3) led off with a solo homer to right off Wisler for a 2-1 Mud Hens lead. Omar Infante followed with a single, and with one out, Brendan Ryan hit a ground ball to Gwinnett third baseman Rio Ruiz . In trying to begin what looked to be an inning ending double play, Ruiz threw the ball in the dirt to second, allowing Infante and Ryan to reach on an error. David Peterson was called in from the bullpen and he hit the next batter Juan Perez with a pitch to load the bases and then hit the following batter, Jones, with a pitch as well to force across Infante for a 3-1 lead. After the second out of the inning was recorded, Efren Navarro singled to right, scoring both Perez and Jones for a 5-1 lead and eventual final.<o:p>
<o:p>
Wisler (L, 3-5) tossed 5.1 innings with 10 hits, four runs, two earned, and three strikeouts. David Peterson pitched two thirds of an inning with one hit and one earned run, while also hitting two batters. Atlanta Braves reliever Dan Winkler, with Gwinnett on a rehab assignment, went 1.0 inning with two hits and one strikeout in his first career Triple-A appearance. Rex Brothers worked 1.0 inning with one strikeout.<o:p>
<o:p>
For Toledo, starting pitcher Matt Boyd pitched 4.0 innings with two hits and six strikeouts. Alaniz tossed 1.2 innings with two hits, one earned run, one walk and four strikeouts. Blaine Hardy (W, 4-2) worked 1.1 innings with one strikeout. Jeff Ferrell went 1.0 inning with one hit and two strikeouts. Edward Mujica pitched 1.0 inning with one hit.<o:p>
<o:p>
At the plate, both Kazmar and Matt Tuiasosopo were 2-for-4 for Gwinnett. Xavier Avery was 1-for-3 with a double to extend his on-base streak to 12 games. Recker was 1-for-3 with a triple and the club's only RBI. Ozzie Albies went 0-for-4 and saw his team leading on-base streak end at 24 games.<o:p>
<o:p>
Krizan had the hot bat for the Mud Hens with a 4-for-4 night with a solo homer. Infante was 2-for-4 with a run. Navarro went 2-for-5 with two RBIs.<o:p>
<o:p>
The G-Braves and Mud Hens meet in game three of the four-game series on Wednesday afternoon. Right-hander Aaron Blair (5-4, 5.09 ERA) will start for Gwinnett against Toledo left-hander Matt Crouse (1-2, 5.64 ERA). First pitch is set for 12:05 p.m. Tony Schiavone has the play-by-play call on 97.7 FM "The Other Side of the River" beginning at 11:35 a.m.<o:p>
<o:p>
The Gwinnett Braves return to Coolray Field on Tuesday, July 4 to begin a six-game homestand. Game one of a three-game series vs. Norfolk begins at 7:05 p.m. For tickets, call 678-277-0340 or visit GwinnettBraves.com/tickets.