Royals' Skoglund steps up in Triple-A debut
After Double-A pit stop, fourth-ranked prospect posts five zeros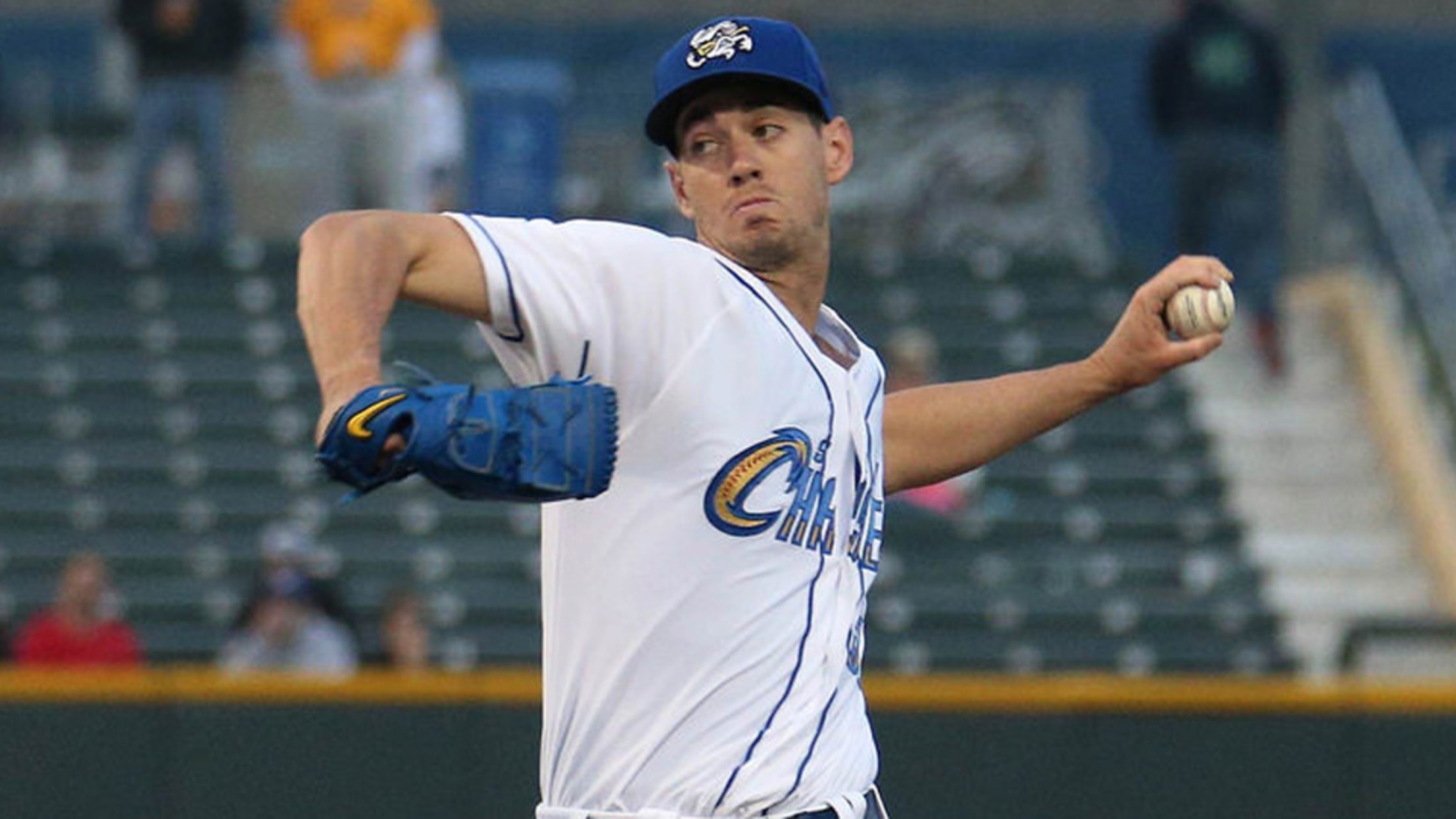 Eric Skoglund has a 3.61 ERA over 267 innings since the Royals drafted him in 2014. (Minda Haas Kuhlmann)
Following a preseason plan outlined by the Royals, Eric Skoglund was bumped up to Triple-A after one start at Double-A. And a couple days later, he learned he was taking the spot of one if his good friends, Jake Junis, who was called up to the Majors."I'm sure he's not
Following a preseason plan outlined by the Royals, Eric Skoglund was bumped up to Triple-A after one start at Double-A. And a couple days later, he learned he was taking the spot of one if his good friends, Jake Junis, who was called up to the Majors.
"I'm sure he's not too worried about it," Skoglund said with a laugh. "I'm sure he's enjoying his time in Kansas City right now.
Filling his friend's cleats, the Royals' No. 4 prospect made the start his own by tossing five scoreless innings in his Pacific Coast League debut Wednesday as Omaha beat Round Rock, 6-3, at Werner Park. Skoglund gave up three hits and struck out four without issuing a walk.
After yielding a run over 3 1/3 frames for Double-A Northwest Arkansas on Friday, the 24-year-old southpaw was told he was moving up to the Minor Leagues' highest level. But he wasn't fazed.
"Baseball is baseball. Triple-A, Double-A, they tie their shoes just like I do at the end of the day. That's the way I look at it, that's the way I'll always look at it," he said. "It doesn't matter what league I'm in, as long as I'm able to execute, keep the ball down, trust my teammates behind me and good things are going to happen."
Good things happened for Skoglund, who worked around one-out knocks by Preston Beck and Travis Snider in the first and second, respectively. In the fourth, he allowed a leadoff single to Will Middlebrooks, but two strikeouts and a pickoff later, the left-hander was well on his way to his first Triple-A win.
With help from his longtime catcher, Cam Gallagher, Skoglund flashed his signature control, throwing 50 of 75 pitches for strikes.
"I got off to a good start," the Florida native said. "Obviously, I'm not near where I need to be yet, I'm not ready yet with the crisp putaway pitches yet. But the more reps I take and [the more I] get my feet wet here, I'll be in good hands."
Skoglund benefited from back-to-back homers in the second inning by Royals No. 8 prospect Ryan O'Hearn and No. 12 prospect Jorge Bonifacio, who added an RBI double in the seventh.
"[O'Hearn's] the man. He's one of my closest buddies on the team, he's actually my roommate. That guy is an absolute competitor, works so hard and has the confidence," the 6-foot-7 Skoglund said. "He's got the makeup, he's got it all, and I'm excited to see what the future has for him because he is such an incredible person, teammate and player. He's doing exactly what he's always done, let's just say that."
As for when O'Hearn and Skoglund might join Junis in Kansas City, the University of Central Florida product isn't too concerned.
"It's obviously not the ultimate goal of Kansas City, but it's great to be here [in Omaha] with all the guys and compete and win," Skoglund said. "I try not to think about it, [just] one day at a time for me. I'm just trying to get better every day and win. That's my ultimate goal and I just want to win and get better every day."
Malcolm Culver struck out the side on 16 pitches in the ninth for his first save of the season.
Kelsie Heneghan is a contributor to MiLB.com. Follow her on Twitter @Kelsie_Heneghan.