Ryan left mark in Minors before callup
Hall Of Famer put name in record books during '66 season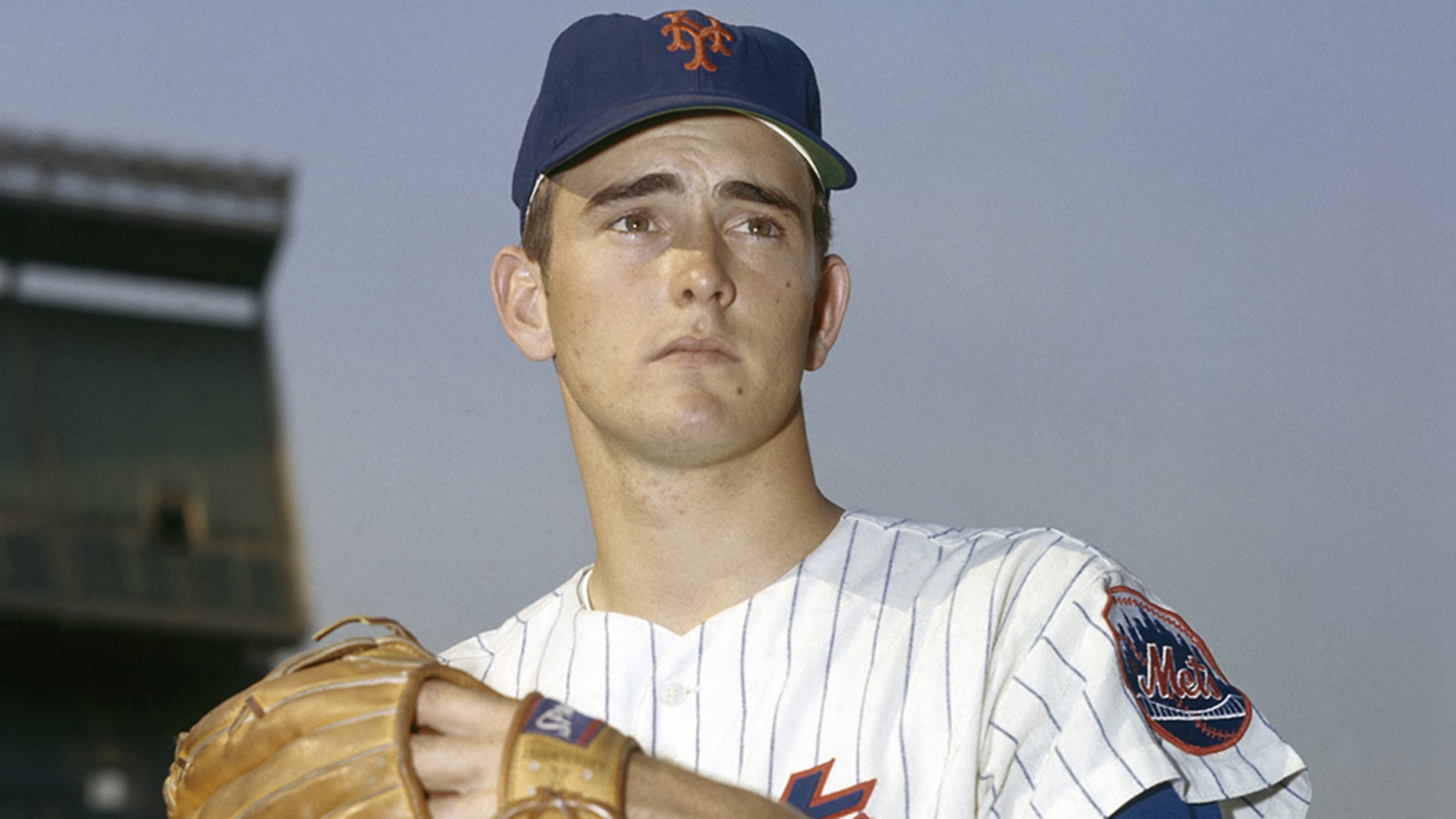 Nolan Ryan finished with a 17-2 mark in 1966 and struck out 272 over 183 innings. (Louis Requena/Getty Images)
Before the remarkable 27-year Major League career in which he pitched a record seven no-hitters, compiled a record 5,714 strikeouts and earned 324 victories. Before he received the plaque in Cooperstown -- with 98.79 percent of the vote on his first ballot. And before he earned the nickname "The Ryan
Before the remarkable 27-year Major League career in which he pitched a record seven no-hitters, compiled a record 5,714 strikeouts and earned 324 victories. Before he received the plaque in Cooperstown -- with 98.79 percent of the vote on his first ballot.
And before he earned the nickname "The Ryan Express," Lynn Nolan Ryan Jr. was a 19-year-old, lanky, unrefined fireballer who set the Minors ablaze in his first full season of professional baseball.
"I had the best statistical year of my career," Ryan wrote in Miracle Man.
After being selected by the Mets in the eighth round (295th overall) of the 1965 Draft out of Alvin High School in Texas, Ryan reported late to Marion (Virginia) in the Rookie-level Appalachian League. Standing 6-foot-2 and weighing 155 pounds at the time, he appeared in 13 games and was erratic -- to put it mildly -- as he went 3-6 with a 4.38 ERA. The right-hander did, however, strike out 115 over 70 innings, and that caught the attention of the organization.
Ryan reported to the Florida Instructional League in St. Petersburg that offseason. "Only the top 20 prospects in the Mets organization got that opportunity," he recalled in his autobiography, Throwing Heat.
There, Ryan began working on his control with coach Bunky Warren and scout Red Murff. He also added a changeup to his repertoire.
"They had me throw more overhanded," he told the Greenville News the following spring. "It helped my curve a lot. I believe I picked up speed. I know I got a lot more confidence."
Ryan carried that confidence -- and a bit more weight -- into his first professional Spring Training in Homestead, Florida, where he met another highly regarded pitching prospect who not only became a lifelong friend but also a mentor: Tom Seaver.
"He had been in a special pool drawing and the Mets had drawn his name out of a hat and he became their property," Ryan wrote in his autobiography.
"I was just there trying to have fun and make a living with a gigantic fastball. He wanted to be an excellent, thinking pitcher. I was amazed just to hear him talk about it. ... I know it helped, but at first all it did was show me how much I didn't know. I had no idea there was so much to the game, let alone pitching."
When camp broke, the pair went their separate ways as Seaver reported to Triple-A Jacksonville and Ryan arrived at Class A Greenville.
Ryan took the ball for the Greenville Mets on Opening Day -- weighing 168 pounds -- and it appeared that whatever he picked up the previous winter and spring stuck with him, as he was the only starter on the circuit to go the distance that night. He fanned 14 over nine innings in a 6-4 victory.
Ryan opened the season with a run of 25 scoreless innings and amassed 62 punchouts through his first six starts. He went on to earn the Topps Player of the Month Award for late April-May after going 5-0 with 86 strikeouts in 55 frames.
In a May 17 start, Ryan was pitching a two-hit shutout with 17 whiffs but was lifted after eight innings due to a blister. Concern over the injury quickly dissipated after he returned to shut out Thomasville while fanning 12 and followed that with a 15-strikeout effort in a 4-2 win over Lexington.
Then, on June 11, 1966, Ryan made history as he tied the South Atlantic League -- known then as the Western Carolinas League -- record with 19 strikeouts in an 8-0 home victory over Statesville.
Riding a six-game winning streak when he took the hill that Saturday night, Ryan whiffed the first nine Tigers he faced -- in front of the largest Meadowbrook Park crowd of the season to that point, 1,103 -- and carried a no-hitter into the sixth inning.
With two outs, Statesville starter Shelby Morton lined a hot-shot ground ball to the right side that appeared to be misplayed by first baseman Mike Mitchell. The crowd pleaded that it be deemed an error, but the official scorer ruled it a hit.
In the home half of the inning, Ryan -- perhaps still bothered by allowing that hit -- helped himself by singling in a run. It was his only knock in four at-bats that night.
He continued his dominance on the bump, entering the ninth with 17 strikeouts, two shy of the record set by Shelby's David Nunnekamp on April 24, 1963 and equaled a week later by Salisbury's Glenn Davis.
"I remember coming in to pinch hit against him that night and telling someone afterwards that it was the best stuff I've ever seen," said Gene Lamont, who came on for Statesville in the eighth as a pinch-hitter in the pitcher's spot. "I went down on three pitches. He came at me hard, hard and then got me out on a curveball -- I'd never seen one like that before.
"I remember telling outfielder Johnny Sharkey, 'That was the best stuff I've ever seen and I hope there aren't too many more like that.' And to be truthful, I never saw anyone else like that again. ... I had four at-bats against [Ryan] in the big leagues and he still had as good as stuff as anybody."
Ryan opened the final frame by whiffing Wayne Ginste -- No. 18.
After yielding a base hit to Jim Bernetti, the next batter sent a ground ball to second baseman Bob Heise. Heise flipped to shortstop Dave Smith, who could not turn the double play, extending the game for Ryan.
The contest lasted only six more pitches as Ryan blew a full-count heater past the swinging try of Bob Heumann to wrap it up and earn a place in history.
"He seems to get better every time he goes out," Greenville manager Pete Pavlic told The Greenville News after the game. "The blister doesn't seem to be bothering him."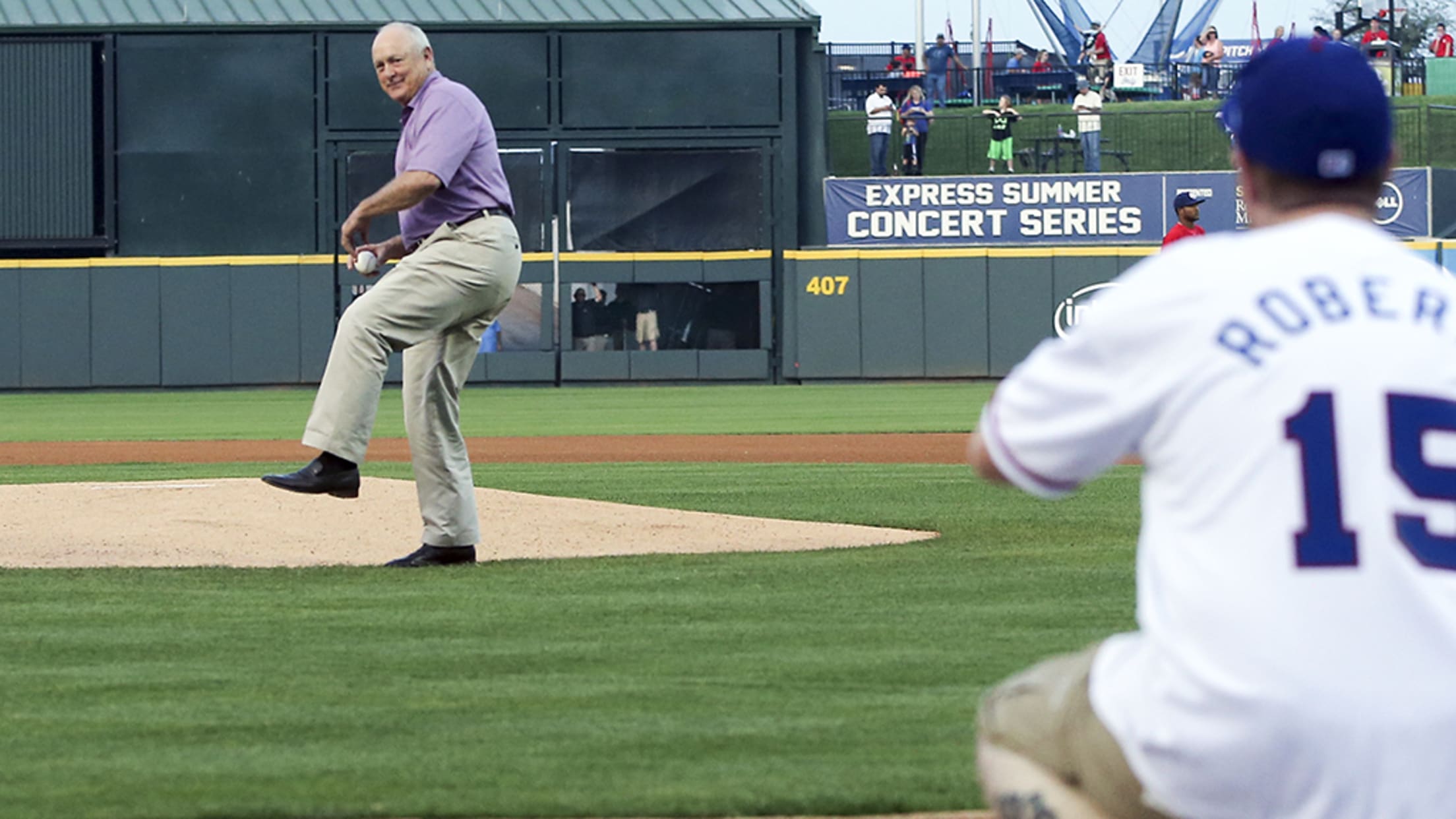 And that historic outing actually may rank as just his third-best that season.
Later that month, Ryan had his family and high school sweetheart Ruth visiting for the first time. They attended one of his starts against Gastonia:
"My parents, my youngest sister and Ruth came down to see me. I was real excited about pitching for them again and maybe I put a little extra on the ball," he wrote in Throwing Heat.
Ryan tossed a seven-inning shutout that night, tying his own record by recording 19 of the 21 outs by punchout.
He went on to finish that season with a 17-2 mark -- the most wins and fewest losses by any hurler on the circuit. In 29 games, including 28 starts, he threw nine complete games, five shutouts and allowed 51 earned runs on 109 hits with 272 whiffs over 183 innings. He was named a WCL All-Star and entered the midseason classic in relief of starter Bob Rommes.
Ryan soon was promoted to Double-A Williamsport, where he lasted only 10 days and three starts. He recalled that tenure not getting off to the smoothest of starts:
"Unfortunately, I sent my catcher, Duffy Dyer, off the field on a stretcher with a concussion after I hit him in the head with a changeup when he was warming me up."
In his second outing with Williamsport on Sept. 1, 1966, Ryan again made history.
Facing Pawtucket, he fanned 19 through nine but ended up with 21 strikeouts in a 2-1, 10-inning loss. After Dave Nelson stole home in the sixth to tie the game for Pawtucket, Don Gadbury bunted his way on in the 10th, moved to second on a wild pitch, took third on a passed ball and, with two outs and a full count, he also swiped home. Ryan notched his 21st K on the next pitch to set the Eastern League record.
"That was the greatest game of my career to that point," he penned in Throwing Heat.
Set for one more start before getting called up to The Show, Ryan was scheduled to throw four innings and catch a plane to New York to join the Mets. The Texan had a no-hitter going and manager Bill Virdon asked if he wanted to see it through.
"'Mr. Virdon,' I told him, 'if it's all right with you, I'd just as soon move on along to New York City.' The no-hitter, to my mind, was secondary to my joining the New York Mets. He wished me the best."
Ryan made his Major League debut on Sept. 11, filling in for Jerry Hinsley, who was awaiting a military draft call. He was used exclusively out of the bullpen during that brief stint.
Ryan finished his Minor League run with 422 strikeouts in 280 innings.
"All in all I consider my year at Greenville as one of the most pleasant I've ever had in baseball. ... My success in Greenville had made me feel better about myself," he wrote in his autobiography.
"I felt something building that year, as I was on my way toward becoming a legitimate Major League prospect."
Asked about his 1966 season in a July 2014 interview with the Greenville News, Ryan said, "That was another life ago."
Twenty-seven years after throwing his last pitch and 21 years after he was enshrined in Cooperstown, Ryan, his son, Reid, and Don Sanders comprise Ryan Sanders Baseball, which owns the Pacific Coast League's Round Rock Express.
Rob Terranova is a contributor to MiLB.com. Follow him on Twitter @RobTnova24.