Blake Sabol's 2 home runs lead Hoppers to 8th straight win
Andres Alvarez and Eli Wilson also hit home runs as Greensboro pads pennant race lead to 5 1/2 games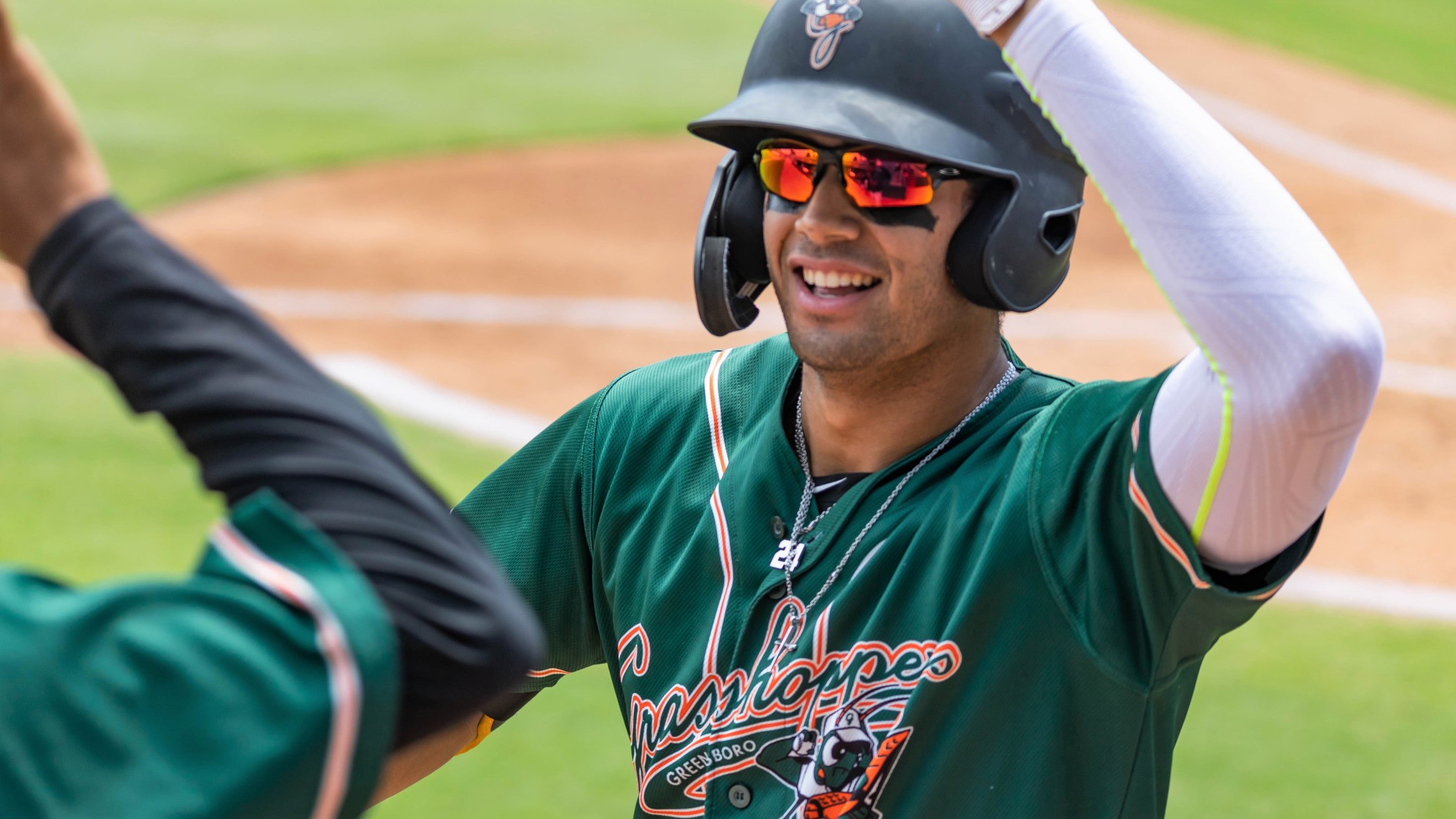 Lefty-hitting Blake Sabol hit a pair of two-run home runs in Greensboro's 8-4 victory over Hudson Valley on Saturday, including a towering shot off the batter's eye in center field. (Jak Kerley/Greensboro Grasshoppers)
GREENSBORO ― Blake Sabol hit a pair of two-run home runs and the Greensboro Grasshoppers won their eighth consecutive game, beating the Hudson Valley Renegades 8-4 in a key High-A East matchup Saturday night at First National Bank Field. Shortstop Andres Alvarez went 2-for-5 with a solo home run, and
GREENSBORO ― Blake Sabol hit a pair of two-run home runs and the Greensboro Grasshoppers won their eighth consecutive game, beating the Hudson Valley Renegades 8-4 in a key High-A East matchup Saturday night at First National Bank Field.
Shortstop Andres Alvarez went 2-for-5 with a solo home run, and catcher Eli Wilson hit a two-run homer for the Hoppers, who play their final regular-season home game at 6:30 p.m. Sunday with Labor Day fireworks to follow.
Greensboro (69-38) has won 10 of its last 12 games, and the Hoppers have taken a 5 1/2-game lead over Hudson Valley (63-43) in the race for the second-best record in the league.
With five straight wins over the Renegades in this series, the Hoppers are closing in on a spot in the High-A East championship series.
Greensboro trails first-place Bowling Green (74-33) by five games in the South Division standings, with just 13 games remaining in the regular season. The Hoppers play seven of those games against North Division leader Hudson Valley, one more here in Greensboro and a six-game series in Wappingers Falls, N.Y., near Poughkeepsie to close out the season.
The two teams with the best records ― regardless of division ― qualify for the 12-team league's best-of-five championship series. The playoffs begin with two games at the lower seed's home park Tuesday and Wednesday, Sept. 21 and 22. Thursday is a travel day to the top seed's ballpark, with games Sept. 24, 25 and 26 if necessary.
Greensboro took a 4-0 lead in Saturday's game on Sabol's two home runs. He hit an opposite-field shot onto the hill beyond the left-field fence in the second inning. Then in the fourth, Sabol tattooed a pitch from Anderson Munoz (2-1, 4.76 ERA) to straightaway center field, the ball hitting near the top of the batter's eye above the 400-foot sign on the outfield wall.
Jared Triolo's RBI single made it 5-1 in the fifth. Alvarez and Wilson tacked on insurance runs with their homers.
Garrett Leonard (2-2, 6.11 ERA) picked up the win in relief, allowing a run in 1 2/3 innings. Starting pitcher J.C. Flowers walked one and struck out five in 4 2/3 strong innings, allowing a run on five hits.
Notes
Second baseman Nick Gonzales, the seventh overall pick in the 2020 draft and a player ranked by MLB Pipeline as the Pirates' No. 4 prospect, went 0-for-2 with two walks Saturday. Gonzales was the High-A East's player of the month in August. He went on the injured list with a broken finger in May, and he was batting just .214 on July 15. In the 40 games since then, Gonzales has raised his batting average to .300 by hitting .358 (62-for-173) with 13 doubles, three triples, 11 home runs and 38 RBIs.
The Hoppers have won or split 17 of their 18 six-game series this season. Since splitting their first five series of the season, the Grasshoppers are 54-23 (.701 win percentage).
Shortstop Liover Peguero, the Pirates' No. 5 prospect, sat out Saturday's game. Peguero left Friday night's game after apparently twisting an ankle on the first-base bag. Alvarez started at shortstop Saturday and batted in the lead-off spot.
Third baseman Jared Triolo leads the High-A East with 114 hits, and he ranks second with 73 RBIs and a .306 batting average. Triolo was batting just .217 on June 2, but in 74 games since then he has batted .331 with 21 doubles, 12 home runs, 58 RBIs and 22 stolen bases.
In his last nine games, catcher/DH Blake Sabol is 12-for-37 (.324) with two home runs, two doubles, eight runs scored and seven RBIs.
Center fielder Jonah Davis was sent down from Class-AA Altoona on Aug. 5 and went just 2-for-25 in his first eight games. But in 14 games since then, Davis is 14-for-40 (.350) with six home runs, two doubles, nine walks and 15 RBIs.
Left fielder Lolo Sanchez leads the league with 29 stolen bases and ranks second with 50 walks. In his last 21 games, Sanchez has batted .333 (26-for-78) with 19 runs scored.
In his career at the News & Record, journalist Jeff Mills won 10 national and 12 state writing awards from the Associated Press Sports Editors, the Society for Features Journalism, and the N.C. Press Association.