Sacramento topped by 'Topes 6-5 in extras
Slania's solid start all for naught in loss to Isotopes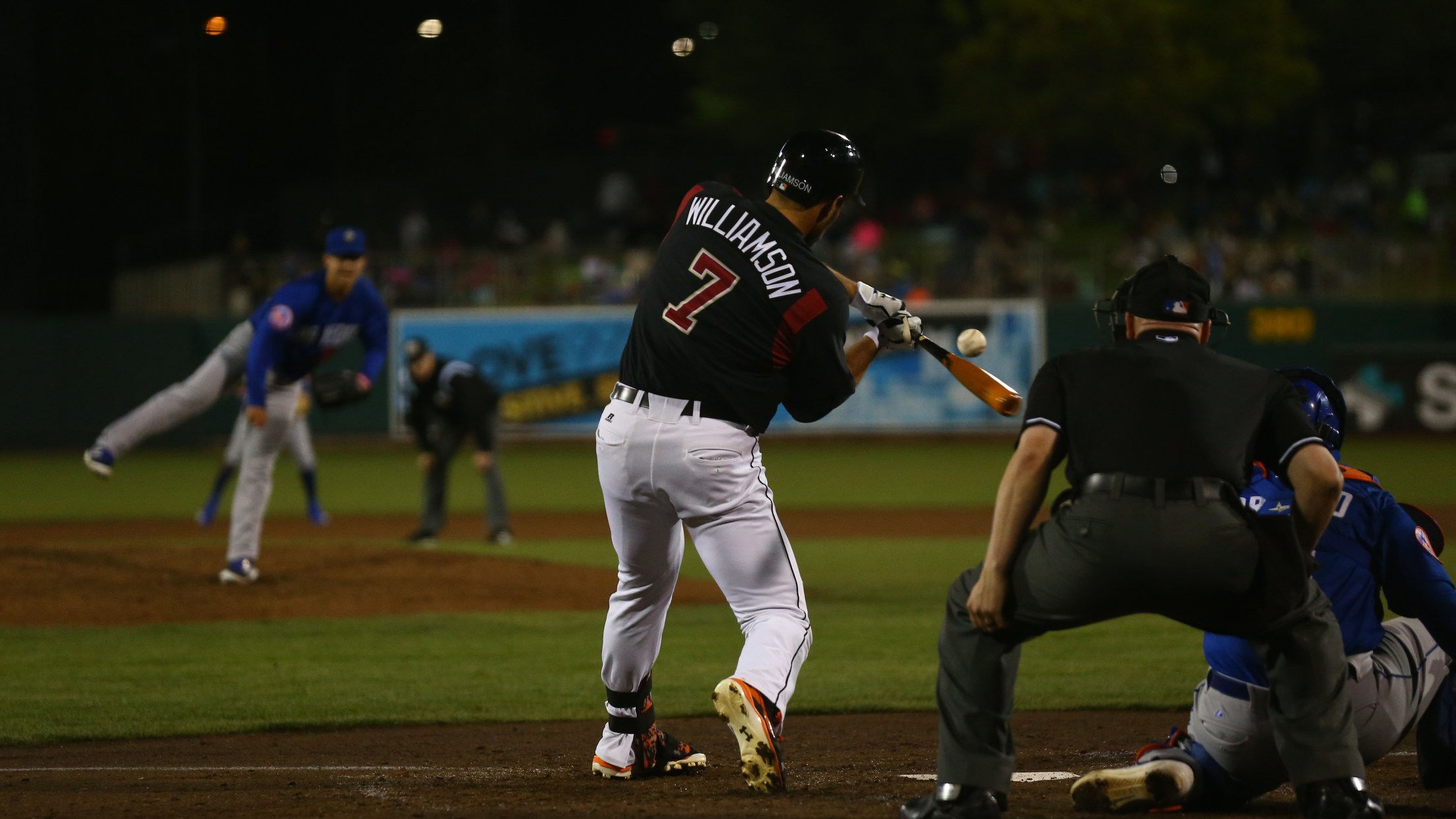 The Sacramento RiverCats lost to the visiting Las Vegas 51's 3-2 on April 22,2017 (Ralph Thompson)
Albuquerque, NM - The Sacramento River Cats (19-33) struck early against the Albuquerque Isotopes (28-25) Thursday night but fell victim to a late comeback and fell in 13 innings 6-5. 
Albuquerque, NM - The Sacramento River Cats (19-33) struck early against the Albuquerque Isotopes (28-25) Thursday night but fell victim to a late comeback and fell in 13 innings 6-5.
Mac Williamson got the River Cats off to a fast start, hitting a two-run home run in the first inning. The blast was Williamson's fourth of the year and the right fielder was playing in his first game with the club since May 14. Two innings later, third baseman Ryder Jones launched a two-run shot of his own, his sixth of the season and knocked his 20th and 21st runs.
On the hill for Sacramento, Dan Slania had his best start of the season. The right-hander went five innings, allowing two runs on seven hits while walking two and striking out four. Albuquerque rallied late however, scoring a run in the eighth and two more in the ninth to send the game to extra innings. Right-hander Tyler Rogers was charged with the loss after giving up the game-winning run in the 13th, his second earned run allowed on the road this season. The 13 inning contest was the longest game this season for Sacramento.
Game two tomorrow night will feature River Cats right-hander Tyler Beede (3-3, 3.93) up against Isotopes lefty Ryan Carpenter (2-4, 5.06). First pitch is set for 6:05 p.m. (PT) and the game can be heard live online at rivercats.com and on the air on ESPN 1320 AM.
Postgame Notes
Free baseball: The River Cats played their longest game of the season tonight, lasting four hours and five minutes…Sacramento is now 3-3 in extra-inning games…now 1-3 in extra-inning road games.
Slania's start: Coming into tonight's start, Dan Slania had been 0-4 with a 8.60 ERA in six road starts…his two earned runs came in the first inning tonight and surrendered four of his seven hits in the first frame…he leads the team with 46 strikeouts.
Mac and Shaw: Power hitters Mac Williamson and Chris Shaw started together for the first time…Williamson, who hit cleanup, went 1-for-6 while Shaw, who hit fifth, finished 2-for-5 with a walk and a double…Shaw now has three straight games with a double and is hitting .310.
Bernard: Centerfielder Wynton Bernard had his first three-hit game with Sacramento tonight…he also had a stolen base…improved his batting average from .157 to .182.