Salem blanks Carolina 3-0
Sox arms sizzle, Castellanos homers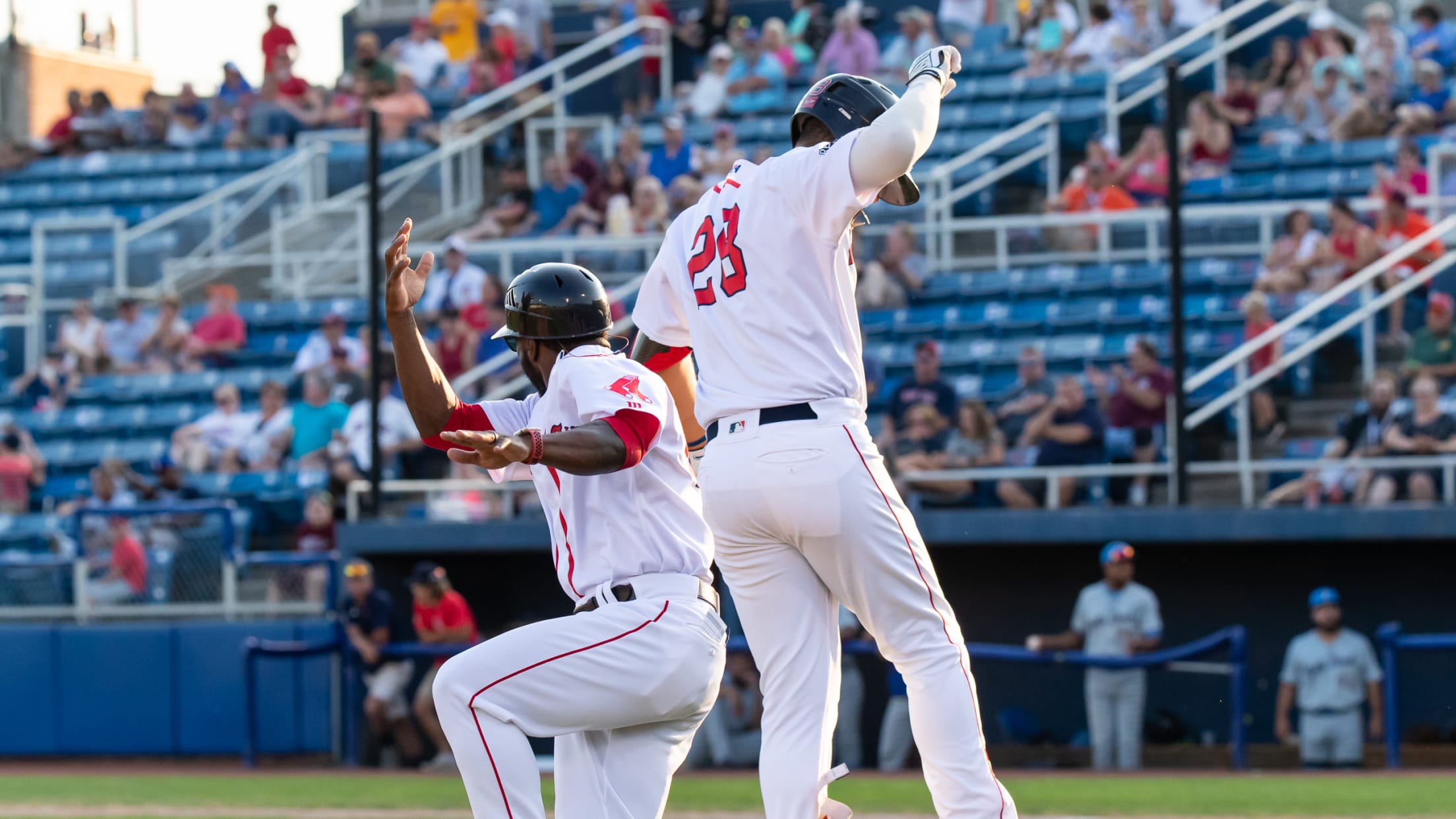 Pedro Castellanos homered Saturday night against Carolina. (John Wacher)
ZEBULON, North Carolina (August 10, 2019) - Pedro Castellanos blasted a home run to back a one-hit performance from Thaddeus Ward and hand the Salem Red Sox a 3-0 win over the Carolina Mudcats Saturday night at Five Counties Stadium.How it Happened * Pedro Castellanos smashed the silence with a
ZEBULON, North Carolina (August 10, 2019) - Pedro Castellanos blasted a home run to back a one-hit performance from Thaddeus Ward and hand the Salem Red Sox a 3-0 win over the Carolina Mudcats Saturday night at Five Counties Stadium.

How it Happened
* Pedro Castellanos smashed the silence with a lead-off home run in the fourth inning to take a 1-0 lead.
* Thaddeus Ward dealt six innings of one-hit ball to Carolina. The righty exited after eight strikeouts.
* Garrett Benge and Ryan Fitzgerald laced back-to-back singles before Castellanos delivered again with a sacrifice fly to double the lead in the sixth inning.
* Logan Browning delivered two innings of scoreless relief and punched out two Mudcats.
* Nick Sciortino singled in the eighth inning and burned the base paths on a double from Tanner Nishioka for 3-0 insurance.
* Joan Martinez closed the final two frames against Carolina, permitting just one hit to earn his first save of 2019.
Standout Sox
* Pedro Castellanos: 1-for-3, 2 RBI, R, HR
* Thaddeus Ward: 5.0 IP, 1 H, 0 R, 0 ER, 4 BB, 8 K - W (2-2)
* Nick Lovullo: 1-for-3, RBI, 2B
* Logan Browning: 2.0 IP, 2 H, 0 R, 0 ER, 1 BB, 2 K - H (1)
* Joan Martinez: 2.0 IP, 1 H, 0 R, 0 ER, 1 BB, 0 K - S(1)

Noteworthy
* Castellanos's home run was his seventh of the season. The Sox have delivered long balls in both games against Carolina.
* The shutout was the sixth Salem has dealt this season.
What's Next
Salem Red Sox at Carolina Mudcats Sunday, August 11, 2019. First pitch is scheduled for 2:00 PM EST.
RHP Daniel Gonzalez vs. RHP Nelson Hernandez
Listen: SalemSox.com, TuneIn Radio, ESPN Blacksburg WKEX 1430 AM/94.1 FM, WGMN 1240 AM/93.3 FM
Watch: MiLB.TV
The Salem Red Sox are the Advanced-A affiliate of the Boston Red Sox and call Haley Toyota Field in Salem, Virginia home. The team was founded in 1968 and purchased by Fenway Sports Management in December of 2007. For more information on the Salem Red Sox, please visit SalemRedSox.com or contact Melanie Newman at [email protected].