Salem holds on for 2-1 win over Dash
Sox arms go the distance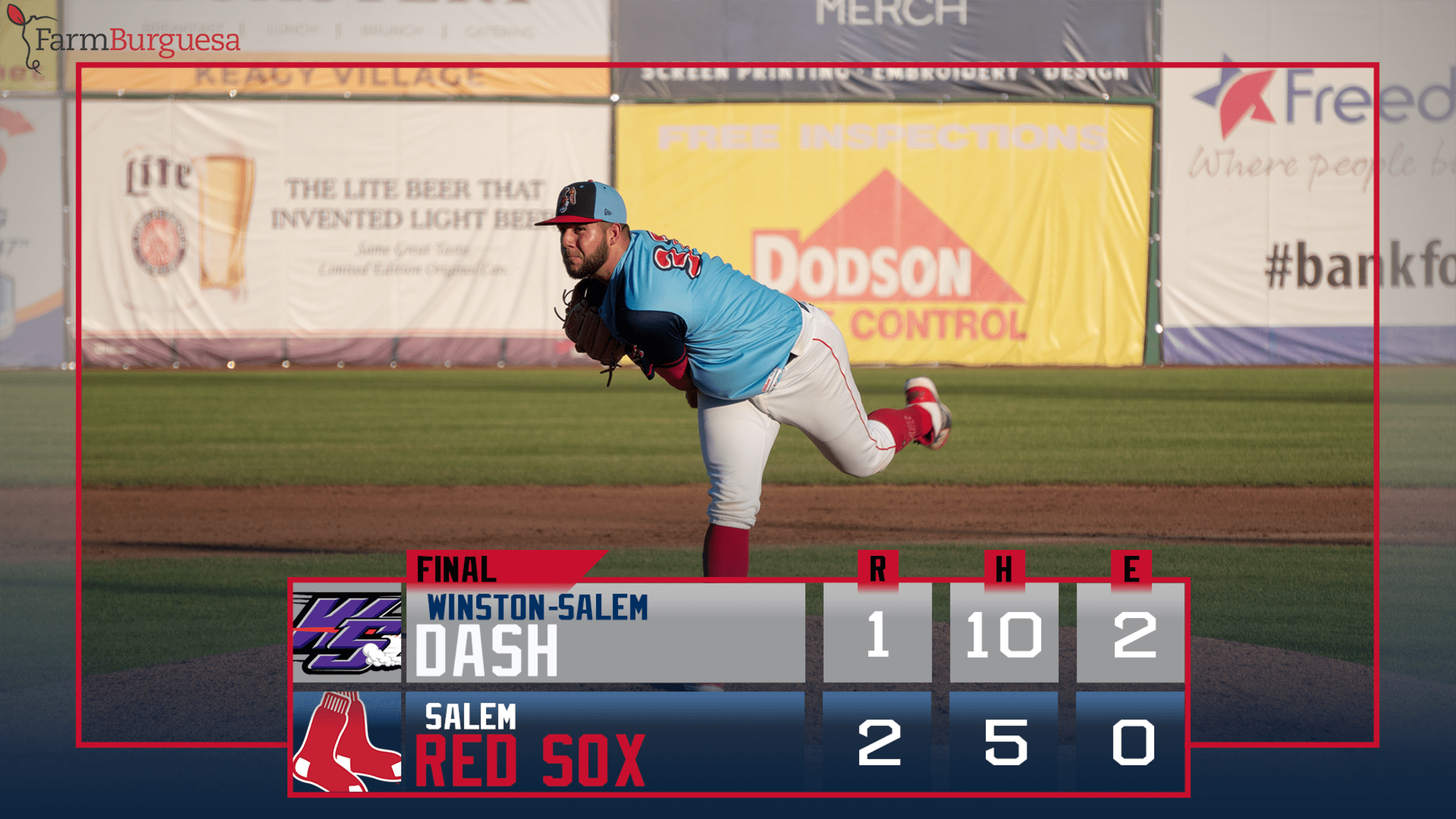 SALEM, Virginia (June 29, 2019) - Enmanuel De Jesus, Rio Gomez and Andrew Schwaab combined for 12 strikeouts en route to a 2-1 win over the Winston-Salem Dash Saturday night at Haley Toyota Field.How it Happened * The Red Sox connected early in the first inning. Victor Acosta doubled, Ryan
SALEM, Virginia (June 29, 2019) - Enmanuel De Jesus, Rio Gomez and Andrew Schwaab combined for 12 strikeouts en route to a 2-1 win over the Winston-Salem Dash Saturday night at Haley Toyota Field.

How it Happened
* The Red Sox connected early in the first inning. Victor Acosta doubled, Ryan Fitzgerald drew a walk and Pedro Castellanos traded places with a double of his own for the first run. Edgar Corcino flew-out to right field to score Fitzgerald and extend the lead 2-0.
* Winston-Salem's lone run crossed on an RBI single in the fifth inning to cut the lead, 2-1.
* DeJesus finished after 5 2/3 innings, he limited the Dash's nine hits to one run and struck out eight.
* Rio Gomez and Andrew Schwaab carried the final 3 1/3 frames with two strikeouts each to secure the win.
Standout Sox
* Enmanuel DeJesus: 5.2 IP, 9 H, 1 R, 1 ER, 1 BB, 8 K - W (5-6)
* Rio Gomez: 2.0 IP, 1 H, 0 R, 0 ER, 0 BB, 2 K - H (1)
* Andrew Schwaab: 1.1 IP, 0 H, 0 R, 0 ER, 0 BB, 2 K - S (4)
* Pedro Castellanos: 2-for-4, RBI, 2B

What's Next
Salem Red Sox vs Winston-Salem Dash Sunday, June 29, 2019. First pitch is scheduled for 2:05 PM EST.
RHP Daniel Gonzalez vs. RHP Kade McClure
Listen: SalemSox.com, TuneIn Radio, ESPN Blacksburg WKEX 1430 AM/94.1 FM, WGMN 1240 AM/93.3 FM
Watch: MiLB.TV
The Salem Red Sox are the Advanced-A affiliate of the Boston Red Sox and call Haley Toyota Field in Salem, Virginia home. The team was founded in 1968 and purchased by Fenway Sports Management in December of 2007. For more information on the Salem Red Sox, please visit SalemRedSox.com or contact Melanie Newman at [email protected].