Volcanoes' Santos struck in head by liner
14th-ranked Giants prospect taken by stretcher to ambulance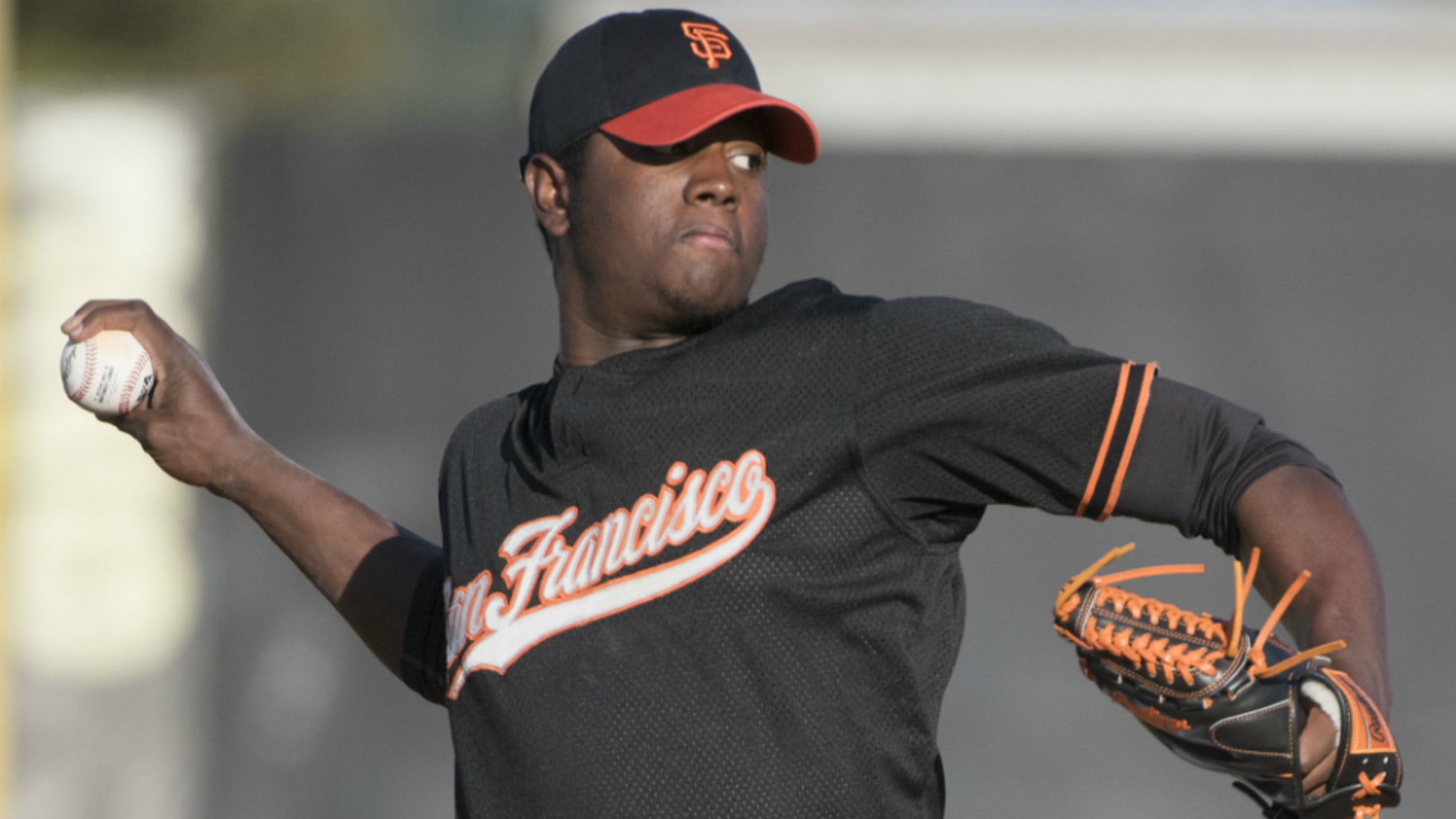 Gregory Santos is tied for 14th in the Northwest League with 38 strikeouts over 42 innings. (Jared Ravich/MiLB.com)
Salem-Keizer manager Hector Borg had a front-row seat and what he saw took his breath away."Oh, I was just trying to stay calm and take care of the situation and call 911," the Volcanoes skipper said after watching his right-hander, Gregory Santos, take a line drive off the head. "I
Salem-Keizer manager Hector Borg had a front-row seat and what he saw took his breath away.
"Oh, I was just trying to stay calm and take care of the situation and call 911," the Volcanoes skipper said after watching his right-hander, Gregory Santos, take a line drive off the head. "I felt very sad, watching him laying there."
The Giants No. 14 prospect was struck in the head by a line drive off the bat of Vancouver's Griffin Conine and left Saturday's game on a stretcher.
Gameday box score
Fortunately, Santos is "going to be OK," Borg said. The teenager will be in the seven-day concussion protocol but should be back with his teammates in a day or two. Borg did not want to speculate about whether he will pitch again this season.
Santos got the first two outs in the first inning before facing Conine, the Blue Jays' 17th-ranked prospect and a first-round pick in June. Conine ripped a liner with an exit velocity of 105 mph that struck Santos, who collapsed on the mound.
An ambulance was dispatched to Volcanoes Stadium and medical personnel quickly tended to Santos. He left the field on a stretcher and headed to a hospital.
Borg said Santos was crying and in pain. Understandably, Santos' teammates were shaken by what they saw.
"Of course. You see a lot of emotions. It was a tough situation, but I just told them, 'Keep your head up,'" he said.
The 18-year-old, who was acquired from the Red Sox last July for veteran infielder Eduardo Nunez, signed with Boston in 2015 for $275,000.
Miguel Figueroa replaced Santos and allowed a home run to Yorman Rodriguez, the first batter he faced.
Vancouver went on to an 8-5 win, with Santos (2-4) taking the loss because Conine scored the decisive run on Rodriguez's homer.
Santos spent his first two pro seasons in the Rookie-level Dominican Summer League before making his U.S. debut this summer. He holds a 3.64 ERA in nine starts, allowing 49 hits over 42 innings with 38 strikeouts and 13 walks.
His fastball can reach 97 mph, and he does a good job of using his 6-foot-2 frame to create downhill plane, resulting in a 2.4 groundout/flyout ratio in his first two years as a pro. The Giants appreciate that he works with a quick tempo.
Vince Lara-Cinisomo is a contributor to MiLB.com. Follow him on Twitter @vincelara.