Lolo Sanchez hits 2 homers as Hoppers clinch I-40 rivalry
Greensboro clinches "Battle of I-40" season series, and pulls into tie for second playoff spot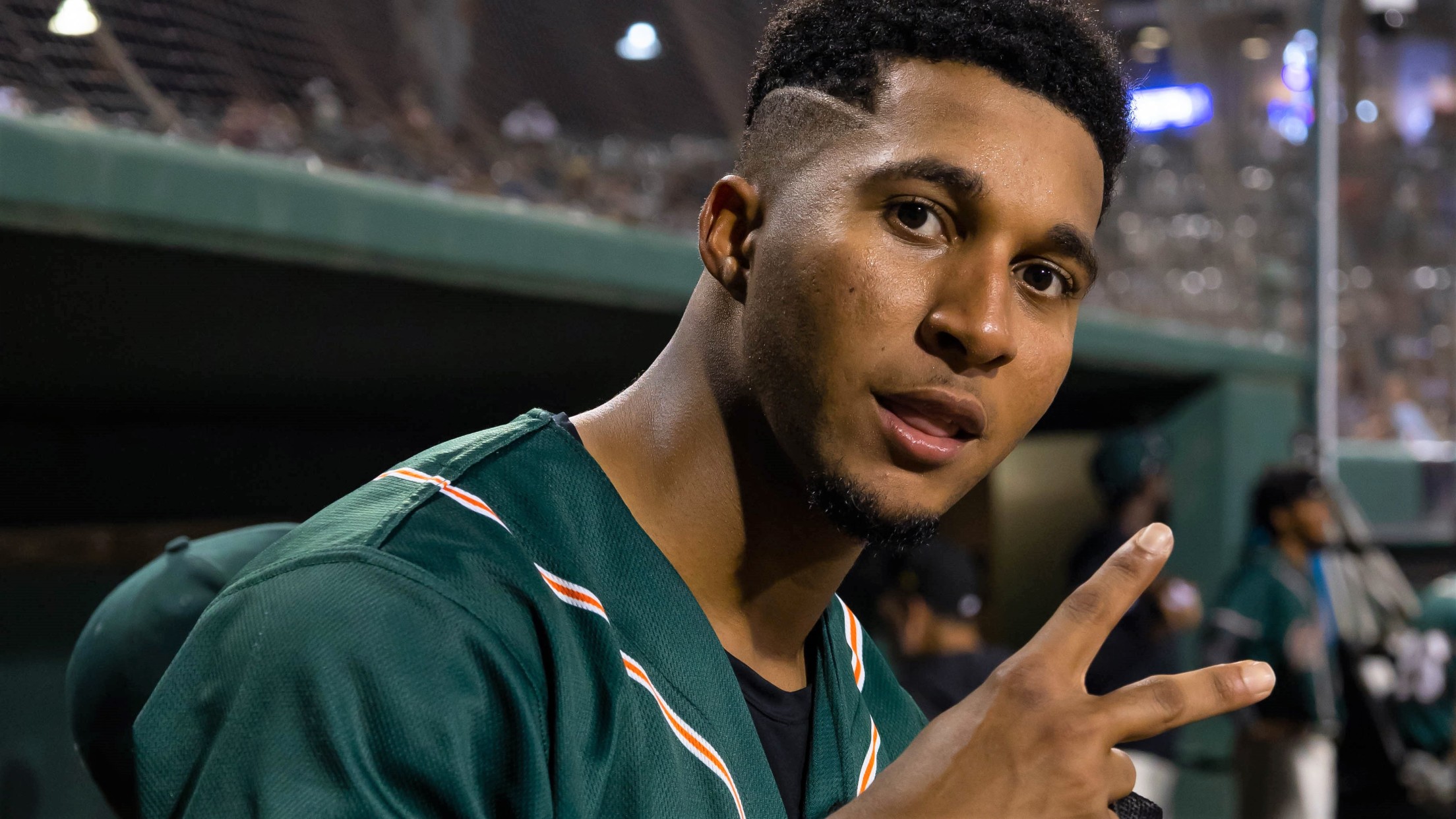 Greensboro outfielder Lolo Sanchez hit his 12th and 13th home runs of the season Wednesday, a grand slam and a two-run shot. (Jak Kerley/Greensboro Grasshoppers)
WINSTON-SALEM ― Lolo Sanchez hit two home runs, a grand slam and a two-run shot, and relief pitcher Bear Bellomy took over the league lead in wins, leading the Greensboro Grasshoppers to a 9-5 victory over the Winston-Salem Dash on Wednesday at Truist Stadium. Sanchez finished 2-for-5 with six RBIs
WINSTON-SALEM ― Lolo Sanchez hit two home runs, a grand slam and a two-run shot, and relief pitcher Bear Bellomy took over the league lead in wins, leading the Greensboro Grasshoppers to a 9-5 victory over the Winston-Salem Dash on Wednesday at Truist Stadium.
Sanchez finished 2-for-5 with six RBIs as the Hoppers (54-32) improved to 13-7 head-to-head against the Dash (33-53) and clinched the "Battle of I-40" season series. Four games remain in the renewed rivalry between the neighboring cities. This is the first summer since 1968 that teams from Greensboro and Winston-Salem have played in the same league in the minors.
In addition, the Hoppers pulled into a tie with the Hudson Valley Renegades (54-32) for the second-best record in the High-A East with 34 games left in the regular season. The top two teams in the league qualify for a best-of-five championship series.
Bellomy (9-2, 4.34 ERA) retired all seven batters he faced in relief of starter Santiago Florez. The Bear struck out five in 2 1/3 shutout innings Wednesday, and in 26 games this season he has fanned 57 in 47 2/3 innings.
Newcomer Enmanuel Mejia, a 22-year-old right-hander promoted from Class-A Bradenton on Tuesday, made his Hoppers debut and worked two scoreless innings. Right-hander Michell Miliano pitched a scoreless ninth to finish it.
Greensboro scored five runs in the first inning before Dash starter Kevin Folman (0-2, 11.74 ERA) got anyone out.
Andres Alvarez and Nick Gonzales started the rally with back-to-back singles, and Jared Triolo walked to load the bases. Blake Sabol walked on a 3-2 pitch to drive in the first run, and Sanchez pulled the first pitch he saw over the left-field fence for a grand slam.
Alvarez hit an RBI single and Triolo had a sacrifice fly in the second inning, and Sanchez hit a two-run home run in the top of the ninth ― his 13th of the season ― to push the lead out of reach.
Greensboro catcher Eli Wilson, who was promoted July 31 after batting .328 in 39 games for Bradenton, got his first hit as a Hopper after an 0-for-11 start. Wilson doubled leading off the second inning and finished 1-for-4.
Utility player Yonyer Fajardo, who was promoted from Bradenton on Tuesday after outfielders Matt Gorski (left leg) and Chase Murray (left arm) went on the injured list, also got his first hits as a Hopper. Fajardo started in left field and went 2-for-4 with a double and a walk. He's batting a combined .311 in 33 games with Bradenton and Greensboro this summer.
Liover Peguero, a shortstop rated by MLB Pipeline as Pittsburgh's No. 4 prospect, sat out his second straight game. Peguero came out of Sunday afternoon's game in the fifth inning with heat illness symptoms.
Notes
Greensboro remains in second place, seven games behind Bowling Green (61-25) in the High-A East's South Division. The top two teams in the league ― regardless of division ― qualify for the best-of-five championship series. The Grasshoppers and North Division leader Hudson Valley are tied and both chasing the second postseason spot. The Hoppers and Renegades play 12 head-to-head games in the final 20 days of the season.
Greensboro has won 13 of its last 18 games and is 26-10 since July 1. The Hoppers have won or split all 14 of their six-game series this season.
Jared Triolo went 1-for-3 with two runs scored and an RBI. He has hit safely in 29 of his last 31 games, batting .357 (46-for-129) with seven doubles, five home runs, 29 RBIs and 12 stolen bases in that span. He ranks fourth in the High-A East with 60 RBIs, and he has raised his batting average from .237 on June 1 to .301 through Aug. 11, third-best in the league among players with enough plate appearances to qualify.
Lefty-hitting Blake Sabol went 2-for-4 with a run scored and an RBI, and he has hit safely in 16 of his last 20 games, going 26-for-73 (.356) with five home runs, five doubles and a triple during that span.
Second baseman Nick Gonzales, who was the seventh overall pick in the 2020 draft and rated by MLB Pipeline as Pittsburgh's top prospect, has batted .333 (24-for-72) with four home runs and four doubles in his last 17 games, raising his season batting average to .275.
In his career at the News & Record, journalist Jeff Mills won 10 national and 12 state writing awards from the Associated Press Sports Editors, the Society for Features Journalism, and the N.C. Press Association.