Scouting report: D-backs' Bryce Jarvis
Right-hander's bet on himself paying immediate dividends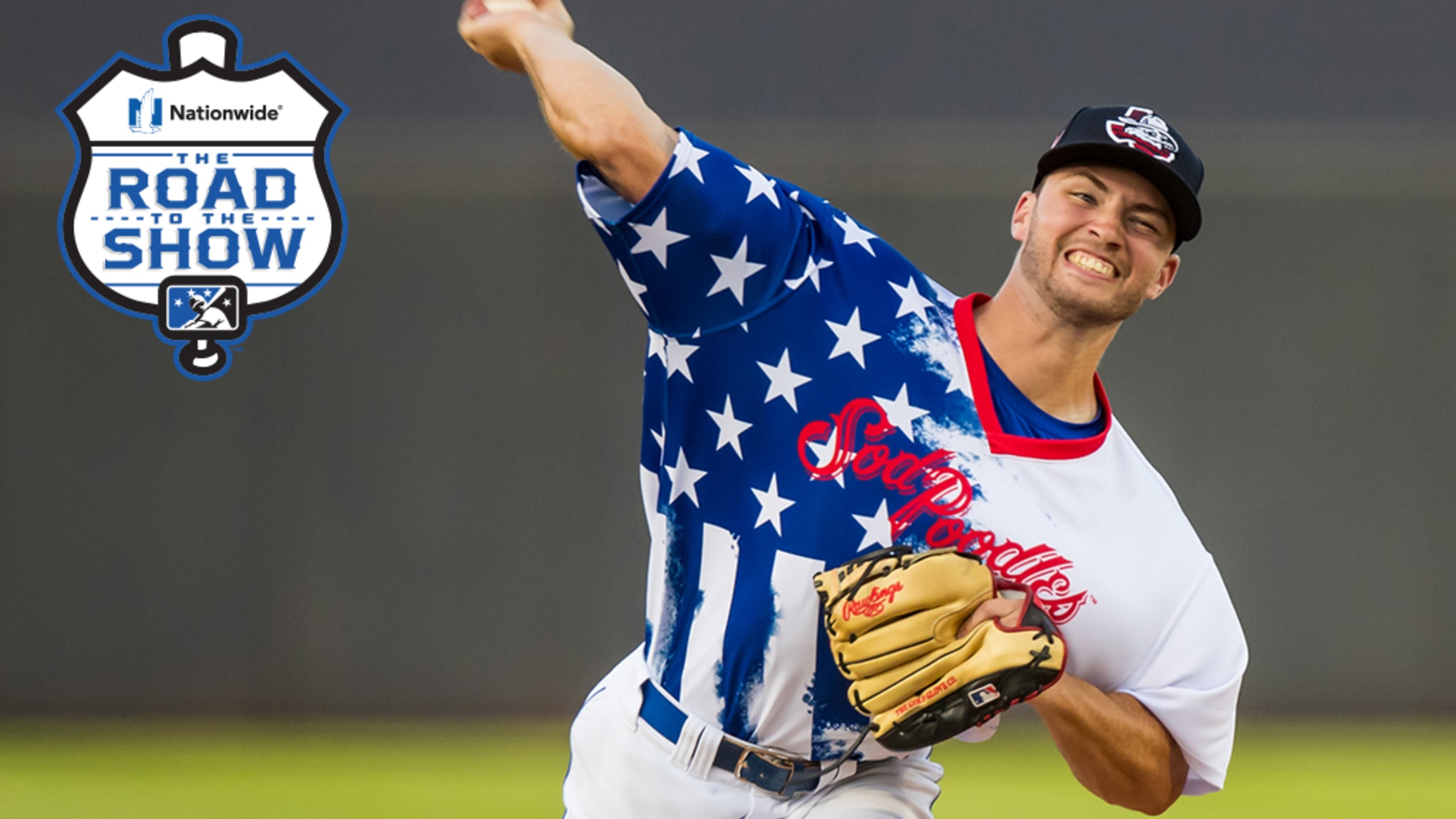 Bryce Jarvis has amassed 65 strikeouts over his first 60 professional innings. (John Moore/Amarillo Sod Poodles)
MiLB.com's Scouting Report series spotlights players who are just starting their professional careers, focusing on what the experts are projecting for these young phenoms. Here's a look at eighth-ranked D-backs prospect Bryce Jarvis. For more player journeys on The Road to The Show, click here.
MiLB.com's Scouting Report series spotlights players who are just starting their professional careers, focusing on what the experts are projecting for these young phenoms. Here's a look at eighth-ranked D-backs prospect Bryce Jarvis. For more player journeys on The Road to The Show, click here.
Following a good sophomore season in 2019 that found him drafted in the 37th round by the Yankees, Bryce Jarvis opted to turn down a substantial signing bonus and return to school at Duke. The right-hander decided to take a gamble on himself.
Rather than play in the Cape Cod League that summer, he attended Driveline Baseball to work on pitch design and went to the Cressey Sports Performance facilities to improve his strength and conditioning in hopes of upping the velocity on his fastball.
Bryce Jarvis, Nasty Slider...and Pitching with Emotion. 🔥 pic.twitter.com/tkueedNOBp

— Rob Friedman (@PitchingNinja) March 6, 2020
The work paid off as Jarvis broke out during his junior season and pushed his name into first-round discussions. The 23-year-old's fastball went from 87 to 90 mph to 92-96. That led to more confidence and improved effectiveness with his off-speed pitches. And the results were almost immediate when he returned to school.
In his second start during his junior campaign, the eighth-ranked D-backs prospect twirled the first perfect game in Duke history, whiffing 15 Cornell hitters on only 94 pitches to pull off the milestone in the Blue Devils' 8-0 win. It was just the 31st perfect game on record twirled by a NCAA Division I pitcher. Two weeks later, he outdueled No. 9 Blue Jays prospect CJ Van Eyk with seven scoreless frames -- striking out 12. In that start, the Kentucky native took a no-hit bid into his final inning. And because of the coronavirus pandemic, that wound up being Jarvis' last college start -- he concluded the season with a 3-1 mark, an 0.67 ERA, a .120 average against and a 40-to-2 strikeout-to-walk ratio.
No. 1️⃣ on @SportsCenter for @BryceJarvis and his PERFECT game last night! #NCAABaseball | @DukeBASE pic.twitter.com/XX9LkInTMr

— NCAA Baseball (@NCAACWS) February 22, 2020
Jarvis entered the Draft as MLB Pipeline's 25th-best prospect and was taken at No. 18 by Arizona.
"I've been watching the kid since he was 16, 17 years old," Arizona scouting director Deric Ladnier told MLB.com. "It's been neat to watch him develop into the pitcher he's become, the man he's become. I know the background of the family, and I know we're getting an A-plus individual.
"The last few picks, I was sweating it out, because we heard rumors about different things. As I have told you in the past, we take guys on ability, and we literally went down our board. He was the guy that we had targeted that we hoped he got to us."
Welcome to the desert, @BryceJarvis28! #RattleOn

The #Dbacks have selected the right-handed pitcher out of @DukeBASE with their 1st pick of the 2020 #MLBDraft. pic.twitter.com/KKu9hjONYe

— Arizona Diamondbacks (@Dbacks) June 11, 2020
Jarvis opened this season with High-A Hillsboro and quickly played his way to a promotion. The right-hander made seven starts for the Hops, not allowing more than two runs in four of them. He posted a 3.62 ERA and a 1.15 WHIP with 42 whiffs over 37 1/3 innings.
"This kid is wired for success," Ladnier said. "With starting pitchers, there has to be some form of intelligence to be able to apply all the data that's used nowadays to get hitters out, apply advance reports. We had a Zoom call with the young man maybe a month ago, and to sit there and listen to him talk about all the things that he's done with shaping his pitches and how he uses them, it's as advanced."
Jarvis was promoted to Double-A Amarillo on June 21 and made his debut for the Sod Poodles the following night. The 6-foot-2, 195-pounder made four Double-A starts and fanned 23 over 22 2/3 frames. He turned in his best start as a pro on July 3 when he allowed a run on five hits without issuing a walk and struck out 11 over seven innings. However, he was pulled early from his next start on July 11 after 4 2/3 frames and went on the 7-day injured list two days later.
Still, the highest-ever draft pick out of Duke is exactly where he wants to be.
"I was thrilled," Jarvis told MLB.com after hearing his name called on the first night of the Draft. "It's been a day I've been looking forward to for a long time. It was awesome to be surrounded by friends and family and longtime supporters. It was definitely very validating. It's still sinking in. It'll take a couple of days, if not weeks, to fully grasp what happened tonight. I'm looking forward to the time it takes to set in. Like I said, it's really special to be able to share it with my family."
Here's what the experts at MLB Pipeline have to say about Jarvis:
Scouting grades (20-80 scale)
FASTBALL: 60
CURVEBALL: 55
SLIDER: 55
CHANGEUP: 60
CONTROL: 55
OVERALL: 50
"Jarvis, the son of former big league pitcher Kevin, added muscle to his body and velocity to his fastball prior to the 2020 college season, which led him to shoot up Draft boards. The D-backs nabbed him with the 18th overall pick, making him just the second Duke player (Marcus Stroman is the other) to be selected in the first round. Arizona signed him for a below-slot $2.65 million bonus.
After working with an 88-93 mph fastball at the beginning of 2019 and dipping to 86-91 by season's end, Jarvis added 20 pounds to his 6-foot-2 frame and operated at 92-96 with effective downhill plane. The fastball jumps out of his hand and he's continued to progress with his curveball, which is now a plus offering for him and his slider is effective in the mid-80s. His fading changeup remains his best secondary offering, grading as well above average at its best.
Jarvis was put to the test immediately in Arizona. Assigned to the team's alternate training site, he went from facing college hitters to competing against the organization's top prospects and some players with big league time. The biggest question -- would his uptick in fastball velocity continue -- was answered when the radar gun showed plenty of 94's, 95's and 96's as the summer wore on. While the results might not have always been what he wanted against more experienced hitters, he showed composure and a competitiveness the team thinks will serve him well."
Rob Terranova is a contributor to MiLB.com. Follow him on Twitter @RobTnova24.