Scouting report: Phillies' Mick Abel
Right-hander poised to power his way through system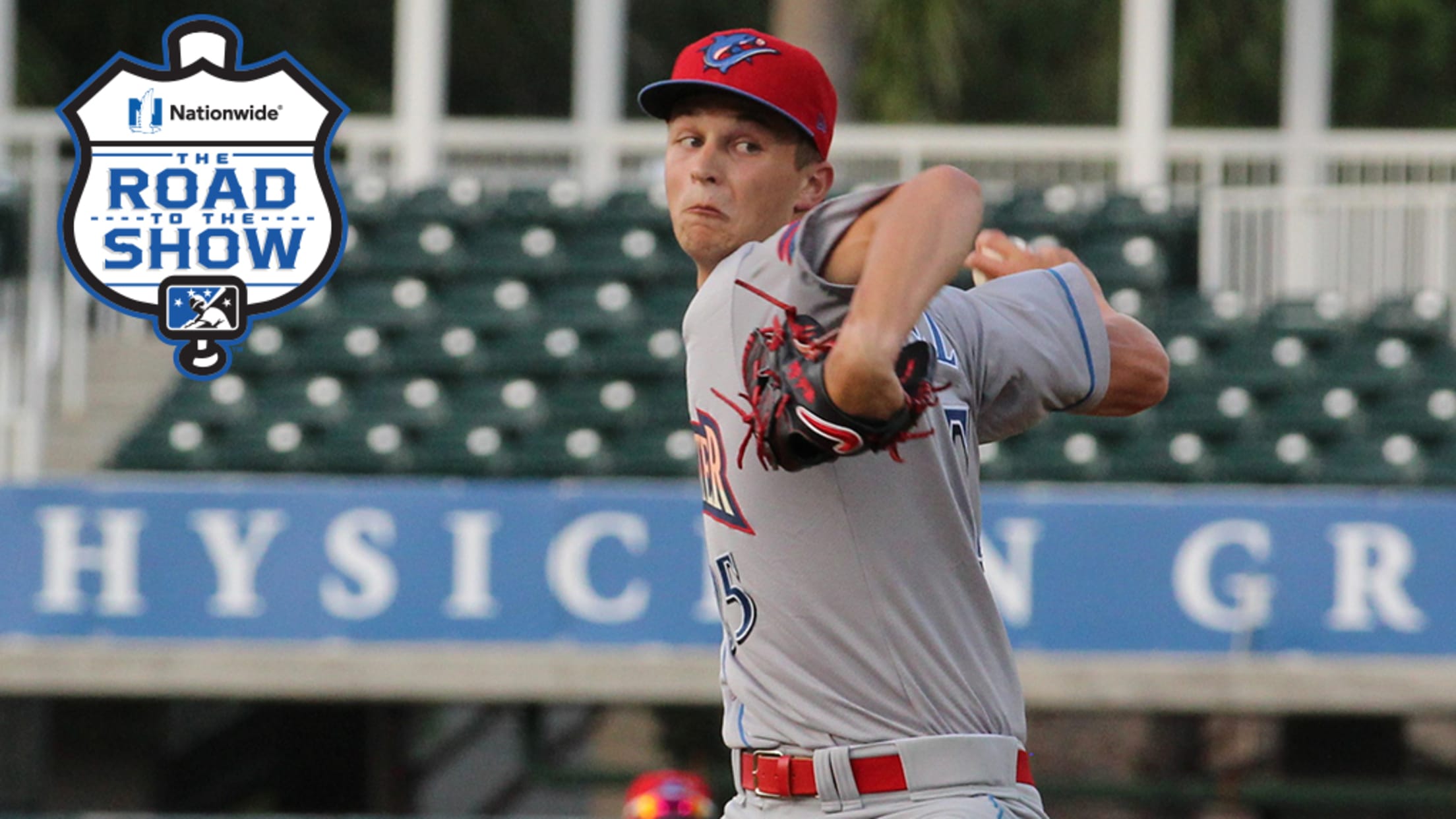 Mick Abel is sporting a 1.14 WHIP with 17 strikeouts over 14 innings through his first five starts for Low-A Clearwater. (Bryan Green/MiLB.com)
MiLB.com's Scouting Report series spotlights players who are just starting their professional careers, focusing on what the experts are projecting for these young phenoms. Here's a look at top-ranked Phillies prospect Mick Abel. For more player journeys on The Road to The Show, click here.
MiLB.com's Scouting Report series spotlights players who are just starting their professional careers, focusing on what the experts are projecting for these young phenoms. Here's a look at top-ranked Phillies prospect Mick Abel. For more player journeys on The Road to The Show, click here.
History was made when the Phillies selected Mick Abel with the 15th overall pick in the 2020 Draft. The flamethrowing right-hander out of Jesuit High School became the seventh Oregon high school player drafted in the first round, and just the second since 1977 -- the Royals selected southpaw Matt Smith No. 16 overall in 1994.
Abel also became the first pitcher taken by the Phillies in the first round since Aaron Nola in 2014. In fact, he's the first high school pitcher taken in the first round (non-supplemental) by Philadelphia since 2010 when the organization selected Jesse Biddle out of Germantown Friends in Philadelphia with the 27th overall pick.
"I know Mick has tremendous potential and tremendous upside, and our scouts were just in unanimous agreement with that," Phillies amateur scouting director Brian Barber told MLB.com. "He has the potential to be a future workhorse and just a dominating factor and presence and a top-of-the-rotation pitcher."
The @Phillies select Mick Abel with the 15th pick in the #MLBDraft from Jesuit High School.

He's the 7th Oregon HS player to be picked in the first round of the MLB Draft and the first since 1994.

He's also a @BeaverBaseball commit #GoBeavs

@jhsbaseball503 @Mickabel13 pic.twitter.com/iApu2AAf3B

— Orlando Sanchez (@orlandokgw) June 11, 2020
Armed with a fastball that lit up radar guns regularly at 94-97 mph but showed the ability to tick up to 100 at times, Abel entered last year's Draft as MLB.com's No. 11 overall Draft prospect. The lengthy 6-foot-5, 190-pounder's arsenal also included what many considered a plus slider as well as a 12-to-6 curveball and changeup.
The top Phillies prospect caught the attention of scouts nationally after an impressive sophomore year of high school, but it was his junior season that really propelled him to the top of Draft boards. The righty showcased improved command and an increased feel for his secondary pitches that enabled him to dominate the circuit. Abel posted a 10-0 mark and 1.26 ERA with 111 strikeouts over 72 1/3 frames while helping lead his squad to the 6A state championship in 2019. He was also named the Gatorade Player of the Year for Oregon for the second straight time. Although his senior season was canceled due to the pandemic, Abel finished high school with an 18-3 record, 1.98 ERA and 213 strikeouts in 150 2/3 innings.
Mick Abel showing why he's among the best 2020 #MLBDraft prospects as he struck out the side in the first inning of the High School @AllStarGame. LIVE: https://t.co/T8dFOKMG2e pic.twitter.com/yZQnzKwCal

— MLB Pipeline (@MLBPipeline) July 6, 2019
"From the very first day that I came over to the Phillies [in October]," Barber said, "I had a conversation with our area scout up there, Zach Friedman, and he just wanted to make sure that I knew who Mick Abel was and that he loved him and wanted us to have the opportunity to possibly select him at this time. Mick is a pitcher that I've known for over two years now and just one that I fell in love with the very first time that I ever saw him."
Despite a verbal commitment to Oregon State, it didn't take long for Abel to sign with Philadelphia after the Draft. The Phillies locked in the 19-year-old for slightly above slot value at $4.075 million. And after not having the opportunity to play in a competitive game for over a year, Abel made his professional debut with Low-A Clearwater on May 5.
Mick Abel, 87mph Slider and 94mph Sinker, Overlay pic.twitter.com/khFf9akY9T

— Rob Friedman (@PitchingNinja) June 11, 2020
"I think the biggest thing I took away is the grind starts now," Abel told MLB.com after inking his deal. "Baseball is a grind, and it's going to take a lot for me to get to the next level, and I better get to work."
In five starts for the Threshers, MLB Pipeline's No. 62 overall prospect has showed continued improvement each time out. Over his last three appearances, Abel allowed a pair of runs on four hits and three walks while striking out 12 over nine frames.
"We love the delivery. We love the way the arm works, the arm action," Barber said. "There's certain criteria that a high school pitcher for me and for us has to overcome and Nick was able to exceed all those expectations that we have for those guys."
Here's what the experts at MLB Pipeline have to say about Abel:
Scouting grades (20-80 scale)
FASTBALL: 60
SLIDER: 55
CURVEBALL: 50
CHANGEUP: 55
CONTROL: 55
OVERALL: 55
"Many players have come out of the Pacific Northwest and gone on to be very good Major Leaguers. More often than not, they've been college players, and the high schoolers who have been drafted early have tended to be hitters. Before 2020, the last prep pitcher to be taken in the first round was Jeremy Bonderman in '01, so Abel broke a long streak when the Phillies took the big right-hander, who had put his name on the map as a first-rounder (No. 15 overall) with a solid performance on the summer showcase circuit. He then went on to impress during his time in instructional league play last fall.
Abel has the chance to have a solid four-pitch mix, all coming from an athletic 6-foot-5 frame and a super-fast arm. His fastball was up to 95 mph consistently the summer before the Draft, and he was up to 98 mph during instructional league with the Phillies. He can throw it downhill with life at the bottom of the zone, but he can also elevate his four-seamer with riding action to miss bats. Abel's slider, which reaches 85-86 mph, flashes plus, and he can spin a curveball with more over-the-top action to it. He has good feel for a sinking changeup, thrown with excellent deception thanks to arm speed.
The combination of size and pure stuff, with more in the tank as he adds strength, makes Abel a very intriguing pitching prospect. He tends to throw strikes, something that will only improve as he continues to learn how to make adjustments on the mound. He was the first high school pitcher to be taken in the 2020 Draft, and the early returns from instructional league have shown why he was worthy of topping that list."
Rob Terranova is a contributor to MiLB.com. Follow him on Twitter @RobTnova24.