Flying Tigers and SEU Award Full Master's Scholarship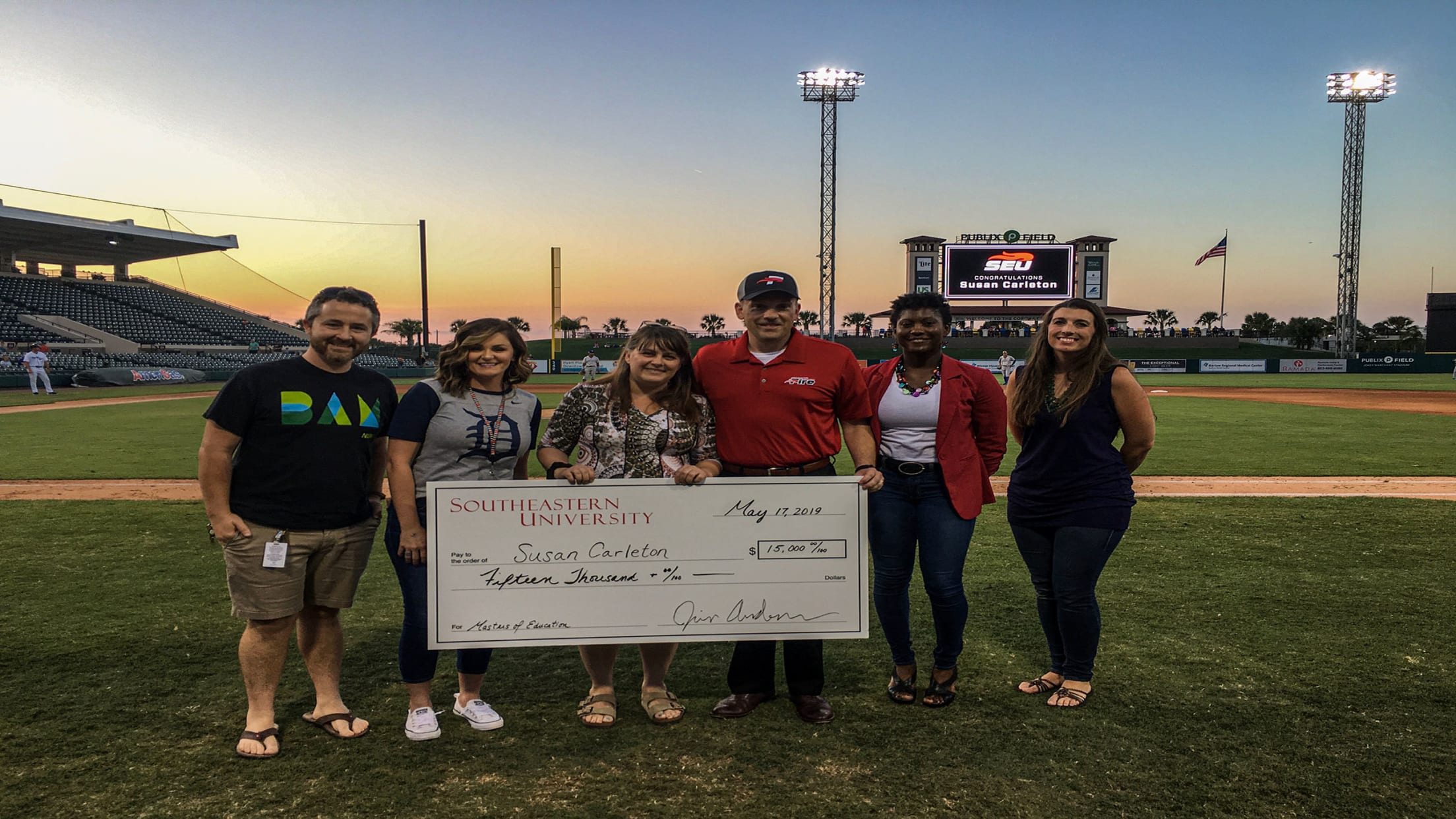 Lakeland, FL - The Flying Tigers held Teacher's Appreciation Night on Friday, May 17th. It was not your average Teacher's Appreciation Night. One teacher walked away with a Master's Degree from Southeastern University. Southeastern University offers a Master's in Education in 6 concentrations. Southeastern graduates have included Teachers of the
Lakeland, FL - The Flying Tigers held Teacher's Appreciation Night on Friday, May 17th. It was not your average Teacher's Appreciation Night. One teacher walked away with a Master's Degree from Southeastern University. Southeastern University offers a Master's in Education in 6 concentrations. Southeastern graduates have included Teachers of the Year in 5 states as well as multiple districts across the state of Florida. The high-caliber faculty in the College of Education have served as kindergarten through twelfth grade teachers, administrators, and superintendents. They also volunteer in various capacities at the national and state levels. Faculty at SEU are passionate about education and student success.
The five finalists were present at the game.
From Blake Academy, Craig Barber
From Alturas Elementary, Bridgett Bulman
From the Daniel Jenkins Academy of Technology Middle School, Susan Carleton
From Blake Academy, Maude Graham
From Bartow High School - Lindsey Hanger
Craig Barber: Craig was raised by his grandmother. Her employment opportunities were greatly limited as she had only attended school through the fifth grade. She instilled in him that life was hard. You worked hard, then life keeps being hard and you keep working hard while you try your best to love the people around you. There was little time to talk of dreams and passions or successes and failures. Craig quickly learned that teachers have tremendous power. They can be conduits of grace and healing, or doubt and frustration. He was fortunate to have more teachers who considered their occupation to be a calling rather than a paycheck, so he personally understands the difference that a caring educator can make in the life of a young person. He knew his grandmother loved him but it was Mrs. Spencer's 3rd grade read aloud of "Where the Red Fern Grows" that showed him how to mourn a loss. Mr. Coleman's beginning band class opened the world of music up to Craig and gave him tools for expressing feelings that he didn't have words for yet. Mr. Felty's anecdotal commentary during geography class showed him that any meaningful change he hoped to make in his life would require hard work. Craig credits his teachers that he can do more than read, write, and perform arithmetic thanks to them. Craig had to lead a class in college and in that class, it set the course for his professional career, he wanted to teach.
Craig is currently a middle school teacher at Rosabelle W. Blake Academy where he teaches Video Production/Animation/Research. He has been teaching for 15 years. He looks to pursue a Master's degree because he wants to develop and implement a leadership program for young men. As an educator and parent, he has seen that the current public education system often caters more to the female experience in ways such as placing a heavy emphasis upon narrative instruction and preferring calm collaborative instructional practices rather than active learning methods. He says that the system also struggles to equip many students with foundational life skills and character fundamentals. Earning a Master's degree would enable Craig to connect with and lead the sort of research-driven team such a leadership program would require.
Bridgett Bulman: Bridgett's fears and emotional stress of her childhood are what made her want to become a teacher. When Bridgett was 3 years old she was taken from her biological parents to be placed in a much better environment. When she was twelve, she was adopted by her grandparents. While they couldn't afford much, they gave her a sense of value for the first time. This sense allowed her to understand that she held the key to her success and there was not a door of opportunity that she could not open. Her grandparents introduced her to faith and created a Christian environment for her. Bridgett's grandmother would constantly quote the verse, "I can do all things through Christ who strengthens me", Philippians 4:13. Little did she know, that verse would change her life one day. She yearned for the chance to help a child feel accepted and realize their life was valuable. She wanted the chance to help a child understand, no matter their circumstances, they, too, can succeed. Her fears helped motivate her to have a love of learning and she wants her students to develop that same love. Bridgett currently teaches at a Title 1 school and has been able to connect with these students on a personal level because she can personally relate to their struggles.
Bridgett teaches first grade at Alturas Elementary. She hopes to get a Master's in Educational Leadership to further her goal of becoming a leader within her community. Her grandparents did not believe in the power of education. Her grandfather dropped out of high school, and her grandmother didn't finish the 7th grade. They believed education was more of a privileged than necessity. Bridgett would be the first person in her family to earn a Master's degree. Bridgett does not just want to be an educator, she wants to be a leader and have the opportunity to mold young minds to be influential thinkers for our next generation.
Susan Carleton: Susan's first career was in libraries, where she supervised the Circulation Department, including the high school students who shelved for them in the evenings. Mentoring these young people through their first jobs, and writing their college reference letters, offered her her first clue that she would eventually find fulfillment in a classroom. Her sons and daughter all have special needs, and so for the past 20 years her nonworking hours have been spent advocating for them, as well as supporting and supplementing their education from home. When bullying became too much for her daughter, Susan homeschooled her to catch her up to grade level, and she loved every minute. Susan's youngest two have autism and several learning disabilities, while her eldest is gifted, ex-Mensa, and transgender. As a result, she is always "learning, adapting, changing, striving, and overcoming obstacles in a context where quitting just isn't an option: the well-being and perhaps even survival of my own children is at stake."
Over and over she has had friends, and her children's teachers, and even total strangers tell her: "You should be a teacher." For years, that wasn't possible, because Susan's college studies had ended years ago with the death of her father, who was a combat veteran of the US Army. Then, in 2012, she was newly divorced, living in Appalachia, and unemployed with two kids still at home. When she left Appalachia to accept a job at Walt Disney World several years ago, she was homeless for several months. Finishing her degree became a priority, for the sake of her family. Susan found joined classes filled with students half her age, worked part time jobs to pay the bills, and cared for two school-age children as a single mother. During this time, she also faced down a diagnosis of multiple sclerosis that took the vision from her right eye. Susan never missed a single class. One day in her senior year, another "mature student" asked her to be the editor for her capstone project, and at first, she refused. Susan had too much going on at home, and she didn't want to let her down. "But I need you," the student said. "Everyone corrects my grammar, but you're the only one who tells me the why, and you do it without making me feel dumb." Months later, the student graduated with her Master's of Education degree, and Susan graduated beside her with her bachelor's, both of them summa cum laude. Her last words to Susan that day were, "Look me up when you finally become a teacher." Halfway through Susan's first year teaching at Daniel Jenkins Academy, she reached out to her, only to learn that she had just passed away after a short illness. She wasn't much older than Susan is. Susan was reminded that she has no time to lose. She wants to continue her education to support her new career, and she's anxious now to get started.
Susan is a 1st year teacher at Daniel Jenkins Academy of Technology Middle School where she teaches English to 6th and 8th grade students. In April she was voted Teacher of the Month. Every day, Susan has students who dread reading, or struggle with learning English, and both issues hold them back in the classroom. When she hears them refer to themselves or to classmates as stupid, or complain about having to read, she's concerned that their struggles in the classroom cut too deeply into other parts of their lives and psyches. She said that for many of them, family support and other resources aren't always available, so she needs to be able to incorporate a wide range of support for them into her teaching. She said that a Master's degree from SEU would help her to do that. This past year has been a tremendous experience for her, and she finds herself energized by the possibilities in a career in education.
Maude Graham: On October 9, 1989, Maude Graham's life changed forever. Her mother passed away unexpectedly. A cousin whom she did not know well was left to take care of her. Before her mom's passing, she had already instilled in her a life's purpose to love one another and grow from those experiences made with each other. It was Maude's 4th grade teacher, Mrs. Barbara Rivers, who helped her escape from the pain while at school and she realized that her destiny was to help those in need as Mrs. Rivers did for her and her sisters. Maude is also a Veteran of the U.S. Army National Guard. They taught her to propel forward through any obstacle, even if she thought she had reached a limit. Maude said "A soldier has no preset boundaries. Boundaries, except for official barriers, are only accordion doors, which get pulled back and forth as necessary for the mission." As a teacher, this means that she shows her students that they are more than their circumstances. Maude looks to imagine the impossible as possible and make everything an opportunity for her students.
Maude teaches 2nd and 3rd grade at Rosabell W. Blake Academy and her current career goal is to become an AP2 and serve as a Dean of Students and be part of a school's administrative team. She wants to help students know why behaving properly is essential to a community, but to also help them academically by setting up daily, weekly, monthly, and quarterly goals that allow classes to be picked randomly for her to sit in to see the great work they are doing in their classroom. She would offer school-appropriate incentives, such as a "Dean Stick" (like Spirit Sticks) for classes that are on time and work towards a common goal with no behavioral problems.
Lindsey Hanger: The first time Lindsey stepped foot in a classroom was ironically one of her high school classrooms in which she avowed never to be a teacher. In that classroom, she knew being a teacher was what she was meant to do. Lindsey fell in love with creating lessons and awakening those "deadened" teenagers. She remembers her first practicum where she got the opportunity to enhance the teacher's lesson on Steinbeck's "Of Mice and Men" by brining in Switchfoot lyrics. A couple of kids who had been slouched with normal teenage angst actually sat up and discussed the theme of futility. From that moment on, Lindsey was hooked.
Lindsey has been an educator for 10 years. She is currently teaching English at Bartow High School. When looking at her career goals and how a Master's degree will help her accomplish those, she has always looked to make a positive impact in the community. She looks to pursue a Master's in Educational Leadership. Through different opportunities offered by her school and district, she has developed an even greater love for working with people to foster growth in the community. Over the past year she was asked to help the district construct some of the curriculum maps for secondary honors English classes. She said it was rewarding for her to work with like-minded peers on this project over the summer and a few Saturdays to help create a greater intent within the district on preparing honors students for college course work. As a part of this group, she will be presenting work at the national AP Conference in Orlando this summer. This experience is helping fuel a different fire within her: education of peers.
The winner of this scholarship was selected unanimously, from nearly 200 applicants. The 5-member review committee recognized in this applicant an unwavering support to students as well as a steadfast commitment to their own children. This applicant's comment that they are "always learning, adapting, changing, striving, and overcoming obstacles in a context where quitting just isn't an option" embodies the culture of SEU. Southeastern University is proud to honor the winner of this year's scholarship to Susan Carleton, from the Daniel Jenkins Academy of Technology Middle School!
SEU is committed to helping this future graduate attain her lifelong dream within education. Congratulations Susan and welcome to the SEU family!