Seven Generals earn 2019 Midseason All-Star honors
Southern League ERA leader Riley Smith leads Jackson selections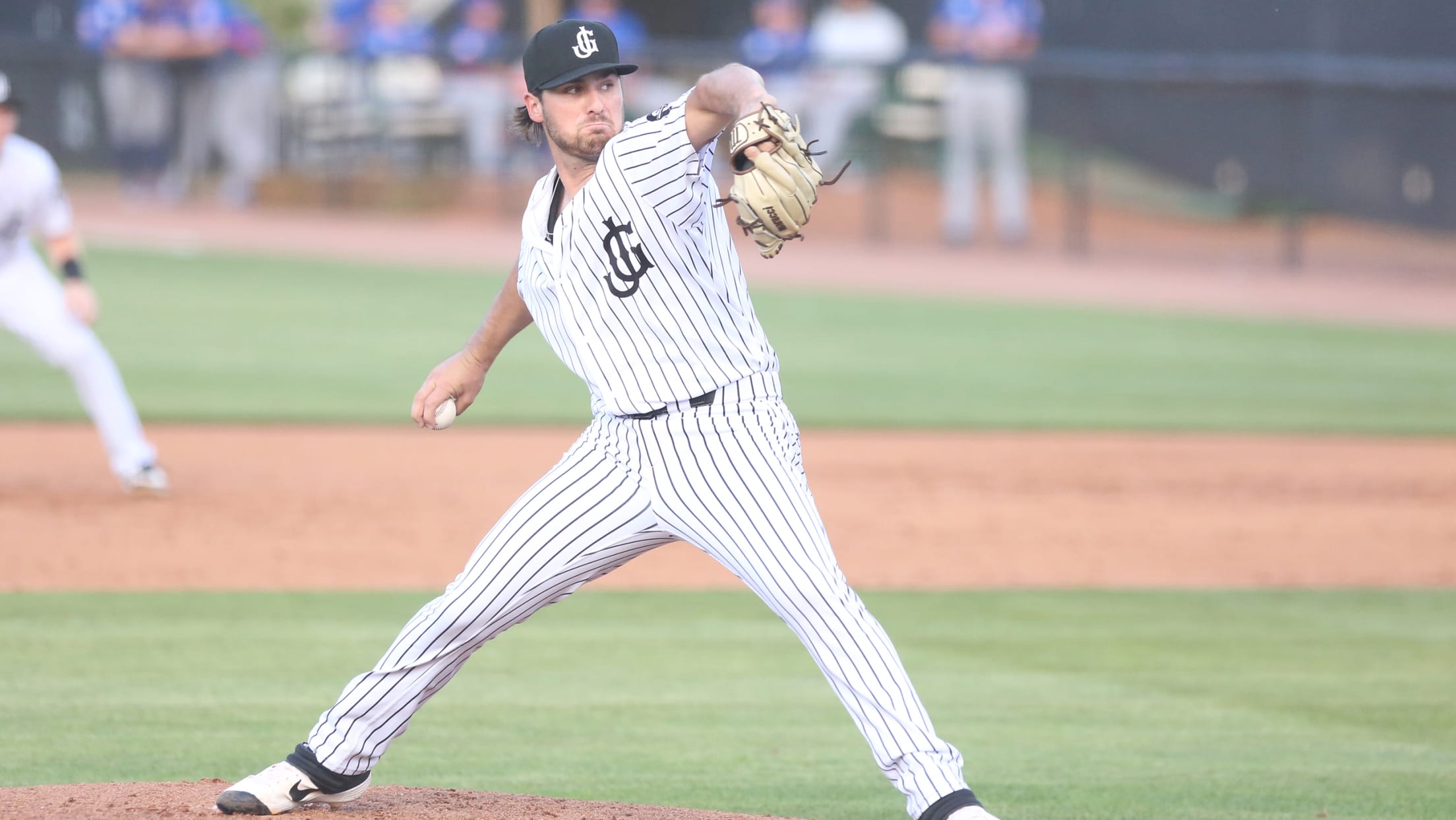 Generals pitcher Riley Smith (Pam Dietz)
Jackson, Tenn. - The Jackson Generals, the Double-A affiliate of Major League Baseball's Arizona Diamondbacks, have earned seven selections to the 2019 Southern League All-Star Game, according to information released by the Southern League office.
Jackson, Tenn. - The Jackson Generals, the Double-A affiliate of Major League Baseball's Arizona Diamondbacks, have earned seven selections to the 2019 Southern League All-Star Game, according to information released by the Southern League office.
Three Generals pitchers, in addition to a quartet of Generals position players, were selected to the North Division roster thanks to the votes of field managers, radio broadcasters, and general managers around the league.
As arms go, the Jackson trio of Riley Smith, Lucas Luetge, and Bo Takahashi all performed well enough to earn inclusion to the Southern League's midsummer classic. Takahashi's selection comes as an alternate, taking the place of Luetge after the latter's promotion to Triple-A in early June. Smith and Takahashi will join catcher Daulton Varsho , infielder Drew Ellis , and outfielders Jeffrey Baez and Jamie Westbrook in representing Jackson on the North Division roster. The Generals' seven-player contingent equals the Montgomery Biscuits for the largest group of players suiting up for the North Division from one club. Alternates can still be added in the week leading up to the All-Star Game based on injuries, pitching schedule, and other factors.
RILEY SMITH, RHP
A Southern League rookie, Smith dominated the circuit over his first two-plus months at Double-A, especially in May. Despite a rough outing at Jacksonville to open the year, Smith's 1.65 ERA leads the league through June 9 over 60.0 innings in 10 starts. Smith also ranks in the top ten in the league in WHIP (1.09) and strikeout-to-walk ratio (3.46), and since May 2, he leads all Southern League starting pitchers with a 0.28 ERA. The 24-year-old Smith, a former LSU Tiger, is an All-Star for the second time, adding to his nod as a Hillsboro Hop in the Northwest League in 2017. He was taken by the Diamondbacks in the 24th round of the 2016 MLB Draft.
LUCAS LUETGE, LHP
A first-time All-Star at any professional level, the 32-year-old Luetge was Jackson's go-to reliever over the season's first two months. No Double-A reliever appeared more than Luetge through June 1, as he racked up a 1.08 ERA over 22 games. In 25 innings, the southpaw struck out 28 men with seven walks and a .167 opponent batting average. The Texas native opened the year with a streak of 10 consecutive scoreless outings, and he did not concede a home run while in a Generals uniform. An offseason free agent signing by the Diamondbacks, Luetge excelled in a bounce-back season from Tommy John surgery after not pitching in 2018 at all. Due to Luetge's promotion, he will not pitch in Biloxi.
BO TAKAHASHI, RHP
Added as an alternate in place of Lucas Luetge, Takahashi's All-Star honor is the second of his career, paired with a 2017 Midseason All-Star honor in the California League. The 22-year-old native of Brazil was a critical component in 2018's run to Jackson's Southern League title, but his success has continued into this season. After an uneven April, Takahashi rebounded by pitching to a 2.00 ERA in May, making a pair of quality starts while allowing just one home run (two fewer than in April). Takahashi's ability to keep the ball in the ballpark has been critical to balance his high fly-ball rate (42.6%).
DAULTON VARSHO, C
Showcasing a rare balance of speed and power, Varsho earned his second straight Midseason All-Star nod after a 2018 selection to the California League All-Star Game. Varsho's 86 total bases leads all Southern League backstops, and he has already posted three separate games which included both a home run and a stolen base, a unique feat for a catcher. Varsho's four double plays turned is tied for the high mark among SL catchers, and he has helped shepherd Jackson's pitching staff to a 3.40 ERA. Drafted in 2017 out of Wisconsin-Milwaukee with the 68th overall pick, Varsho will share catching duties in the All-Star Game with Tennessee's PJ Higgins.
DREW ELLIS, 3B
Ellis' first Midseason All-Star honor as a pro was built on a superb month of May, which included team-high marks in batting average (.314), runs (18), hits (27), total bases (43), doubles (7), extra-base hits (10), and RBI (17). The former Louisville Cardinal's approach has been a template for many Generals hitters this year: Ellis holds the league's lowest rate of ground balls hit (26%, according to FanGraphs.com), and also the highest rate of fly balls hit (56.1%). No third baseman in the league has walked more often than Ellis (26 BB), leading to a team-best .368 on-base percentage. The former second-round pick earned the start at the hot corner for the North Division lineup alongside Chattanooga shortstop Alfredo Rodriguez.
JEFFREY BAEZ, RF
The former Tennessee Smokie took quickly to his new team in April, hitting .320 over the season's first month to pace the Jackson offense. He's earned a Southern League All-Star nod for the second year in a row, and part of that is due to his ability to adjust to change. After going without a walk in April, Baez had 12 walks in the month of May to help combat a dip in his batting average while maintaining a strong on-base percentage (.330). An offseason free-agent signing by the Diamondbacks, this is the 25-year-old Venezuelan's third year in the Southern League.
JAMIE WESTBROOK, LF
When it comes to All-Star honors, Westbrook is now batting .500 over 4 seasons as a Southern Leaguer, having won Midseason and Postseason All-Star acclaim last year. The Generals' left fielder has already outpaced last year's total for outfield assists, collecting seven over the season's first two months with improved defensive play in his second year in the outfield. Westbrook is thrashing left-handed pitching this year (.377 batting average), and his walk rate (8.2%) has him on the path to a career high in that category. The 23-year-old-whose 24th birthday falls on the night of the All-Star Game, June 18---is hitting .353 (18-for-51) with men in scoring position through June 10. He signed with the Diamondbacks on June 19, 2013 after being drafted in the fifth round out of Basha HS in Chandler, Ariz.
The 2019 Southern League All-Star Game will take place on June 18 at MGM Park in Biloxi, Mississippi, the home of the Biloxi Shuckers. Tickets to the SL All-Star Game can be purchased through the Shuckers' website, BiloxiShuckers.com. The game will be streamed online through MILB.TV. A free audio broadcast will be available on the Biloxi Shuckers Baseball Network through the TuneIn Radio app.