Several franchise and season-highs fall in 22-8 Grizz romp at Las Vegas
Eight Grizzlies rack-up multiple hits and score multiple runs, six have multiple RBI (Jon Kemmer grand slam, 6 RBI) in most lopsided win of 2017 and ever vs. Vegas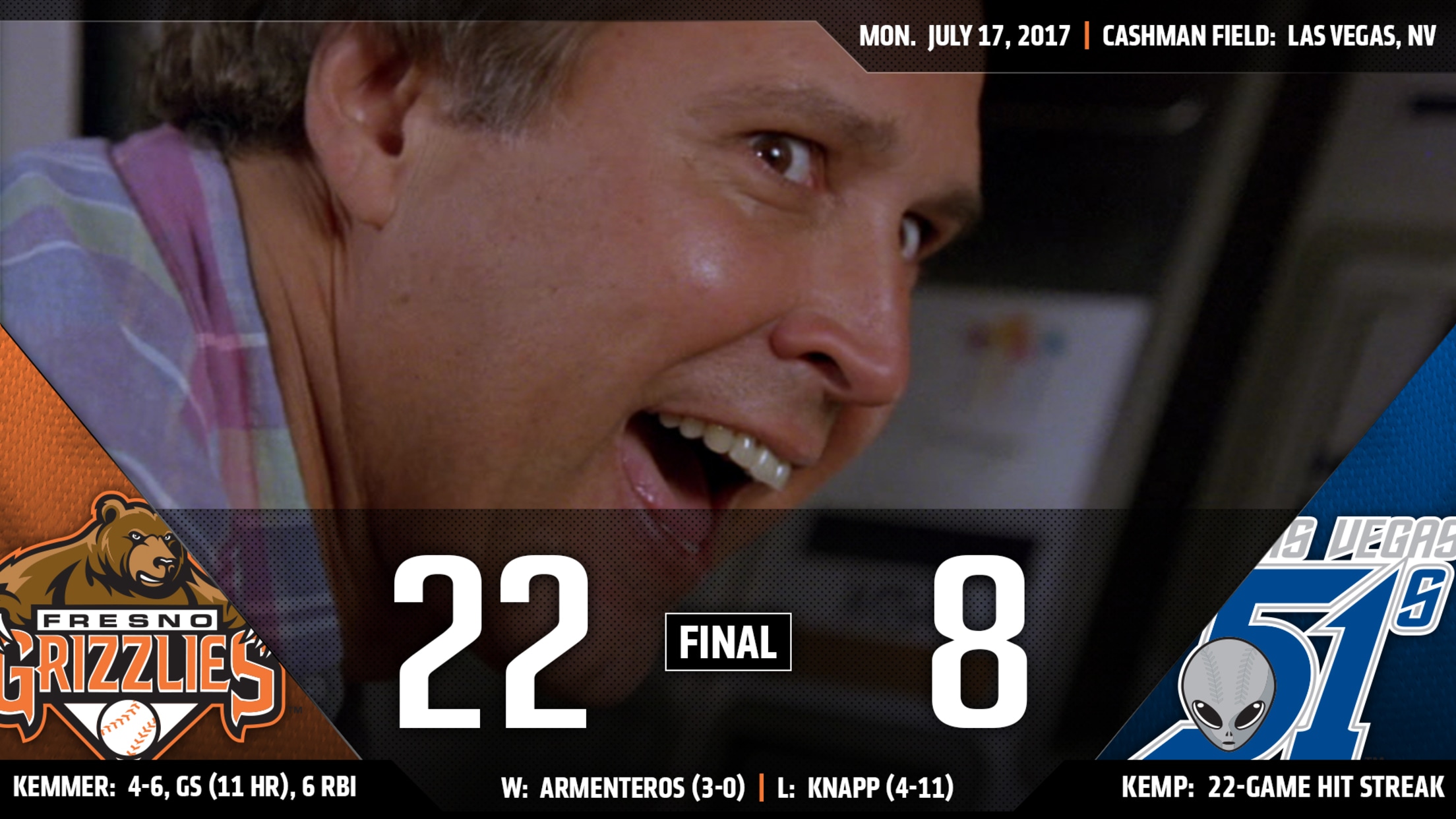 All 10 visiting batsmen recorded at least one hit Monday night in Las Vegas (nine scored at least one run and nine collected at least one RBI), as the Fresno Grizzlies (54-41) cruised to their seventh consecutive victory, and their 10th straight win on the road. With a 22-8 decision
All 10 visiting batsmen recorded at least one hit Monday night in Las Vegas (nine scored at least one run and nine collected at least one RBI), as the Fresno Grizzlies (54-41) cruised to their seventh consecutive victory, and their 10th straight win on the road. With a 22-8 decision over the Las Vegas 51s (36-59), Fresno improved to 36-12 since May 25, going from 11 games under .500 to 12 over, setting season-highs in runs and hits (22). Coupled with Reno's 7-1 home loss to Salt Lake, the Grizzlies have cut their division deficit to just one game; a deficit which stood at 11 on June 23, before Fresno began this stretch of 19 wins in 22 games.
Monday's game also featured eight Grizz batters with multiple hits and runs scored, and six with multiple RBI. Fresno was 10-for-14 with runners in scoring position (courtesy @TylerMaun, MiLB.com). Six home runs for Fresno tied a season-high; the third time in 2017 they've accomplished that, most recently June 16 at Albuquerque in a 15-14 win (20 hits). Monday's contest surpassed that evening as Fresno's top effort in runs and hits. It was the second time this season the Grizzlies and 51s combined for 27 or more runs; Fresno was on the short end of a 21-6 score in Vegas the fifth game of the season on April 11, meaning the largest margin of victory either club has had against the other has taken place this season in each of those games (since 1998, the year Fresno entered the PCL). The Grizzlies 15-2 win on August 28, 1999 against Las Vegas at Fresno state had been the largest margin of victory against the 51s
22 runs was also the most for Fresno ever against Las Vegas, usurping an 18-7 road win on June 6, 2005. The 30 combined runs also bumped aside June 16 at Albuquerque, setting a new season-high by a run; but the 37 combined hits fell short of the 42 combined that night for the Grizz and Isotopes.
The Grizzlies opened the scoring with a four-hit, three-run second inning. Preston Tucker (2-for-5, 2 RBI) and Jon Kemmer (4-for-6, 6 RBI) each rapped RBI singles, with Reid Brignac (3-for-5, 5 RBI) lifting a sac fly. A.J. Reed and Colin Moran (2-for-5) each singled in the inning as well and scored.
In the second and third, Travis Taijeron (17) and Derek Fisher (20) traded solo home runs. Fisher's line drive shot to right field made it 4-1 Fresno. Fisher (2-for-4) is approaching his career high in home runs; he hit 22 in 2015 at two levels, and 21 last year between Double-A Corpus Christi and Fresno.
Leading 4-3 in the fourth, Tucker added to his club-leading RBI total, collecting his 65th on a leadoff homer to centerfield. It was Tucker's 15th homer of 2017.
Leading 5-3 in the fifth, the Grizzlies put the game to bed early with a six-hit seven-run inning. Fisher picked up his second RBI of the night, scoring Tyler White (2-for-6) from first after a leadoff single with gap double to right. Juan Centeno (2-for-5), against his former club, singled home Fisher, before a RBI single by Kemmer and homers by Reid Brignac (3-run, 10) and Tony Kemp (solo, 6) made it a 12-3 game.
For Kemp (3-for-6, 2 RBI), it marked the first time he's homered in consecutive games in parts of three seasons with Fresno (two-run homer Sunday at Tacoma). It extended his hit streak to 22 games, passing Centeno for the longest on the club this season, and the longest for the Grizzlies since they've been affiliated with the Houston Astros (since 2015). Kemp, batting .338 on the season, has hit safely in 32 of his last 33 games, and has scored 42 runs in his last 42 games as the Grizz leadoff man. With his 10th game of three or more hits, Kemp has recorded multiple hits 38 times this season to lead Fresno, a whopping 49% of his 77 games played/started.
Fresno starter Rogelio Armenteros (3-0) won for the third time in as many starts as he continues his Triple-A debut month. He scattered eight hits in five innings, with two walks and four strikeouts. Las Vegas starter Ricky Knapp (1 BB, 3 K) lasted into the fifth (4.2 IP), and the Grizzlies racked up 13 hits and 12 (earned) runs off the right-hander.
A Kemmer grand slam to right in the sixth was his 11th homer of the season for a 16-5 lead, giving him six RBI. Kemmer tied White for most RBI in a game this season for Fresno; White drove in six June 16 at Albuquerque. Kemmer's grand slam was the third this season for Fresno, joining Teoscar Hernández (April 21 vs. Las Vegas) and Tyler White (July 15 at Tacoma) in a pair of wins. Brignac followed with his second homer of the night (11), a solo shot to left-center for a 17-5 lead. With five RBI on his night, Brignac joined Kemmer (twice), Kemp and White as Grizzlies to drive in five or more runs in a game this season.
RBI singles by Kemp and White, a two-run double from Alejandro Garcia and a Reed sac fly in the eighth rounded out the scoring for the Grizzlies. Fresno scored in six of nine innings, and was retired in order the three innings they did not score (first, seventh and ninth). Garcia, who entered the game as a pinch hitter for Fisher in the seventh, extended his hit streak to 10 games with the double, becoming the seventh Fresno batter this season with a hit streak of 10 or more games, joining Centeno, Fisher, Hernandez, Kemp, Tucker and White.
Game two of the series will be at 7:05 p.m. on Tuesday at Cashman Field. Probable starters are RHP Kyle Smith (2-0, 6.64) for Fresno, and RHP Mitch Atkins (2-2, 7.45) for Las Vegas. The Grizzlies are now 6-3 against the 51s this season, with a 3-2 mark on the road.