Shaw homers again in win over 51s
Six strong from Kelly paves way for 5-3 victory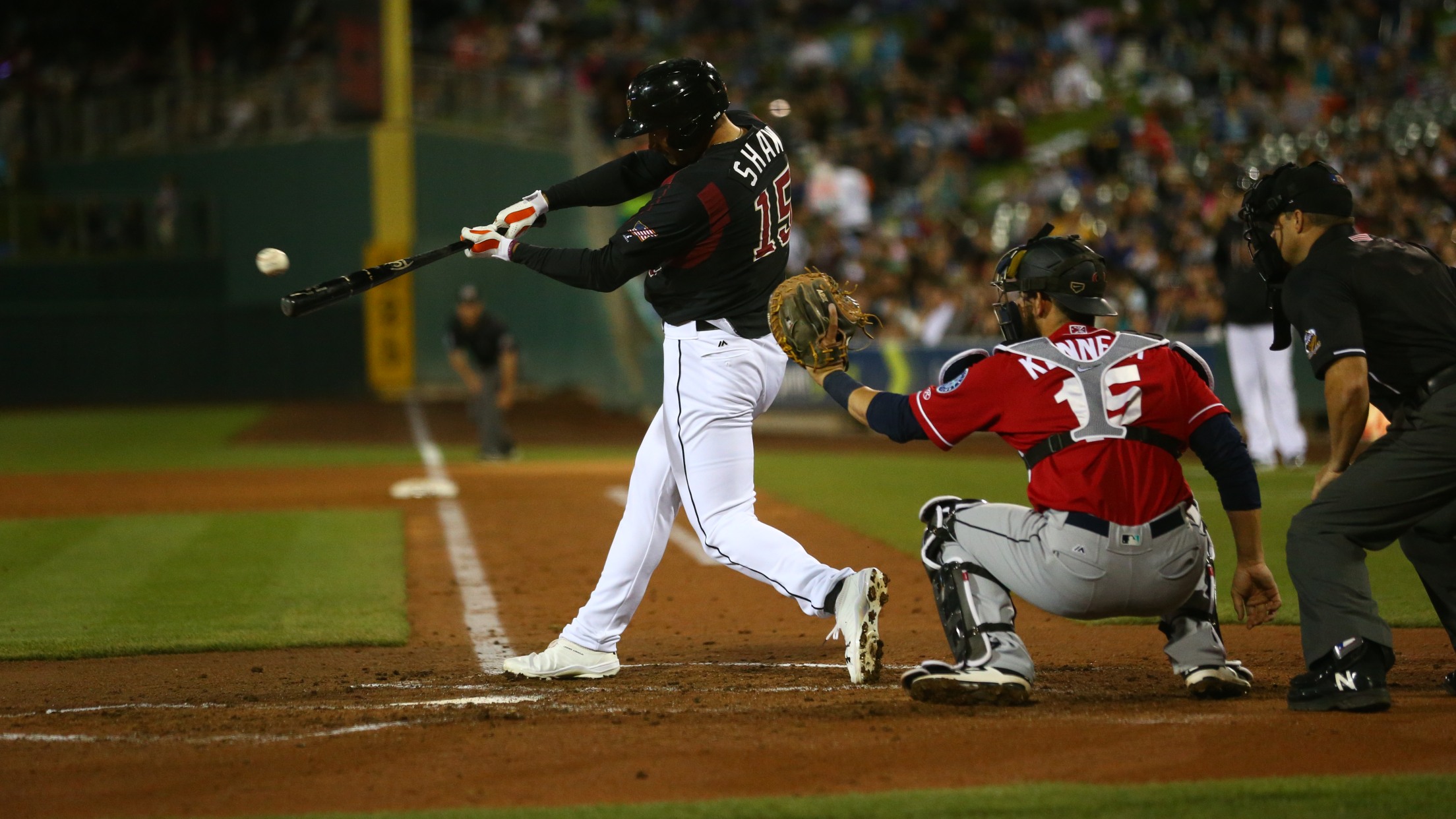 (Ralph Thompson)
LAS VEGAS, NV -- Left fielder Chris Shaw clubbed his eighth home run of the season as the Sacramento River Cats (13-14) got a 5-3 victory over the Las Vegas 51s (11-17) on Thursday night.Shaw's fence-clearing skills have been on full display lately, as his solo shot in the sixth
LAS VEGAS, NV -- Left fielder Chris Shaw clubbed his eighth home run of the season as the Sacramento River Cats (13-14) got a 5-3 victory over the Las Vegas 51s (11-17) on Thursday night.
Shaw's fence-clearing skills have been on full display lately, as his solo shot in the sixth inning broke a 2-2 tie and gives him five home runs in his last seven games.
The River Cats managed to give up another pair of runs in the first inning as second baseman Ty Kelly singled off River Cats right-hander Casey Kelly to plate two. But otherwise, Kelly was solid in six innings, allowing just three hits and one walk the rest of the night while striking out five.
Right-hander Derek Law was impressive in his first appearance since being optioned from Sacramento, striking out the side to close out the ballgame in the ninth.
The River Cats will hop on a bus this evening and head back into California for a four-game series against the Fresno Grizzlies. Jose Flores (0-1, 4.24) will get the nod for the River Cats while the Grizzlies will send left-hander Kent Emanuel (0-1, 6.75) to the mound. First pitch is set for 7:05 p.m. (PT).
Catch all of the action live online at rivercats.com, on the MiLB First Pitch app, and on the air on Money 105.5 FM.
Additional Notes
• Casey Kelly's six innings of work marked his longest start of the season and his first quality outing since April 11.
• Chris Shaw is now tied for fourth in the Pacific Coast League with his eight big flies - two behind Salt Lake's bash brothers Jabari Blash and Chris Carter.
• Austin Slater manned first base for the first time since little league. For the past few weeks, Slater has been taking ground balls and working on footwork at first.