'Calm' Morimando leads Pitchers of the Week
Indians' No. 15 prospect spins consecutive shutouts for Clippers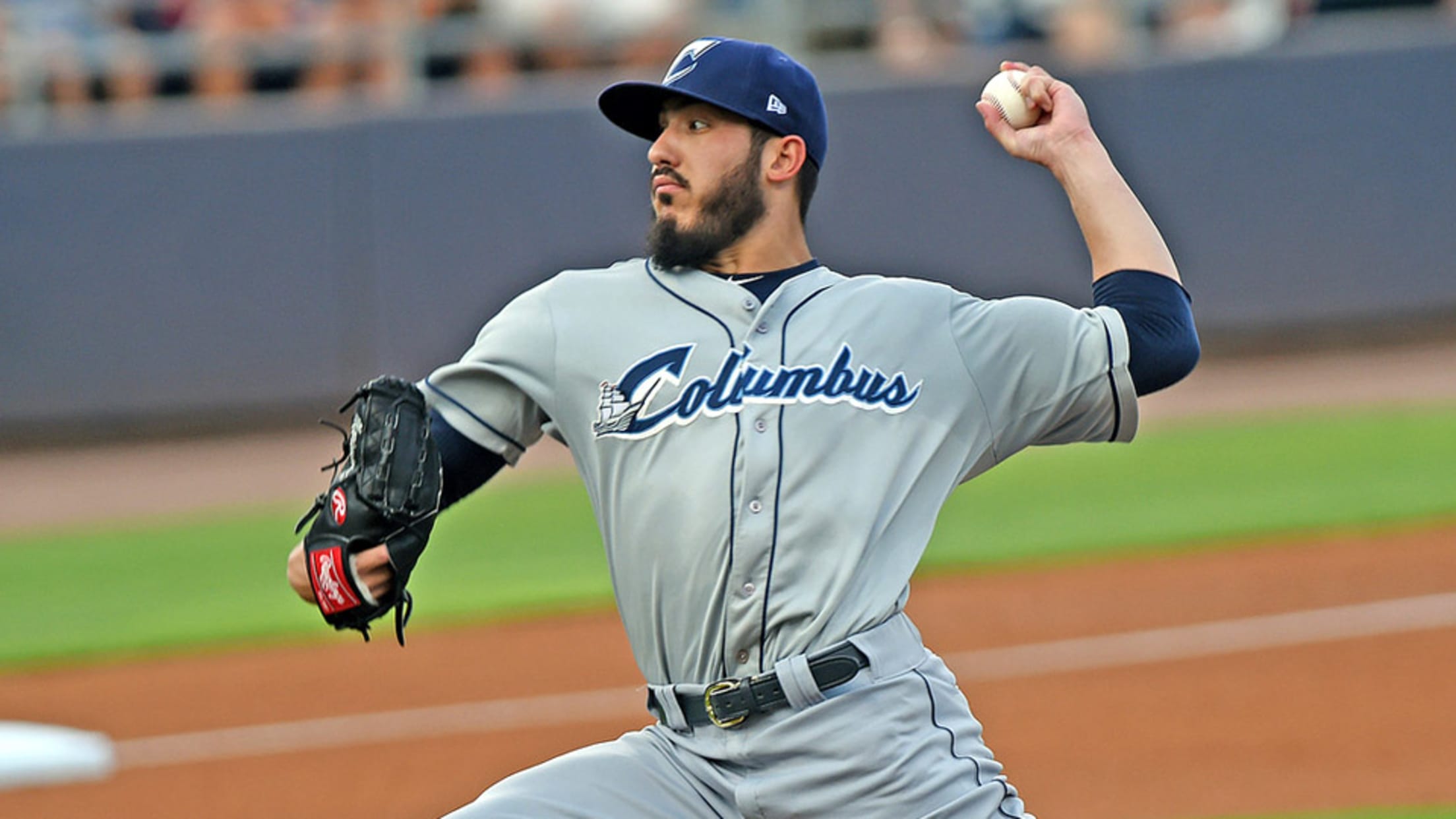 Shawn Morimando has 18 strikeouts over his last two starts, both nine-inning shutouts for Triple-A Columbus. (Brian McLeod/MiLB.com)
Facing hungry batters for hours under the bright lights might seem like a stressful experience, but for Shawn Morimando, it's like a holiday weekend at the beach.Calm. Relaxed. Blessed.That's how the Indians left-hander said he's been been feeling on the mound and he credits his catcher, Erik Kratz, with the
Facing hungry batters for hours under the bright lights might seem like a stressful experience, but for Shawn Morimando, it's like a holiday weekend at the beach.
Calm. Relaxed. Blessed.
That's how the Indians left-hander said he's been been feeling on the mound and he credits his catcher, Erik Kratz, with the good vibes.
"It's a calm, relaxing, confident feeling," he said of working with Kratz, the veteran backstop for Triple-A Columbus. "After every pitch that I throw, it seems like he knows what's working tonight."
The pair has felt at ease lately, and never more so than June 27 as Morimando struck out a career-high 12 during a five-hit shutout at Charlotte. The Indians' No. 15 prospect wasn't finished, though -- he went nine innings again on Sunday, holding Toledo to seven hits and a walk with six K's. The performances earned him the International League's Pitcher of the Week award on Monday.
• View the Player of the Week winners »
"It went really well tonight," Morimando told MiLB.com on June 27 following his fourth straight victory. "I felt really good. Me and [Kratz] were on the same page the whole night, and this time around, I executed a lot better with my pitches and got ahead of a lot more hitters. I just kept on the gas pedal the whole time and my defense played awesome behind me again."
The 24-year-old did not walk a batter in that win, which came 12 days after he went the distance against Durham and scattered five hits and three walks.
He managed to repeat the effort again Sunday, when he struck out six at Toledo. In an almost unheard of trend, the 2016 Eastern League All-Star has pitched three shutouts in his last four starts. He had just two complete games in his career entering June, and they came in 2012 and 2013.
"It's a blessing. I couldn't be more thankful," the upstate New York native said of his recent success. "I've always tried to be real humble and confident in my work ethic. I always let my playing speak for itself because that's the type of person I am.
"It's just really humbling that things are looking up right now and I'm in a good groove, and as a team, we're playing really good baseball right now. You just continue, day in and day out, to get a little bit better every single day. Eventually, the whole package will start to form."
Morimando was the Indians' 19th-round pick in 2011. He reached Triple-A last season, going 5-2 with a 3.51 ERA in 11 outings with Columbus, and appeared in two games with Cleveland.
He attributed his success this year to getting ahead of batters.
"Obviously, when you get ahead of hitters, a lot more good things will happen from it," he told MiLB.com. "It keeps me aggressive and in attack mode."
Here's the complete list of the Minor League Pitchers of the Week for June 26 through July 2: