Shockley's home run lifts Hoppers over Hot Rods
Greensboro's Matt Fraizer goes 3-for-5 to continue hot streak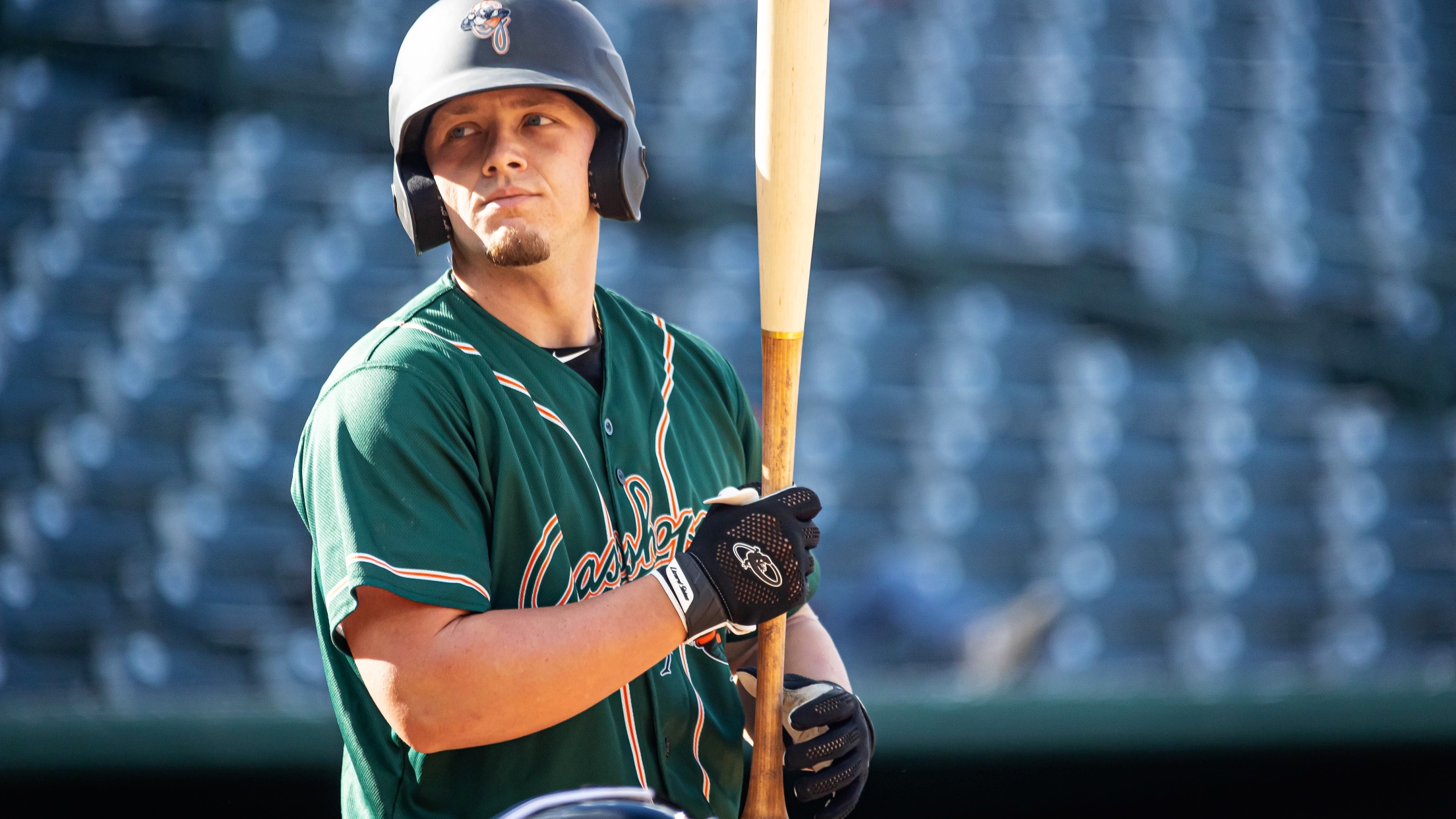 Greensboro Grasshoppers catcher Dylan Shockley. (Jak Kerley/Greensboro Grasshoppers)
BOWLING GREEN, Ky. ― Reserve catcher Dylan Shockley hit a tie-breaking solo home run in the top of the eighth inning, lifting the Greensboro Grasshoppers to a 6-5 win over the host Hot Rods at Bowling Green Stadium on Saturday night. Shockley drilled a 3-1 pitch from reliever Colby White
BOWLING GREEN, Ky. ― Reserve catcher Dylan Shockley hit a tie-breaking solo home run in the top of the eighth inning, lifting the Greensboro Grasshoppers to a 6-5 win over the host Hot Rods at Bowling Green Stadium on Saturday night.
Shockley drilled a 3-1 pitch from reliever Colby White (0-1, 3.86 ERA) over the center-field fence for the first home run of his professional career, as Greensboro rallied from a 5-4 deficit to win the game.
Shockley has played in just 13 games this season, going 4-for-40 with three RBIs, while Grant Koch has done the bulk of the catching for Greensboro.
The first-place Hot Rods (34-17) lead the series with the Grasshoppers (30-23) three games to two heading into Sunday's finale.
Hoppers lead-off hitter Matthew Fraizer went 3-for-5 with a triple, a double and an RBI. Fraizer, a 23-year-old outfielder, has four multi-hit games in a row and is batting .317, fourth-best in the High-A East. Fraizer has hit safely in 26 of his last 29 games with 13 multi-hit games during that stretch.
Jared Triolo went 2-for-5 with two runs scored for the Hoppers, and first basemen Will Matthiessen stayed hot, going 2-for-4 with two RBIs. Center fielder Matt Gorski hit an RBI double for the Hoppers.
Hard-throwing right-hander Austin Roberts (2-2, 4.28 ERA) picked up the win in relief, striking out three in 1 2/3 scoreless innings. Oliver Garcia pitched a one-two-three ninth inning for his fifth save.
Greensboro's offense pounded out 12 hits, and all nine batters in the Hoppers lineup reached base at least once.
In his career at the News & Record, journalist Jeff Mills won 10 national and 12 state writing awards from the Associated Press Sports Editors, the Society for Features Journalism, and the N.C. Press Association.