Shutout Sends Hooks to Ninth Straight Win
Cesar extends hit streak to 39 games with a ninth-inning triple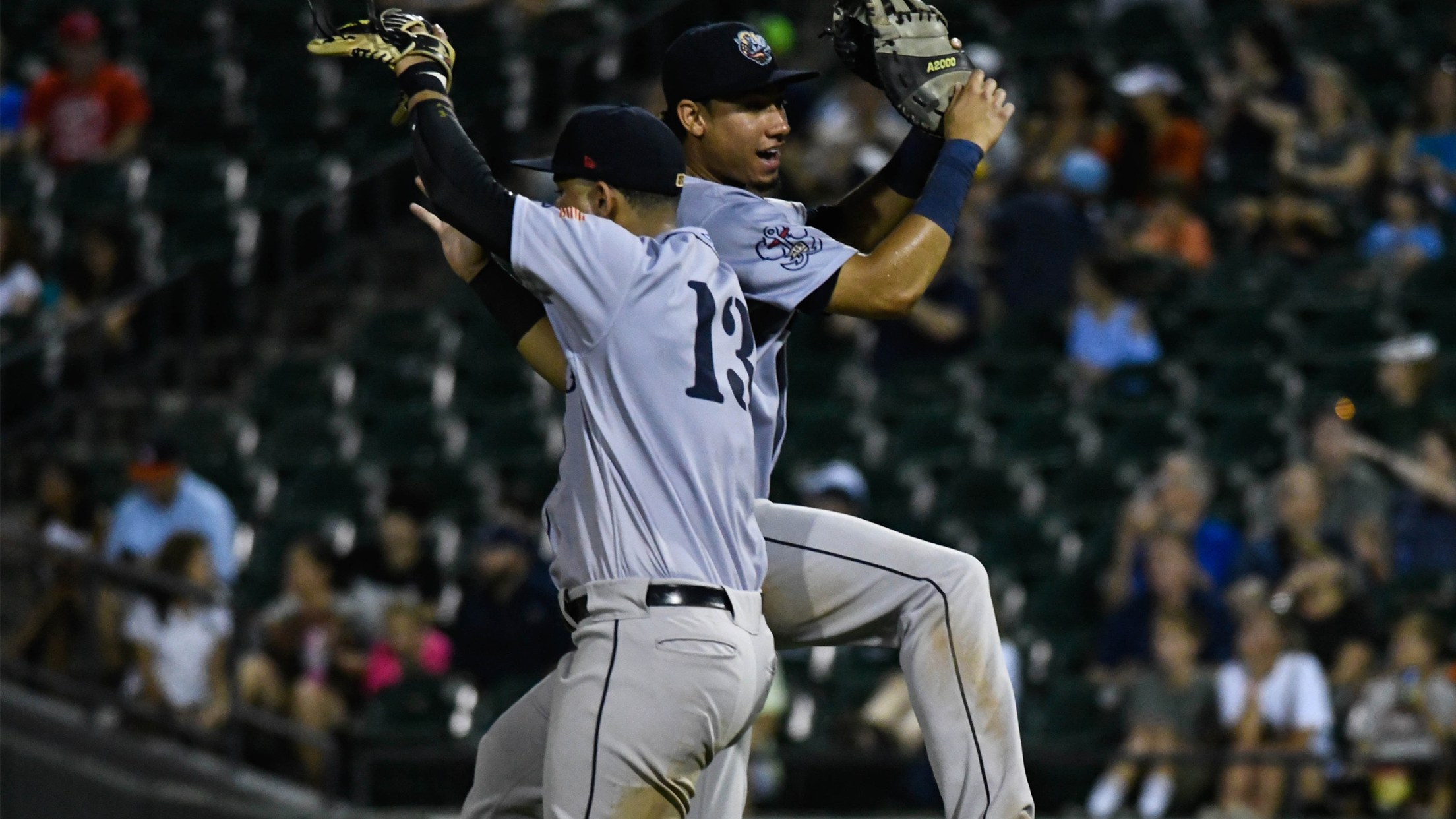 (Charlie Blalock)
CORPUS CHRISTI - Eduardo de Oleo belted a two-out, two-run home run in the fifth inning Friday night, and the Hooks, led by Framber Valdez and Cionel Pérez, blanked Frisco, 4-0, before 5,110 fans at Whataburger Field.Corpus Christi (4-0, 47-26) has now penned a shutout in three of the last
CORPUS CHRISTI - Eduardo de Oleo belted a two-out, two-run home run in the fifth inning Friday night, and the Hooks, led by Framber Valdez and Cionel Pérez, blanked Frisco, 4-0, before 5,110 fans at Whataburger Field.
Corpus Christi (4-0, 47-26) has now penned a shutout in three of the last five games. The Hooks, who are 20-5 since May 26, have permitted just two runs in the last 31 innings.
de Oleo, making his Whataburger Field debut, accounted for the first Corpus Christi hit with his blast in the fifth. It came at the expense of Edgar Arredondo, who pitched five strong innings in his first Double-A assignment.
The Hooks added insurance in the seventh against lefty Brett Martin. Ryne Birk worked a lead-off walk and later scored on Chas McCormick's two-out double to left field.
Randy César, needing a knock to advance his record-setting hitting streak, scorched a line drive to the wall in right-center for a triple off Johnny Fasola. The relay from shortstop Josh Morgan sailed into foul ground, allowing Cesar to score the Hooks' fourth run.
Cesar's 39-game hit streak is the longest in the history of the Texas League, founded in 1888.
Lefty Framber Valdez worked the first four frames, striking out two against four Frisco (2-2, 26-48) hits.
Kevin Hill (2-1), in his return from the DL, handled the fifth to pick up the victory.
Texas League South All-Star Cionel Pérez coxed double plays in the sixth and seventh, and worked around a two-out double in the eighth.
Reigning Texas League Pitcher of the Week Riley Ferrell struck out the final two batters in a perfect ninth.
Select Hooks players will take batting practice on the flight deck of the USS Lexington Museum on the Bay Saturday at noon. The spectacle is open to the public. Cesar, Stephen Wrenn, Alex De Goti, Taylor Jones, and Lorenzo Quintana are slated to take swings on Lady Lex.
Saturday evening, the first 2,000 fans through the turnstiles at Whataburger Field receive José Altuve Blue Ghosts Bobbleheads from Wigington, Rumley, Dunn & Blair. Gates open at 5:35 and first pitch is 7:05 as the Hooks send Akeem Bostick (0-2, 3.09) to the hill. Frisco counters with Jonathan Hernández (0-2, 10.00).