Sims, G-Braves Outduel Indianapolis
Lucas Sims throws 7.0 scoreless innings in 2-1 victory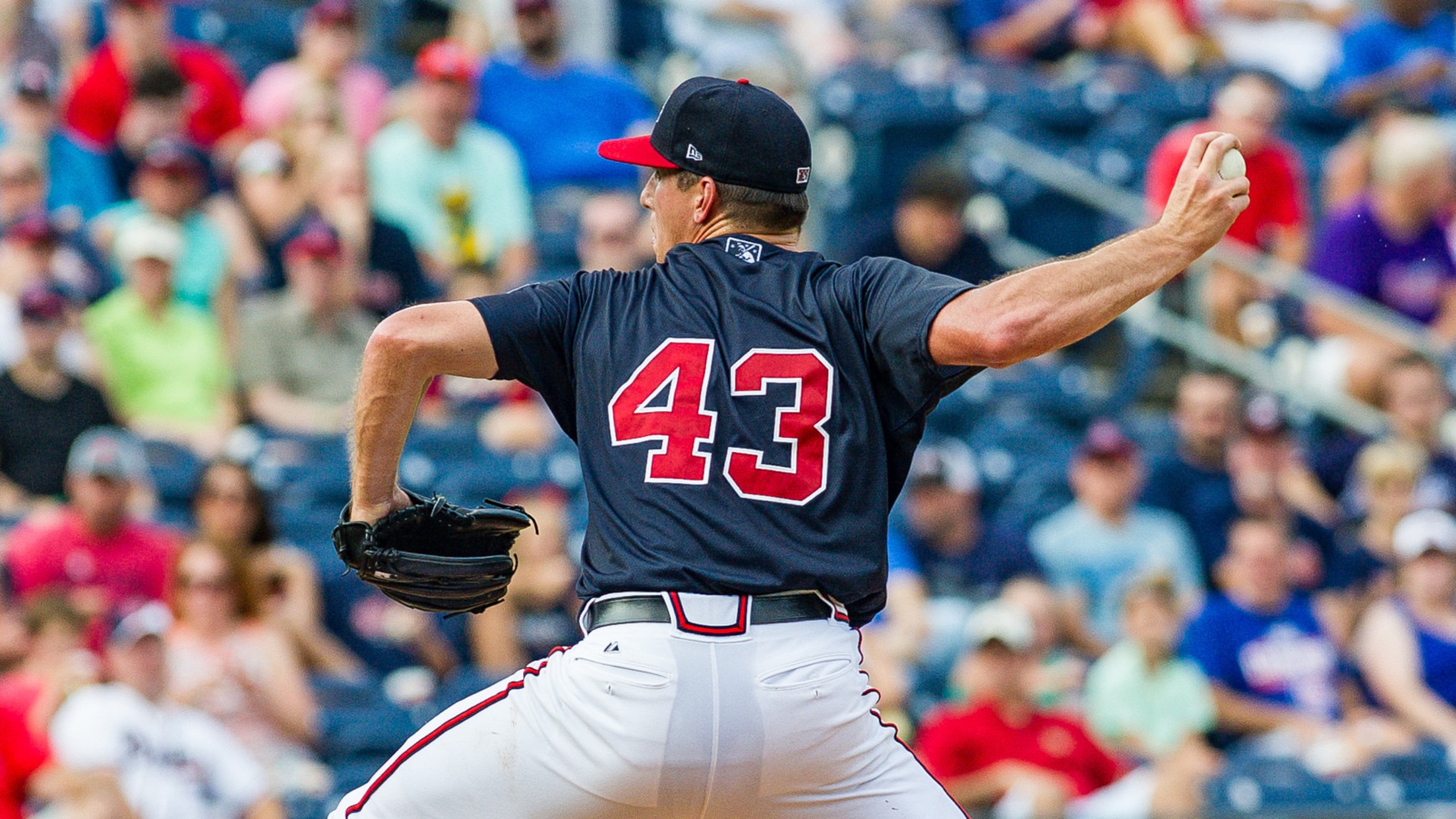 Lucas Sims tossed 7.0 scoreless innings to earn the win on Saturday night. (Will Fagan)
LAWRENCEVILLE, GA - Right-hander Lucas Sims fired 7.0 scoreless innings on Saturday night to lead the Gwinnett Braves (49-49) to a 2-1 win over the Indianapolis Indians (54-45) in front of 7,889 fans at Coolray Field.Sims (W, 7-4) earned his first win since June 26 as he delivered his fourth
LAWRENCEVILLE, GA - Right-hander Lucas Sims fired 7.0 scoreless innings on Saturday night to lead the Gwinnett Braves (49-49) to a 2-1 win over the Indianapolis Indians (54-45) in front of 7,889 fans at Coolray Field.
Sims (W, 7-4) earned his first win since June 26 as he delivered his fourth scoreless start of the season. He held the Indians to three hits - all singles - while walking one and striking out nine in a 104-pitch, 71-strike outing. The nine strikeouts raised his season total to 124, tops in the International League.
The G-Braves scored first for the first time on the homestand as Lane Adams led off the second inning with a double off Indians' right-hander Johnny Barbato, moved to third on a ground out by Sean Kazmar Jr. Jr. and scored on a ground out by Dustin Peterson .
The lead grew to 2-0 in the fifth as Ozzie Albies belted a 403-foot solo home run to right-center off right-hander Edgar Santana. The homer was Albies' ninth of the season, tying him with Rio Ruiz for the team lead.
Right-hander David Peterson replaced Sims in the eighth and allowed a run to trim the lead to 2-1. Jacob Stallings singled, took second on a wild pitch and later scored on an RBI ground out by Christopher Bostick.
Peterson went back out for the ninth and yielded a one-out single to Danny Ortiz. With two outs and Ortiz at second base, Erich Weiss bounced an infield single to Ruiz at third base. The ball kicked off Ruiz's glove in foul territory and Ortiz attempted to score the tying run, but was thrown out easily at the plate to end the game.
Peterson (S, 6) earned his first save since May 16 and the first save by a G-Brave since June 24. He worked 2.0 innings with a run on three hits.
Offensively for Gwinnett, David Freitas went 2-for-3 with a double to extend his hitting streak to 10 games. Adams also doubled, finishing 1-for-4 with a run scored, and Albies went 1-for-4 with the homer and an RBI.
Barbato (L, 0-2) gave up a run on one hit over 2.0 innings in a spot start for Indianapolis. Three Indians' relievers combined to allow one run on five hits over the final 6.0 innings. Ortiz went 2-for-4, while Bostick went 0-for-3 with an RBI.
The G-Braves and Indians wrap up the four-game series on Sunday at Coolray Field, first pitch is set for 1:05 p.m. Right-hander Matt Wisler (5-5, 3.50 ERA) is set to start for Gwinnett, while Indianapolis will counter with right-hander Drew Hutchison (5-5, 3.70 ERA). Tony Schiavone has the call beginning at 12:35 p.m. on 97.7 FM "The Other Side of the River."
Sunday is "Sunday Funday" presented by Georgia United Credit Union. Fans are invited to play catch on the field before the game for approximately 20 minutes starting at 12:05 p.m. After the game, kids (ages 12 and under) are welcome to run the bases. For tickets, call the Coolray Field ticket office at 678-277-0340 or visit GwinnettBraves.com/tickets.