Sky Sox rain on Grizzlies 12-5
Fisher and Stassi hit back-to-back homers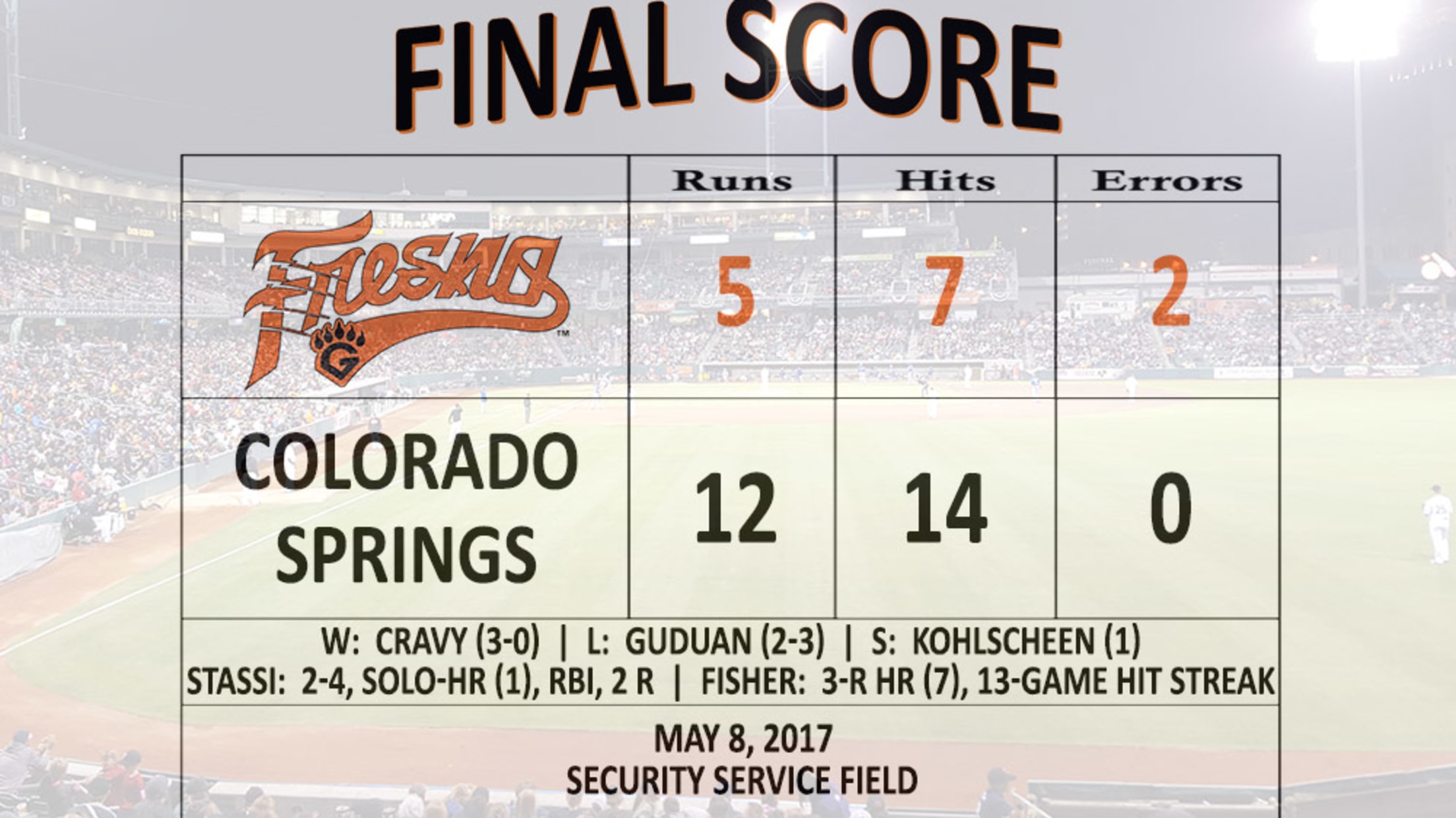 The Fresno Grizzlies (13-19) lost 12-5 to the Colorado Springs Sky Sox (19-8) Monday night in a game that was delayed by two hours and eleven minutes due to rain. There has been a weather delay in each of the three games played by the clubs in the four-game series
The Fresno Grizzlies (13-19) lost 12-5 to the Colorado Springs Sky Sox (19-8) Monday night in a game that was delayed by two hours and eleven minutes due to rain. There has been a weather delay in each of the three games played by the clubs in the four-game series at Security Service Field.
The Grizzlies took a 1-0 lead in the second when Juan Centeno (2-for-4) drove in Max Stassi (2-for-4) with a RBI single. Centeno extended his hit streak to 11 games where he is 16-for-38 (.421) with a triple, two doubles, five RBI, three runs scored and two walks during that span.
Colorado Springs went ahead 4-1 in the third that started with former Grizz Andrew Susac knocking his third homer of the season and second in consecutive games. The solo shot to center was followed by four base hits to tally three additional runs. Garrett Cooper, Brett Phillips (3-for-5) and Kirk Nieuwenhuis had the RBI.
Back-to-back homers in the sixth gave the Grizzlies a 5-4 lead over the Sky Sox. Derek Fisher crushed his team-leading seventh long ball to score Tyler White and Preston Tucker who both walked. The three-run bomb to right center gave Fisher a club-high 13-game hit streak. He is 24-for-60 (.400) with four homers, six doubles, 12 RBI, nine runs scored and a walk during that span. Stassi followed with his first home run of the season, a solo shot to right.
The Sky Sox regained the lead with a four-run seventh to make the score 8-5. Phillips hit a two-run single to give himself three RBI on the night, while Yadiel Rivera reached on a fielder's choice to score Cooper and a Nate Orf (2-for-5) RBI single scored Phillips. Additional RBI for Cooper, Phillips and Nieuwenhuis in the eighth, along with a Fresno error, made the score 12-5 in favor of Colorado Springs.
Fresno starter Francis Martes allowed four runs on five hits and three walks with five strikeouts for the Grizzlies in three and two thirds pitched. The loss went to reliever Reymin Guduan (2-3) who allowed two runs on one hit and a walk with one strikeout.
In the start for the Sky Sox, Josh Hader went five innings and allowed three runs on three hits and three walks with eight strikeouts, the most strikeouts by an individual pitcher against the Grizzlies this season. Tyler Cravy (3-0) got the win with two relief innings and Stephen Kohlscheen picked up his first save of the season.
The Grizzlies and Sky Sox will meet for the final time this season in the series finale on Tuesday at 10:00 a.m. PT. RHP Casey Coleman (1-0, 7.20) will be on the mound for Fresno, while RHP Hiram Burgos (1-2, 4.43) will start for Colorado Springs.