Slater has big night for River Cats in El Paso
Camarena excellent through six innings, but Chihuahuas walk off against bullpen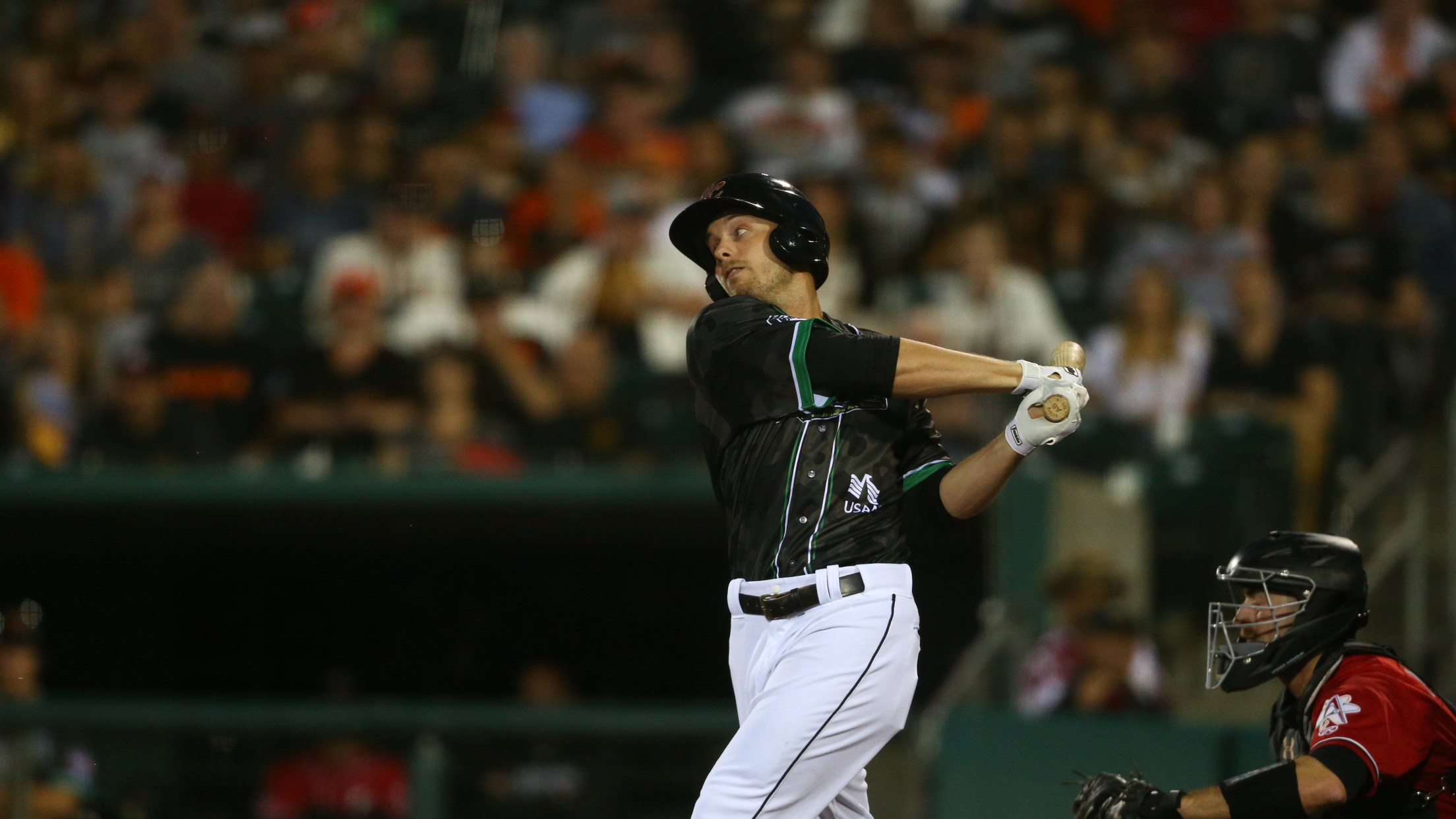 (Ralph Thompson 916-813-3236)
EL PASO, TX - The Sacramento River Cats (25-29) traveled south to take on the El Paso Chihuahuas (27-27) on Wednesday evening, and Austin Slater backed starter Daniel Camarena for an early lead. But El Paso came back against the River Cats bullpen to win 4-3 in walk-off fashion
EL PASO, TX - The Sacramento River Cats (25-29) traveled south to take on the El Paso Chihuahuas (27-27) on Wednesday evening, and Austin Slater backed starter Daniel Camarena for an early lead. But El Paso came back against the River Cats bullpen to win 4-3 in walk-off fashion
The game was locked at zero until the fifth inning, when Slater blasted a solo home run over the right field fence to put the River Cats in front 1-0. The young right fielder then extended that lead to 3-0 when he drove in two more with a single in the seventh. With the 2-for-4 night, Slater's average is up to .366 on the year.
Left-handed pitcher Daniel Camarena shined once again in his second start for the River Cats, throwing six scoreless innings while allowing just two hits. The bullpen was unable to hold the lead, however, as Josh Osich was unable to get an out in the seventh and El Paso tied the game at three. In the Chihuahuas ninth, the leadoff man reached third base on an error by Slater and followed with a base hit to win the game 4-3.
The River Cats are back in action tomorrow for game two of this five game series with the Chihuahuas. Left-hander Conner Menez (0-1, 9.00) is expected to make his first start for Sacramento since April 12. He'll face El Paso righty Miguel Diaz (0-0, 4.50). First pitch is set for 5:35 p.m. (PT). Catch all of the action live online at rivercats.com, on the MiLB First Pitch app, and on the air on Money 105.5 FM starting at 7:00 p.m. (PT).
Additional Notes
· Camarena lowered his ERA to 0.75 this season and has only allowed five hits and one earned run in 12.0 innings pitched for the River Cats. Camarena had a 5.08 ERA in 39 innings with Triple-A Scranton Wilkes-Barre this season.
· Sacramento stole four bases in the game, tying their most in a game this season from May 19 in Salt Lake. The River Cats rank second in the Pacific Coast League with 52 stolen bases this season.