Smokin' Aces - Aces' Madness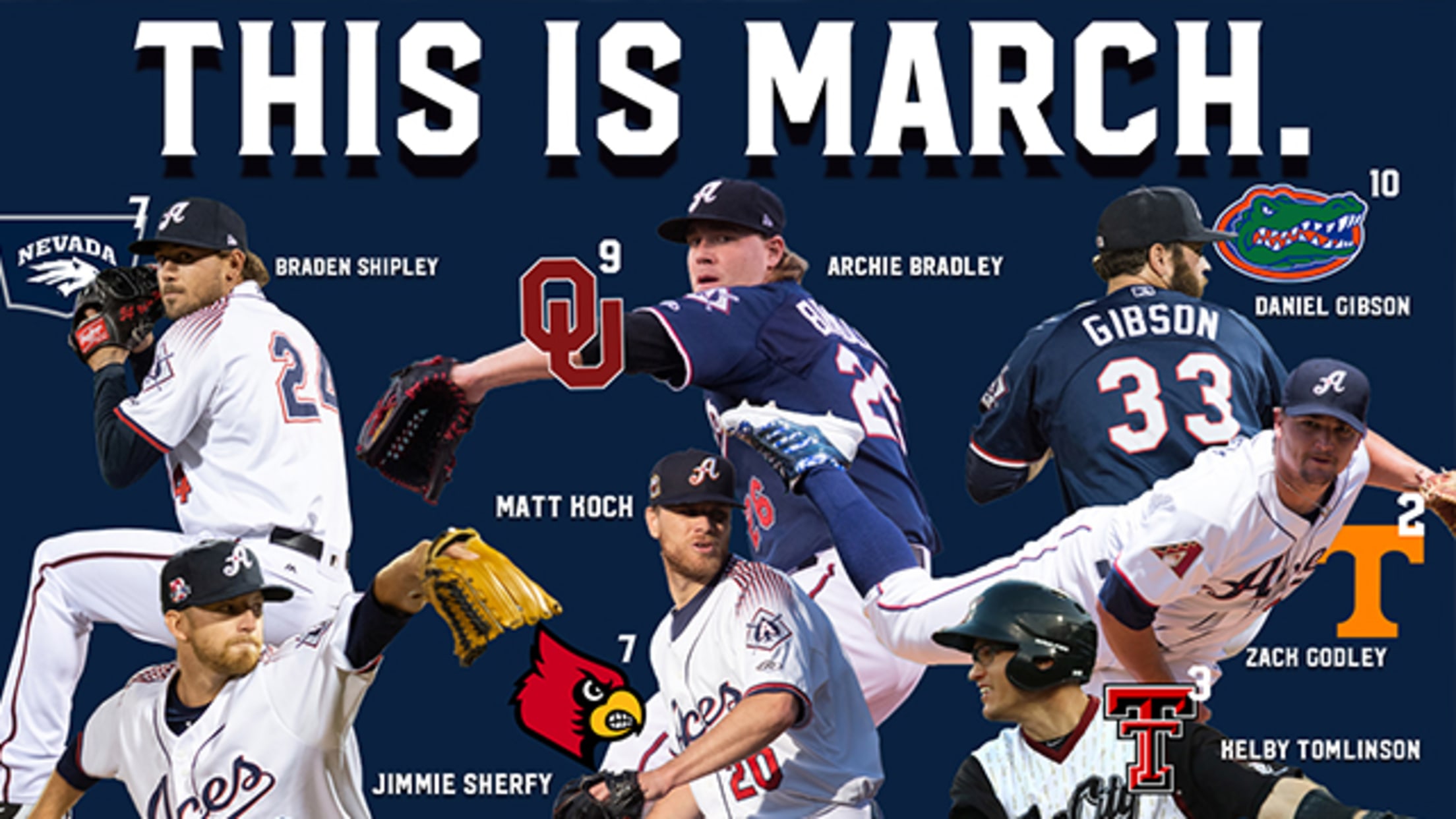 Besides St. Patrick's Day, March is dominated by college basketball. We understand that here at Greater Nevada Field. But with the tournament underway, there isn't a better time to embrace the madness, Aces' style.As Opening Night creeps closer we are getting a better picture of what the roster may look
Besides St. Patrick's Day, March is dominated by college basketball. We understand that here at Greater Nevada Field. But with the tournament underway, there isn't a better time to embrace the madness, Aces' style.
As Opening Night creeps closer we are getting a better picture of what the roster may look like. At least seven players likely to spend time in Reno have connections with tournament schools, along with two former Aces on the Diamondbacks.
RHP Braden Shipley's ('16-'18) Nevada Wolf Pack fell short to LHP Daniel Gibson's ('16-'18) Florida Gators in the first-round Thursday, 70-61. A finish no one residing in Northern Nevada wanted to see from the senior-heavy team. Gibson's Gators will take on the 2-seeded Michigan in the second-round Saturday.

Matt Koch's ('16-'18) Cardinals from Louisville also saw an early exit. The 10-seeded Minnesota Gophers took care of the 7-seed, 86-76, on Thursday. Koch's good spring may help ease the pain of the loss as he has a chance to make the big-league roster out of camp.
The right-handed pitcher has been throwing well for the D-backs. Over 12 innings pitched, Koch has an ERA of 3.00 while batters are hitting just .179 off of him.
As far as wins are concerned, defending champion 6-seed Villanova beat 11-seed St. Mary's in their first-round game. The school is looking for its third men's basketball championship in four years. Outfielder Matt Szczur ('19) played both baseball and football during his time as a Wildcat. Szczur is a 'Nova champion of his own as captain of the 2009 football team that won the FCS National Championship over the University of Montana.
They play again Saturday against 3-seeded Purdue with tip-off set for 5:40 p.m.
Outfielder Andrew Aplin's ('19) Arizona State Sun Devils were victorious in their "First-Four" matchup against the St. John's Red Storm on Wednesday. With the victory, the Sun Devils earned themselves a tough game against 6-seeded Buffalo today.

ASU's tournament win was the first since 2009 when James Harden was in maroon and gold. "The Beard" turned out to be pretty good in the NBA. This season will be Aplin's first with the Aces, I'm definitely not comparing the two, but they are both left-handed.
Speaking of beards, RHP Archie Bradley ('14-'16) has a good one. Come out to the ballpark June 22 when the first 1,000 fans will receive a slick Bradley bobblehead intact with his facial hair. His Oklahoma Sooners took care of business today against 8-seeded Ole Miss.
The Sooners will be in a dogfight in their next game against 1-seeded Virginia Sunday barring another major upset. Bradley is currently in a battle of his own for the Diamondbacks' closer role. Manager Torey Lovullo is yet to name his guy in the three-man race of Bradley, Greg Holland, and Yoshihisa Hirano.
Jimmie Sherfy ('16-'18) is the all-time saves leader in Aces' history. He knows a thing or two about closing. That's what his Oregon Ducks did down the stretch of the college basketball regular season. They won their last eight games including the Pac-12 tournament. They play the 5-seeded Wisconsin at 1:30 p.m. today.
Infielder Kelby Tomlinson ('19) went to Texas Tech if you didn't know. They opened the tournament Friday with a win against 14-seeded Northern Kentucky. Standing at 6-foot-3, Tomlinson is one of the tallest players on the roster. Also, don't want to get carried away with comparisons, but Kareem Abdul-Jabbar also competed with goggles on. Something to watch for this season.
Lastly, Zack Godley's ('16, '17) Tennessee Volunteers are the highest seed from the list. The 2-seeded Vols take on Colgate at noon today. Godley had himself a nice career at Tennessee. The righty went 10-10 with a 3.48 ERA over 209 2/3 innings pitched in college.
He's slated to be a big part of the Diamondbacks' starting rotation in 2019.