Sod Poodles Battle Late, Fall To RockHounds Thursday Night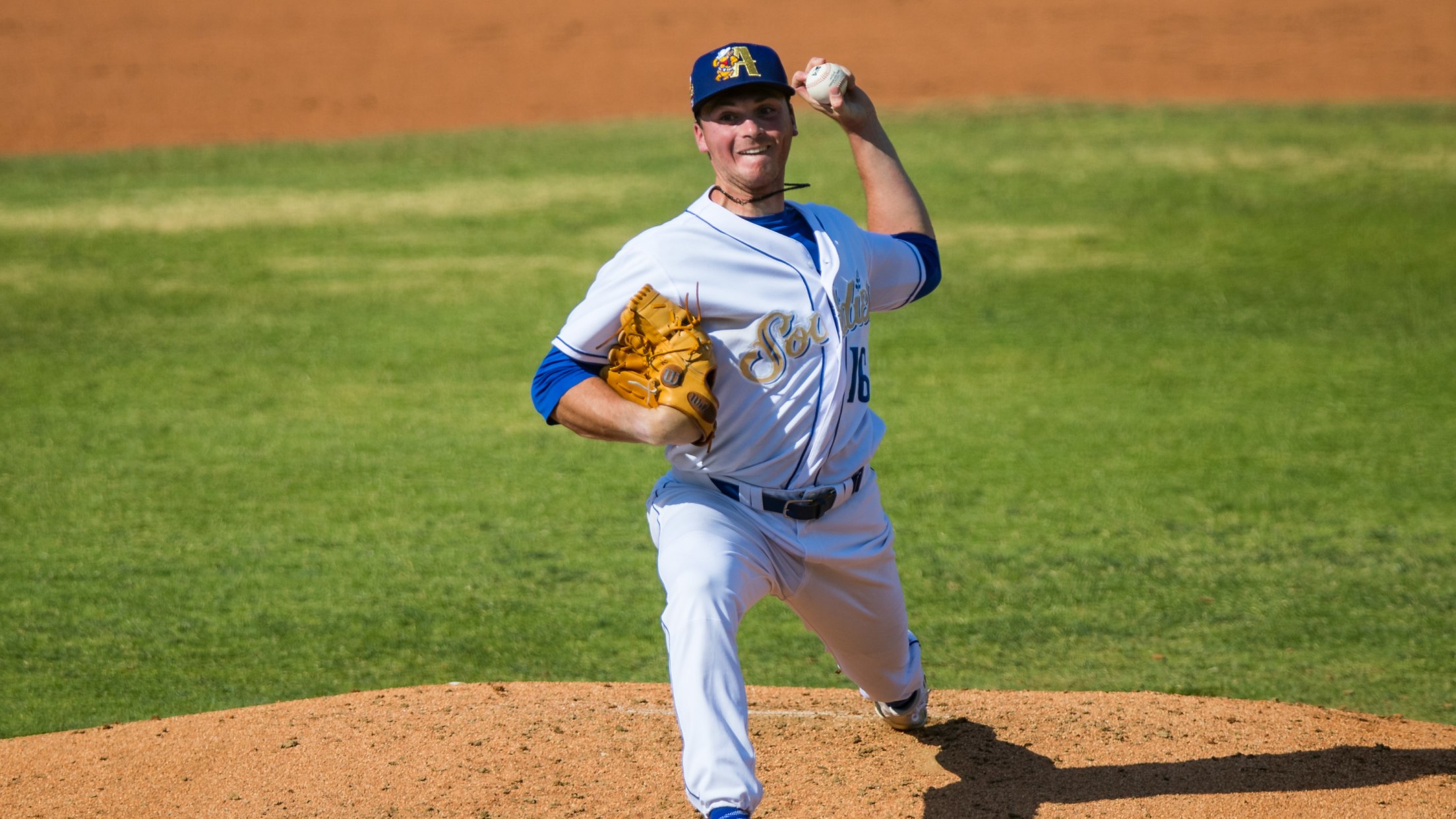 Thursday, July 15, 2021 at Midland RockHounds [OAK] Amarillo Sod Poodles (27-35) | Midland RockHounds (32-31) The Sod Poodles battled late Thursday night in Midland, bringing the tying run to the plate in the top of the ninth, but fell short and dropped game three to the RockHounds by a
Thursday, July 15, 2021 at Midland RockHounds [OAK]
Amarillo Sod Poodles (27-35) | Midland RockHounds (32-31)
The Sod Poodles battled late Thursday night in Midland, bringing the tying run to the plate in the top of the ninth, but fell short and dropped game three to the RockHounds by a final score of 5-1. Soddies starter and D-backs No. 12-rated prospect Tommy Henry tied for a career-high with his six-and-two-thirds innings pitched and struck out eight. With the loss, Amarillo falls to 27-35 on the season.
For a third straight night, the Sod Poodles jumped out to an early lead over the RockHounds. In the second inning, Buddy Kennedy led off with a walk and proceeded to steal second base to quickly get into scoring position before Mikey Reynolds walked. On a double steal during Osvaldo Abreu's at-bat, a throwing error by RockHounds catcher Collin Theroux led to a Soddies run and 1-0 lead.
Over the first three frames, Henry allowed just two hits through the minimum. But, in the fourth, Midland bats got to the lefty after Nick Allen and Logan Davidson started things off with back-to-back one-out singles. Jonah Bride followed up with a game-tying RBI double while JJ Schwarz knocked a two-RBI single to make it a 3-1 ballgame before two strikeouts ended the half.
Following scoreless fifth and sixth frames, the RockHounds added two final runs in the bottom of the seventh to take a 5-1 lead courtesy of Jhonny Santos' two-out, two-RBI double to plate Jake Suddleson and Theroux, who each singled.
The Soddies added late pressure to the RockHounds in the top of the ninth with two outs. After Dominic Miroglio drew a six-pitch walk, Reynolds lined a first-pitch double to put two runners in scoring position. Stone Garrett followed with a pinch-hit walk to load the bases, bringing to tying run to the plate. After six pitches, Amarillo's No. 9 batter Jancarlos Cintron flew out to centerfield for the final out, ending the threat.
The Sod Poodles and RockHounds will play game four tomorrow night in Midland. LHP Kenny Hernandez will make his Double-A debut and will face off against Midland righty Bryce Conley (4-4, 4.27). First pitch is scheduled for 7:00 PM at Momentum Bank Ballpark.
Notes:
Henry's Go: In his 13th Double-A start, the southpaw and No. 12-rated D-backs prospect tied a career-high with six-and-two-thirds innings pitched while allowing a career-high in hits as well with 10. His eight-strikeout performance marked the fifth start he recorded seven or more strikeouts in a start in 2021.
Arm in the Outfield: In his 16th career outfield appearance on Thursday night, Mikey Reynolds recorded his first-ever career assists in the outfield Thursday night with two. In the first inning, a line out to Reynolds with a force back at first base resulted in a double play while he threw out a runner at second in the second inning on a single.
Turn It: The Soddies defense tied for a season-high with three double plays turned Thursday night in Midland. It marked the third time this season Amarillo met the feat. The franchise-high in double plays turned was set in 2019 with four total.
Out of the Pen: Lefty Tyler Holton made his sixth relief appearance of 2021 Thursday night, tossing a shutout one-and-one-third innings with one hit allowed and two strikeouts. In July over two appearances, he has tossed four scoreless frames with two hits allowed and four strikeouts.
Race For The Oil Pan Cup: Amarillo dropped to 7-8 in the race for the 2021 Oil Pan Cup after tonight's loss. The Sod Poodles won the inaugural race for the cup 17-12 in 2019.