Sod Poodles Drop Game Four To Hooks 8-3, Fall Behind In Series 3-1
Soddies Outfilder Stone Garrett Extends Team-Leading Hit Streak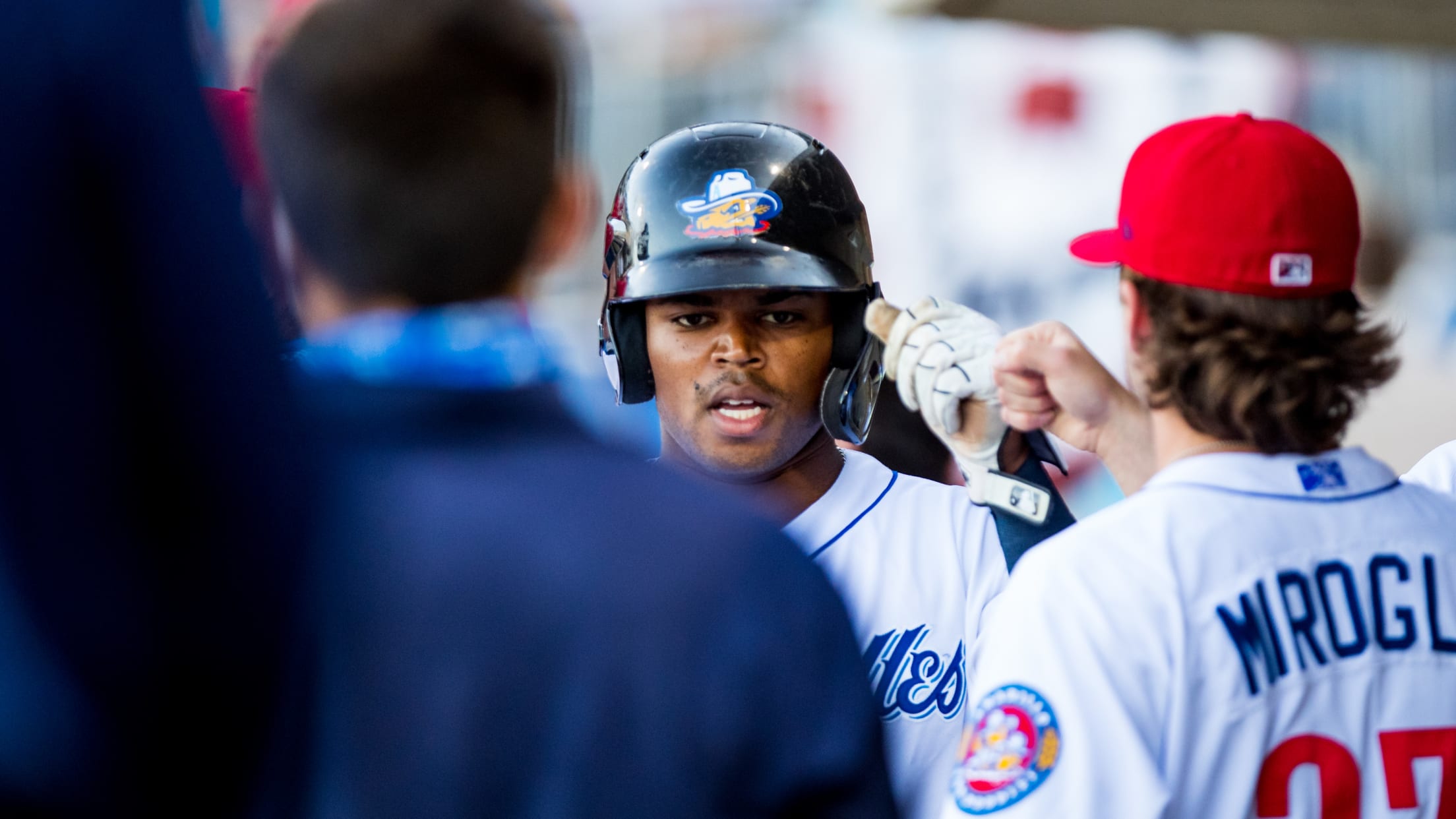 (John Moore)
Amarillo, Texas — Amarillo had an early lead but could not hold on against the Hooks as the Sod Poodles dropped game four of this six-game series by a score of 8-3. Amarillo sent the potential tying run to the plate in a bases loaded situation in the eighth inning
Amarillo, Texas — Amarillo had an early lead but could not hold on against the Hooks as the Sod Poodles dropped game four of this six-game series by a score of 8-3. Amarillo sent the potential tying run to the plate in a bases loaded situation in the eighth inning but could not capitalize.
Scoring Summary: The Sod Poodles took an early 2-0 lead in the second inning. A wild pitch scored Michael De La Cruz all the way from second base when Hooks catcher C.J. Stubbs couldn't track the ball as it caromed off his shin guard towards the Hooks dugout. Corpus Christi went up in the top in the top of the third inning after a leadoff double then a hit batter was followed by back-to-back homers for a 4-2 lead. Three walks loaded the bases for Corpus in the fifth inning scoring one after another hit batter. A two-out single plated another run giving the visitors a 6-2 advantage. Each side tacked on a run in the sixth. The Hooks got their run by way of a leadoff walk and failed pickoff that moved the runner to second allowing him to score on a base hit into right field. Back-to-back walks in the bottom of the sixth allowed De La Cruz to score again after two flyouts to draw the Soddies back within four at 7-3. The Hooks added a run in the ninth to make it 8-3 to conclude the scoring for the game.
Soddies Stats: De La Cruz has continued to produce for the Soddies since joining the club on May 29th. Since his arrival, the switch hitter has hit at a .290 clip. With his 2-for-4 game tonight, he is 9-for-31 with a double, two home runs, seven RBI, six walks, and nine runs scored. All four pitchers who took the mound for Amarillo allowed at least one run in the game. That's the first time that has happened since May 28th at Corpus Christi when Amarillo used just two pitchers and gave up three runs combined. The team was 2-for-9 with runners in scoring position and left 10 stranded.
Hooks Highlights: J.J. Matijevic extended his hitting streak to 11 games with his three-run home run and leads the Hooks with nine home runs. Norel Gonzalez's solo homer has him one off the team lead in that category.
Tomorrow's Tidbits: Amarillo and Corpus Christi will continue their six-game series with game five scheduled for a 7:05 PM first pitch. The Sod Poodles are proud to host their first theme night of the 2021 season with World of Wizards night. Fans will also be treated to a postgame fireworks show.
Notes:
"It's My Identity, It's Who I've Become"- Cal Ripkin, Jr. - SG: Outfielder Stone Garrett extended his hitting streak to six games with his third inning single. By reaching six games he now holds the longest streak by any Sod Poodle this season. Garrett is 13-for-28 during this span with five multi-hit performances.
Tabor's Time: After having his Double-A debut rained out after an inning of work, D-backs No. 23 ranked prospect got the start tonight at HODGETOWN. His line read like this: 3.0 IP, 4 H, 4 R, 4 ER, 3 BB, 5 K, 2 HR
In A Pinch: Amarillo had used just three pinch hitters coming into tonight's game, all three failing to record a hit. Jan Carlos Cintron was the only one to reach base, doing so on a two-base throwing error. With the bases loaded in the bottom of the eighth Amarillo manager Shawn Roof called for Luis Basabe. He unfortunately went down on strikes before another out stranded all three baserunners.
Bermudez Triangle: Corpus Christi starter Jonathan Bermudez made his third start of the season against Amarillo and has now tossed 12.2 IP against the Soddies, surrendering only three runs on nine hits as the Hooks have won all three of his starts against the Poodles.
Fri-NAY: Friday night's have not been pleasant to the Soddies as the team has dropped five of six games heading into the weekend.